Traveling through the mountains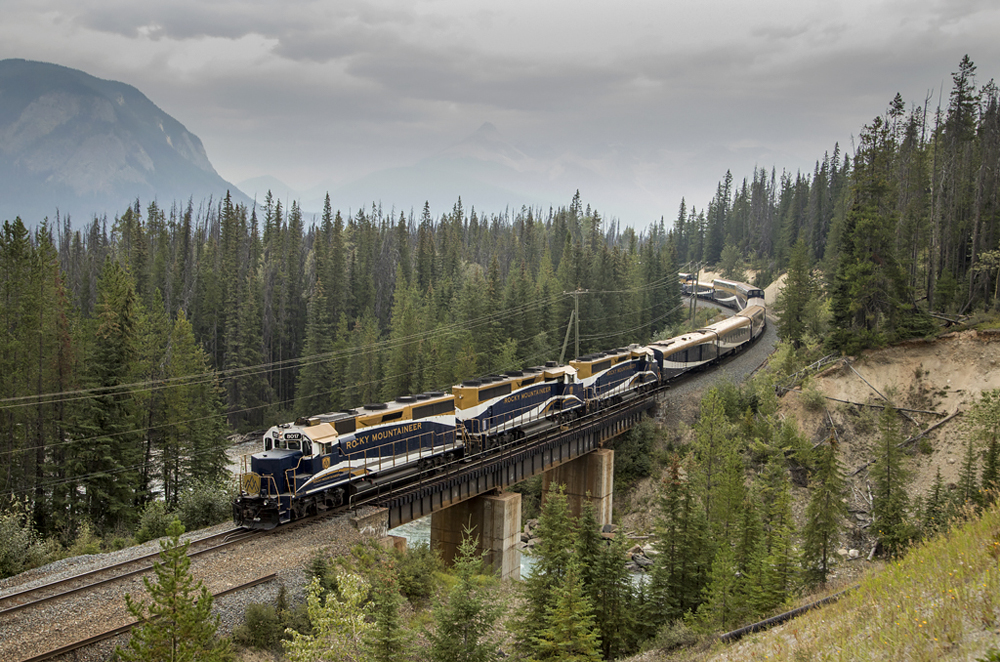 Having never visited Canada before September and thus never having an opinion of the Canadian Rockies, except visualizing something like Colorado, my first brush with Canada revealed I frivolously misperceived the legitimacy of its mountain railroad scene.
New realizations
Prior to several realizations, this experience brought me to Calgary on Canadian Pacific's transcontinental main, making it as far as Leanchoil, B.C., about 150 miles west of Alberta's largest city.
No. 1: The accessibility of CP's main
Not unlike several domestic transcontinental railroads, there was plenty of road access that assisted in recognizing those eye-catching rail landscapes rivaling any classic North American location. This made it easier to check-off the to-do list on an abbreviated trip of 24 hours of free time.
No. 2: The volume of rail traffic
Just as paramount was the volume of rail traffic and how proficient CP's rail traffic controllers were at maneuvering 100-series high-priority intermodals around heavy bulk trains on each side of famed Kicking Horse Pass. And then there was the Rocky Mountaineer, the purpose of this tale, after all, that made its untimely westward trek during peak congestion west of Field, B.C., on Wednesday, Sept. 7, 2022.
"Five to come west, two east," the controller said to an optimistic maintainer hoping for a little track time east of Ottertail. An eastbound intermodal was approaching Ottertail siding to meet an equally important westbound that would hold the main. And on the heels of the westbound intermodal was the Rocky Mountaineer and its 800-or-so passengers sightseeing by rail in British Columbia.
Soon, the westbound Rocky Mountaineer came into view at a common spot along Trans-Canada Highway 1 near Ottertail, led by Great Canadian Railtours' EMD GP40-2R No. 8017. The 58-year-old former Penn Central GP40 was holding up well, serving a purpose no one likely expected when it debuted from EMD's assembly line half a century ago.
Trailing the trio of EMDs was a 21-car consist of single and bi-level passenger cars dressed in the Mountaineer's branded blue-and-gold. After a brief pause, still on the heels of the westbound intermodal, the Rocky Mountaineer accelerated west, and it was time for us to highball east. In 14 years of participating in this odd hobby, it had been my first brush with the Rocky Mountaineer and figured it could well be the last.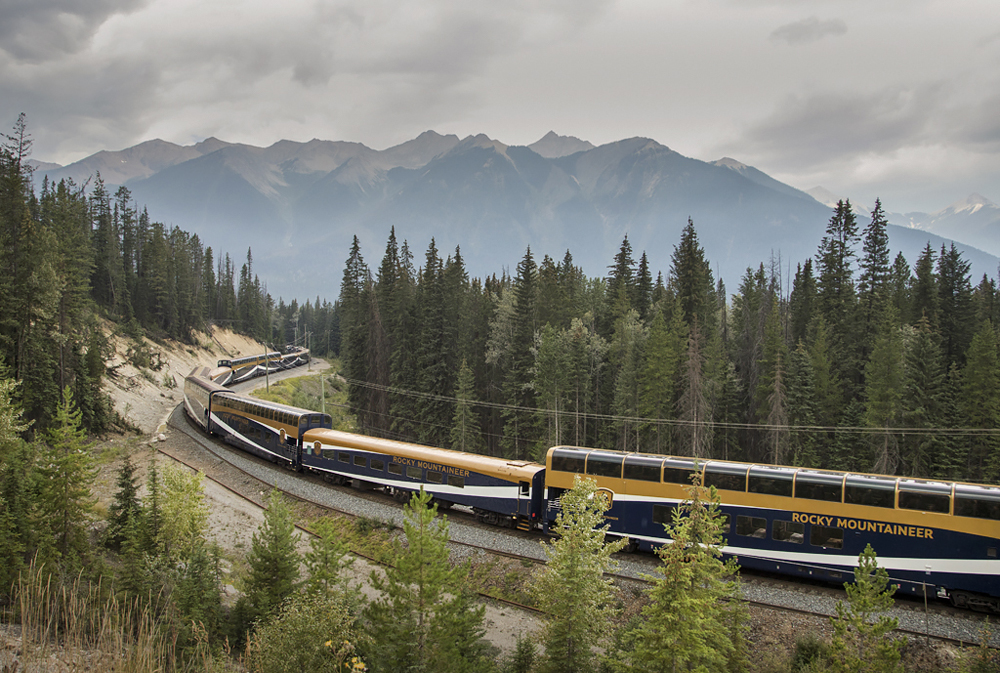 More mountains, more miles
Flying to the U.S., from Calgary, via Vancouver two days later, I hadn't yet quenched my thirst for more time in the mountains. Chicago's topography is simple and after having been brought up in the mountains of West Virginia, where the country roads took me home for 26 years, you can only admire the prairies for so long until a man needs to climb something.
The adventure wasn't ready to end, and thus, on the flight home, lured by Cascades below, I made the unrehearsed verdict to purchase fare the following day to take me back west — this time to Denver. Railroading was on the to-do list for the extended weekend getaway, but it was secondary to a trip focused on getting away from aggressive driving and crowded streets.
Early afternoon of Sunday, Sept. 9, 2022, found us in a rugged Gore Canyon, between Bond and Kremmling, Colo., on Union Pacific's former Denver & Rio Grande Western — known as the Moffat Tunnel route. Inarguably, one of the west's greatest rail passages, it's home to Amtrak's daily California Zephyr between Chicago and Emeryville, Calif., giving photographers a predictable subject to photograph on a rail line hosting only a fraction of rail traffic it once did.
On this Sunday, the target was, indeed, the Zephyr. Sunlight was favorable and its timetable was the perfect occupier of a late morning between breakfast and lunch. Hiking a half a mile into Gore revealed a great vista of the canyon, a shot made familiar by Coloradan Mike Danneman. A slightly tardy Zephyr soon rolled into view, illuminated by great afternoon sun. Bingo. One and done. After exiting Gore and returning to the vehicle, the leisurely Sunday drive pressed on, destined for Winter Park, via Kremmling and Grandby. But just west of Byers Canyon, a headlight exposed another westbound.
I was optimistic, though skeptical, a UP or BNSF Railway run-through freight would be trailing Amtrak west. It's not just a real busy railroad. But as luck would have it, here's a chance at railfan redemption. I pulled aside, and soon after realized the westbound was a pint-sized passenger train moving at track speed. The Rocky Mountaineer? No way. Indeed, briefly mistaken for a UP train because of its borrowed UP EMD SD70M leaders, featuring a particularly filthy leader accompanied by an equally clean companion, entered the viewfinder. The locomotives weren't particularly ideal for great picture taking but complaining about such an unexpected surprise seems uncouth.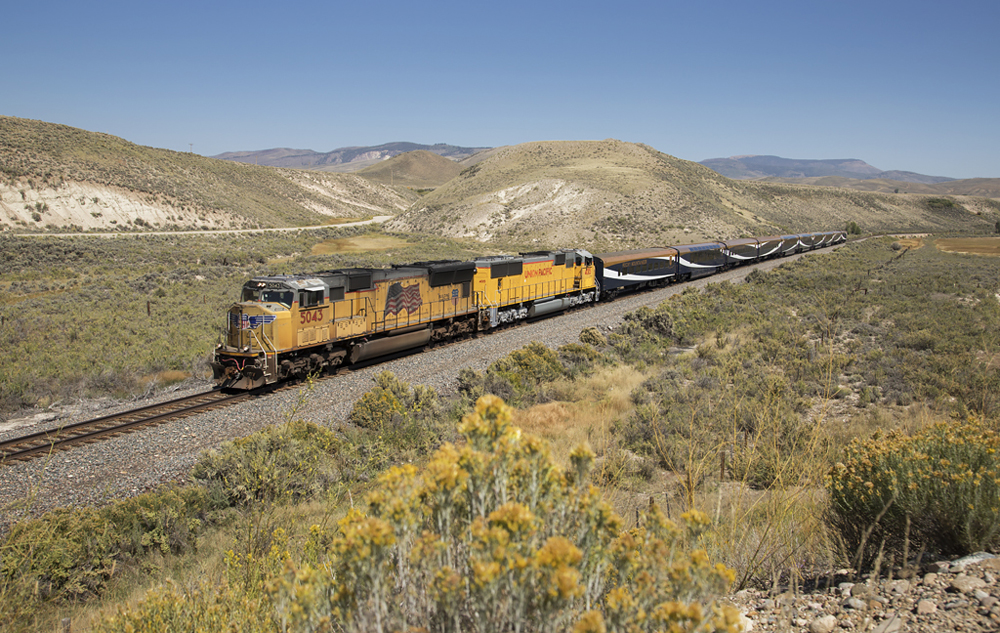 As swiftly as the Rocky Mountaineer came into view, its 10-car consist drifted by, its marker lights silhouetted against the mountains. We parted ways, and I continued east — just as I had done four days before in Canada, leaving the Rocky Mountaineer and its passengers to westward sights unseen. It was just as unpredicted as the surprise encounter 920 miles away in British Columbia 90 hours prior.
And as I continued east, and the Mountaineer plied west, I heard a familiar voice in my head from our dear friend, and the man who shepherded this magazine for more than 17 years, say: "It's better to be lucky than it is to be good."
Looking for more information on day trips, click here.