Traveling Dallas-Fort Worth by rail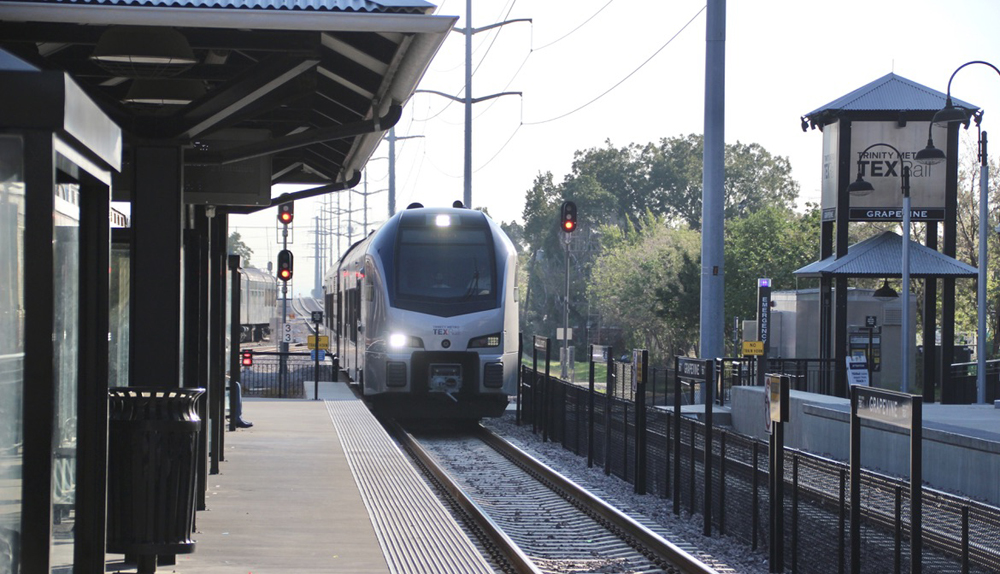 During my recent trip to Fort Worth for the Railway Supply Institute conference, my brother, a Fort Worth resident, suggested taking part of a day to make a loop by rail around the Dallas-Fort Worth area by rail transit. Come along as we're traveling Dallas-Fort Worth by rail.
Such a loop became possible in 2019 with the launch of TEXRail, the commuter rail line that uses the former Cotton Belt main line to provide a 27-mile ride between Dallas Fort Worth International Airport and downtown Fort Worth. That closed a circle that also includes Trinity Railway Express, a 34-mile commuter line connecting the downtowns of Fort Worth and Dallas, and Dallas Area Rapid Transit. DART's extensive light rail network includes a line to DFW Airport.
I suggested one addition, that we work in a little bit of the vintage trolley line in downtown Dallas. So, on the Monday before the RSI conference, we drove to Grapevine, Texas, to board TEXRail and begin our circumnavigation of the Metroplex.
A $12 one-day regional ticket covered the entire trip. For my brother, who qualified for the senior discount, the price was even better: just $3.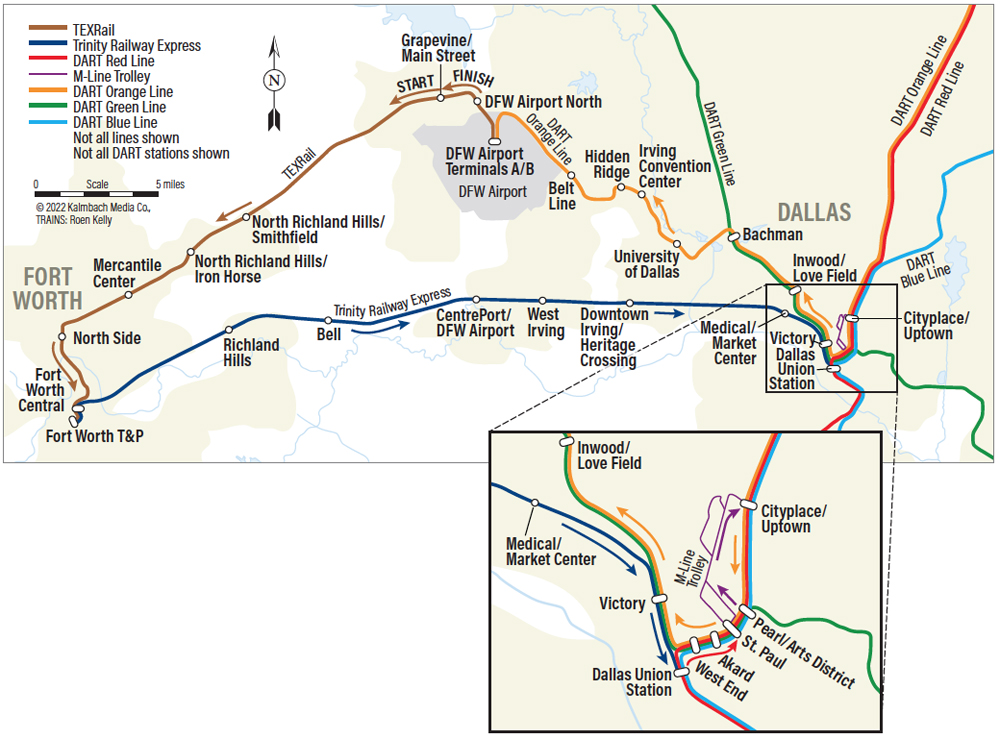 TEXRail: Grapevine Main Street to Fort Worth Central Station
Counting from DFW, we boarded TEXRail at the third of its nine stations, platforms sandwiched between the station for the Grapevine Vintage Railroad on one side and a hotel with a parking garage for use by TEXRail passengers on the other.
TEXRail uses Stadler FLIRT diesel multiple unit train sets — equipment familiar to just about anyone who has traveled in Europe, where electric and diesel versions are common. They are by no means fancy — this is a commuter operation, after all — but they are clean and remarkably quiet.
Trains run on 30-minute headways during morning and evening peak periods, hour intervals later. We caught the 9:20 a.m. train from Grapevine and arrived at Fort Worth Central Station, the next-to-last stop, on time at 10:05 a.m.
TRE: Fort Worth Central Station to Dallas Union Station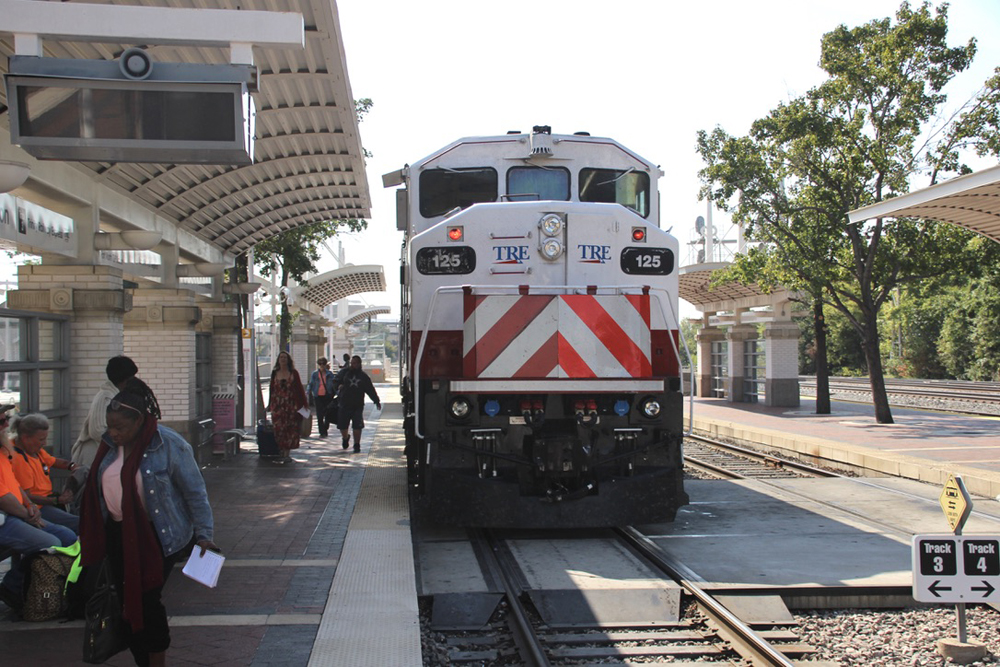 Our train to Dallas departed Central Station at 10:25 a.m. Trinity Railway Express trains have Bombardier bi-level cars and are powered by a variety of locomotives: ex-GO Transit F59PHs, F59PHIs, and the most recent additions, a couple of rebuilt ex-Amtrak F40PH-2s. Cars and locomotives all carry a red, white, and blue scheme based on the Texas state flag. It's a push-pull operation, and Dallas-bound trains are in push mode.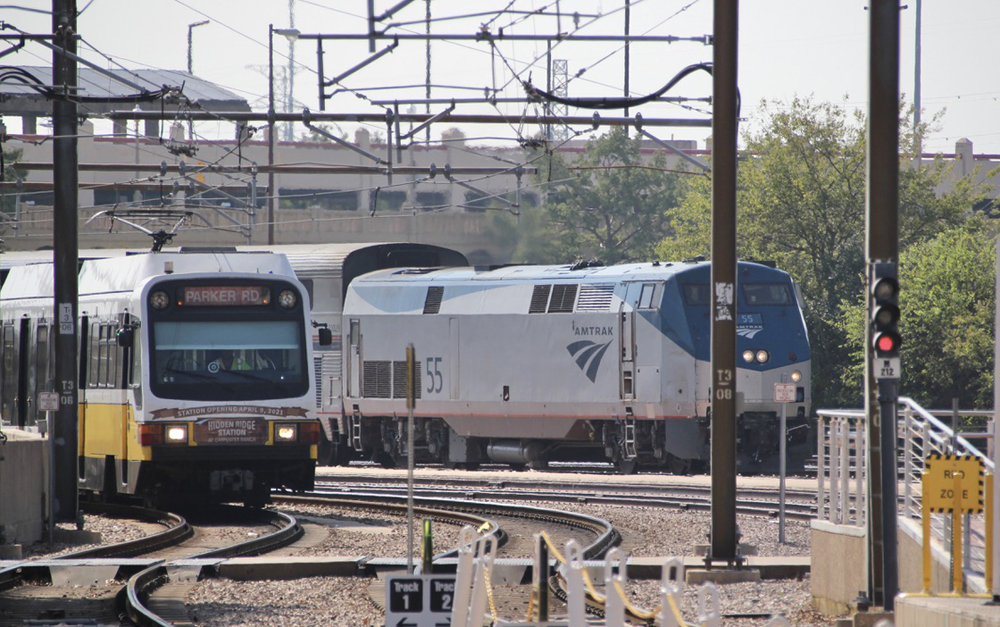 We weren't expecting the train to be crowded on a Monday afternoon, even though it was Columbus Day. But with each stop (there are eight intermediate stations on TRE), the train filled rapidly  Before we reached Dallas, a family of six came in and took the last remaining seats —scattered across several pairs, including the facing pairs we occupied — on the car's upper level. One of them explained what was going on: it was Children's Day at the Texas State Fair, and with nice weather, lots of families were taking advantage.
They all left the train at Victory Station — the next-to-last stop for a Dallas-bound train — to transfer to DART's Green Line to reach the fairgrounds. We continued on to Dallas Union Station, served by DART's Red and Blue lines, as well as Amtrak.
We were there long enough to see Amtrak's Texas Eagle come in, then were off again.
DART Red Line: Dallas Union Station to St. Paul
A very short segment: Just over  a mile, three stations, from Union Station to St. Paul on the Red Line, one of the four DART light rail routes. We'll talk more about DART later. The only real reason for this ride was to set us up for a one-block walk to ride the …
M-Line Trolley: St. Paul to CityPlace/Uptown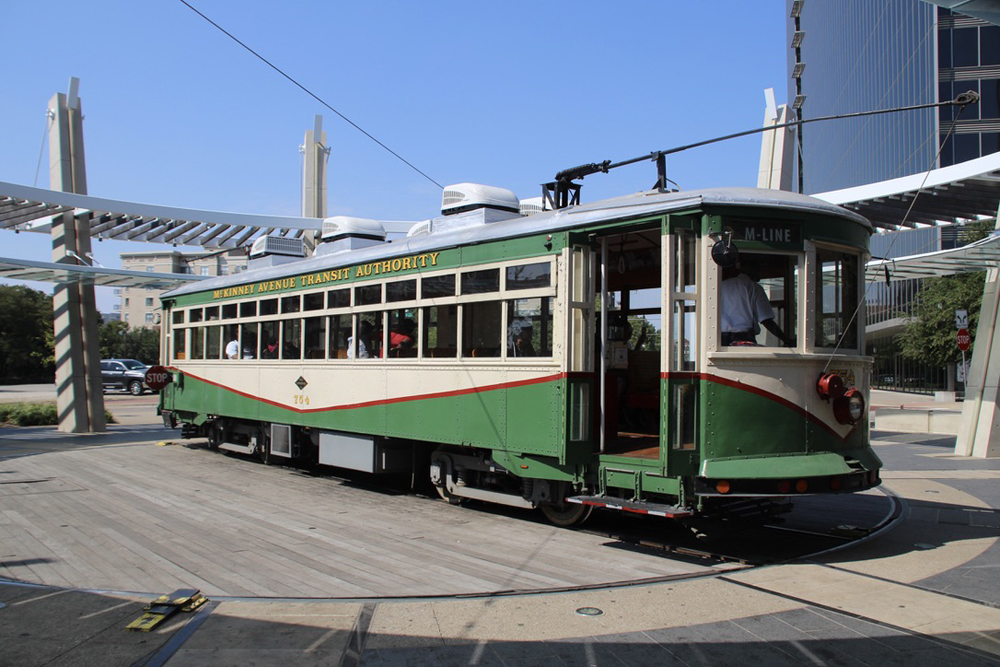 This trip actually was in two segments — in the middle, we stopped to eat — but that meant we were able to ride two of the vintage cars that operate on the M-Line, a free service (although donations are invited to cover costs). The 4.6-mile route uses equipment of varying heritage, from as far afield as Melbourne, Australia. (This Trains.com story from 2010 talks about the six cars that were running then; currently seven are in operation.) Our rides were on No. 186, "the Green Dragon," built by St. Louis Car for the Dallas Consolidated Electric Street Railway in 1913, and No. 754, "Betty," built in 1926 by American Car Co. for the Dallas Railway & Terminal Co.  They had a lot of character — and so did their operators. This is just one unique part of traveling Dallas-Fort Worth by rail.
I can't recommend the trolleys highly enough; they were a lot of fun. I would like to go back and spend more time riding and photographing them. The area they travel through appears loaded with interesting shops and restaurants. And they're not just a tourist attraction; the M-Line website says 35% of the people who ride the trolleys are commuters.
We didn't ride the whole route, jumping off at the turntable at the DART CityPlace/Uptown station.
DART Orange Line: CityPlace/Uptown to DFW Airport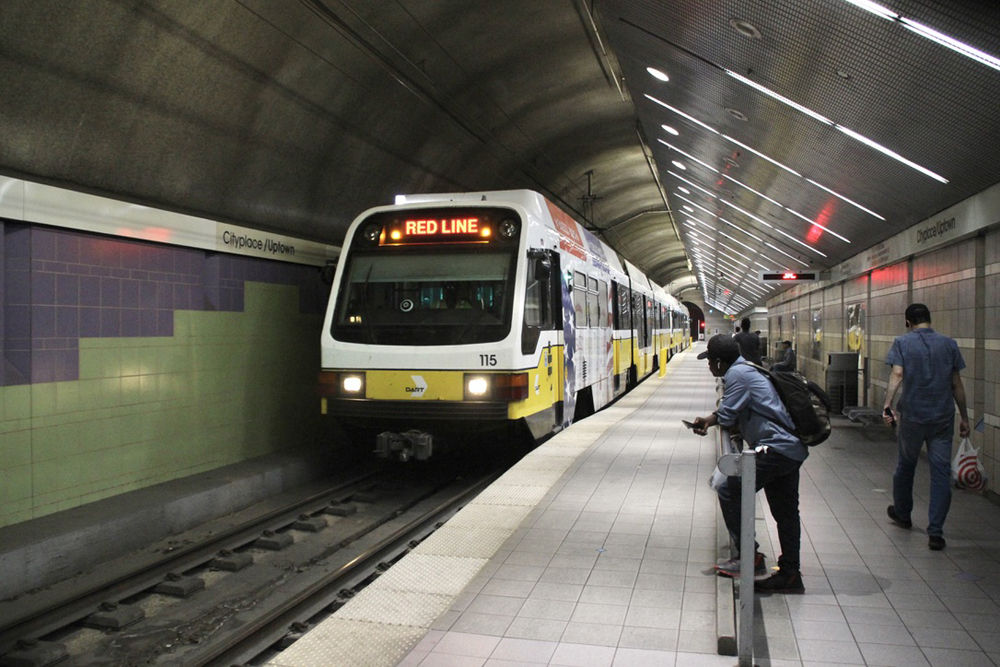 CityPlace/Uptown is deep underground — a bit surprising, really, given that it's only two stops from the street-level St. Paul station where we'd disembarked earlier.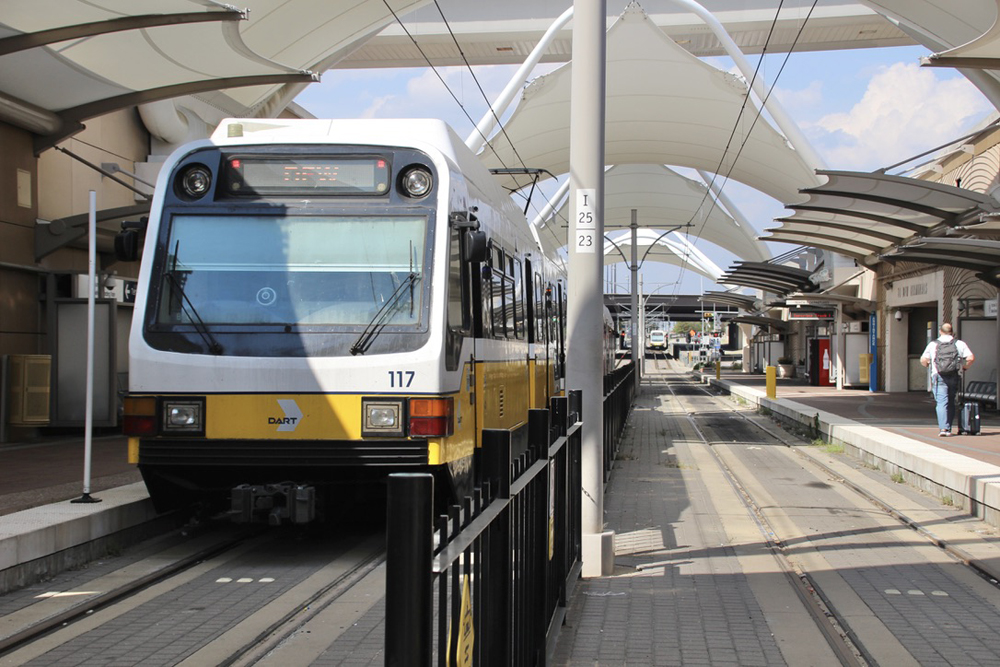 Here, we boarded DART's Orange Line and backtracked, passing through St. Paul and Victory, which was where we'd previously lost all the fair patrons on our TRE trip — on a zig-zagging route to DFW Airport.
The four-line DART light rail network covers 93 miles and a total of 65 stations. It is well used, recording more than 15 million rides in 2021. The Orange Line is the newest of those, having begun operation in 2010 and reached DFW Airport in 2014.
Since DART is light rail, unlike the other two segments of this loop, the equipment is pretty utilitarian, and there are lots of stops. Its equipment fleet is 163 "Super Light Rail Vehicles" built by Japan's Kinkisharyo; the 115 original LRV train sets were expanded with a low-floor center section to increase their capacity, and 48 new sets of the same design were later added. They are functional but unremarkable. The Orange Line route gradually serves newer suburbs and corporate campuses as it draws nearer to the airport; this area still developing, as illustrated by the Hidden Ridge station, an infill stop, that only opened in 2021.
Orange Line trains arrive near Terminal A. There's a Terminal Link bus connection to take you elsewhere at the airport; the Skylink people mover runs above the Orange Line station, but there's no stop, since it is for people who have already passed through airport security.
In our case, we needed neither of those things. It's a short walk from the Orange Line station to TEXRail station, which is adjacent to Terminal B, on the opposite side of International Parkway, the roadway that runs through the center of the airport.
TEXRail: DFW Airport to Grapevine/Main Street
We had only about a 15-minute wait to catch TEXRail back to Grapevine, where our trip began and ended. This train, departing about 3 p.m., was well-utilized by airport employees who had just finished their shift.
The whole loop was a good look at Dallas-Fort Worth transportation, and it certainly offers plenty of chances to incorporate more activities than we did. And, eventually, a more elaborate version of this outing will be possible. DART is currently building its Silver Line, which will run into the TEXRail station at DFW and use the former Cotton Belt line to Plano. It, too, will use Stadler FLIRT train set. And it will connect with DART's Red Line in Plano (as well as the Green Line in Carrollton), significantly expanding the size of this transit loop.
I suspect I'll give the expanded version a try when the Silver Line starts running in 2024. Until then, enjoy traveling Dallas-Fort Worth by rail.