After being a ubiquitous part of American railroads for more than 150 years, they went away some 40 years ago. Today, you'll find a rare and rusty handful on Class I railroads in use as lowly "shoving platforms," with their windows and doors often welded shut. The lucky ones got away to museums, tourist railroads, or private ownership. They are the much-beloved caboose.
Today, in the early years of the 21st century, some experts estimate that 10% of the cars that were here in the early 1980s are still around. But strangely, the individual urge to own a caboose has not waned. As cabooses become available, they're snapped up. It used to be about nostalgia. Now it's just cool to own something unique.
Interested in owning your own caboose? We talked to one of the top railroad equipment brokers, and to private owners of several crummies, waycars, vans, cabs, or whatever your favorite railroad called them, to find out about the joys and pitfalls of owning your own caboose.
John Suscheck is the owner and manager of Kirbyville, Mo.-based Ozark Mountain Railcar, which has been in business for more than 30 years. Over that time, Suscheck has sold many cabooses, in addition to freight and passenger cars, locomotives, and entire trainsets. His website currently lists 17 cabooses for sale.
"We have sold cabooses for virtually any application you can think of," he says. They've been put to use as a commercial business, a man cave, tiny home, and on a tourist/short line. Others have turned their original end-of-train device into a hunting camp, coffee shop, tourist office, and even a football tailgate party space. If you can dream it, the caboose has probably been put to use that way.
Of all cabooses that come available, the traditional Santa Fe rear-cupola cars are always popular. "Their look is what most people think of when thinking of a caboose," Suscheck says. "For cars used for commercial or residential purposes, the bay window is more popular since it has larger usable floor space."
Depending on the condition and upgrades that have been made (heat, air conditioning, modern restrooms, etc.), a caboose can fetch $10,000 to $50,000.
But that's just the start. There's moving and renovation. Says Suscheck: "Keep in mind that moving rail equipment either by road or rail is expensive. I normally tell buyers the best option will be to have the car trucked. You know the cost upfront, you don't have to worry about damage or vandalism, and you know when it will show up. If the car physically can move by rail you still have to prep the car [estimated at $3,000- $8,000]. Rail tariffs are anywhere from $10 per mile to $25 per mile. And usually the railroad does not go directly from point A to point B and you get to pay for all the extra mileage." As for renovations, you can spend $0 or whatever your budget will allow.
The caboose owners we talked to describe an intense passion for their cars.
Dan Larkin has been an Amtrak employee since 1997 and a Boston-based engineer since 1999. Since 2007, he's been friends with other caboose owners, and over the years he's intended to buy his own caboose. That finally happened in October 2020. "I love the idea of owning a piece of transportation history," he says. "It's incredibly unique and opportunities to purchase them are becoming more rare."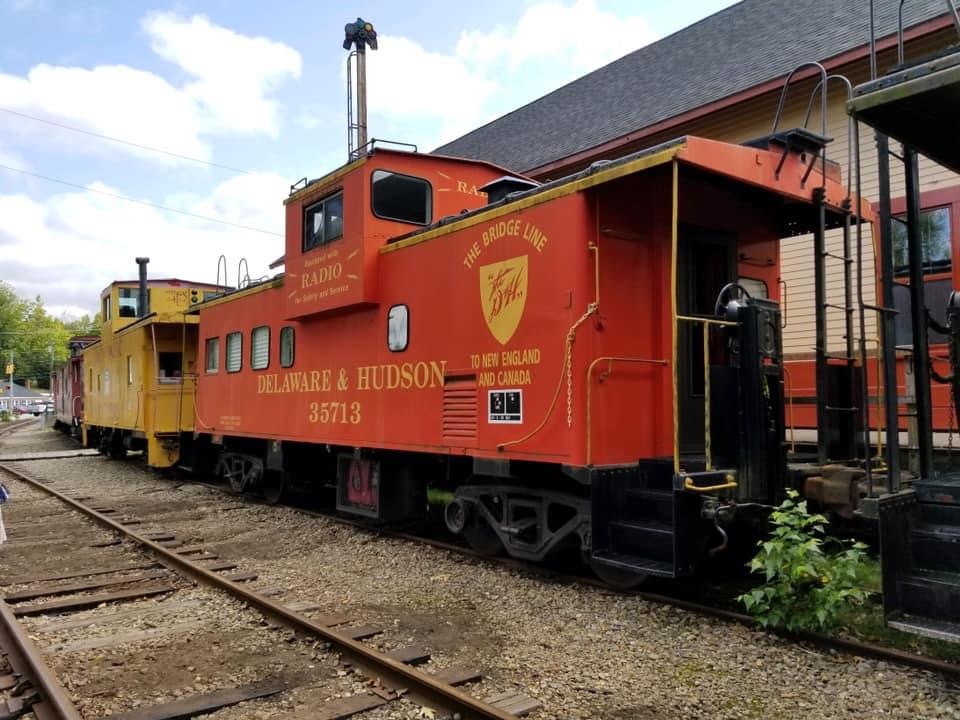 Larkin owns Delaware & Hudson wide-vision cupola caboose No. 35713, built by International Car Co. in June 1959. Guilford acquired the car when it took over D&H, and the car has had three other private owners.
The car resides in what is referred to as "caboose village" in Northfield, N.H., with 20 privately owned cabooses in a former Boston & Maine yard.
Larkin gave his car a good cleaning and fresh interior paint when he got it. "I am currently installing vinyl floor planks," he says. "When I'm done with painting and the floor, I'll be decorating with railroad memorabilia, getting a futon, and a TV."
The car had extra windows cut into the side and wood paneling installed on the interior, as well as kitchen cabinets and a sink, so a full historical preservation is out, but Larkin says he will play up the D&H paint scheme and theme with lanterns and other memorabilia he can display.
So far, between purchase and renovations, he figures he's got about $20,000 in the car that he'll use as a getaway for himself, his wife, and their dogs.
"It is a unique retreat to go hang out and visit with friends, drink wine, explore New Hampshire, look at train magazines, relax, and pet the dogs," he says. Sounds good to us.
Professional railroader Michael LaBouliere owns Bessemer & Lake Erie caboose No. 1969 and has also spent about $20,000 since acquiring the car in 2019. That includes buying it, moving it, and renovations. "I've wanted to own a caboose for some time, mostly to have a place to visit," he says.
His advice to anyone thinking about a caboose: Look and shop around. "I got quotes  from numerous other entities to just move it that were simply not realistic and would break the budget. I stumbled upon a trucker right near where I was loading who had an excellent working relationship with a Heavy Duty Tow Co. They were great to work with.  Additionally, keep inquiring. I've had a lot of help from friends along the way teaching me how to do things."
Suscheck says anyone who doesn't have the finances to afford the caboose should stay away, but he also jokingly says everyone should have his or her own caboose.
Coming up: A long-time caboose owner relates why he bought it and why it means so much to him. Next time in "So, you want to own your own caboose?"