Looking for the loneliest Amtrak station in California? Consider Lompoc-Surf, population: zero, an alternative to crowded California passenger stations. You won't worry about parking your car, long walks to trackside, or even other people.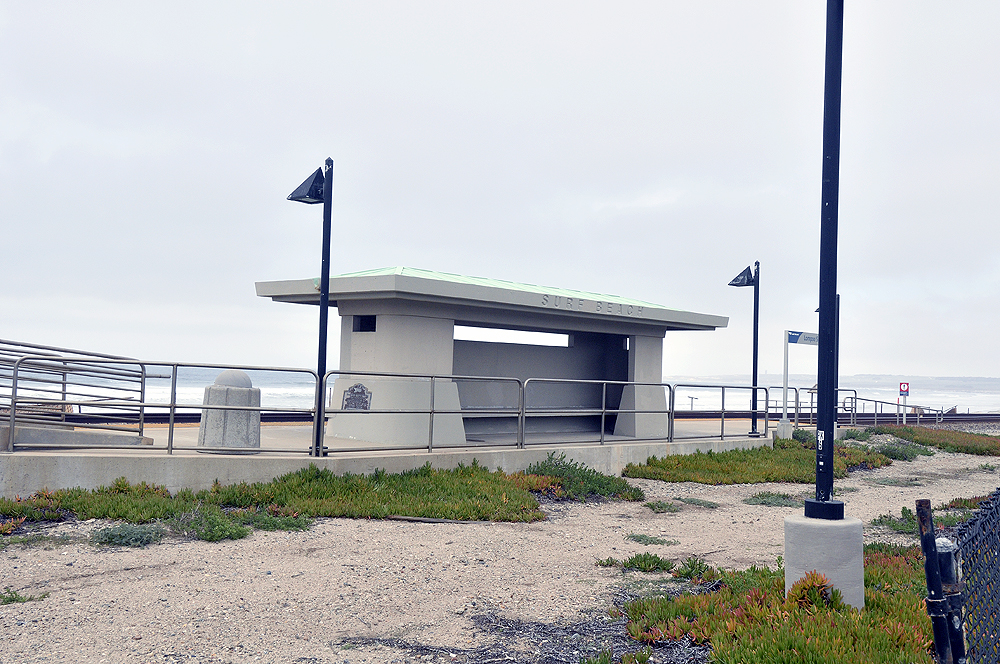 There may be about 40 million people in California, but unless they are waiting for the train, or someone on it, none of them are at Surf. An unincorporated area midway between Santa Barbara and San Luis Obispo on the Pacific Coast, it is so desolate it had one observer wondering if it could substitute for some uncharted island in the middle of the nowhere. The nearest city is Lompoc, about 10 miles inland.
Encapsulated in a publicly accessible portion of Vandenberg Space Force Base, Surf was originally a railroad town, its population zenith – about three dozen — was in the 1940s. Today it is zip, save for the Western Snowy Plover, an endangered bird species that nests in the track-adjacent beach. At certain times of the year the beach is closed to protect them.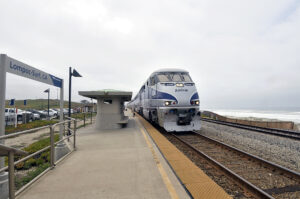 Once a busy place for U.S. Army soldiers at nearby Camp Cooke during World War II – current military presence has expanded to include the station area and has since been renamed Vandenberg. It was mostly railroad employees that populated the town and Southern Pacific shut down the last vestige of civilization – a telegraph office – in 1985. Amtrak modernized its presence in 2000. Today, the concrete enclosures, trackside platform, and parking lot are the only signs of human contact with the rest of the world.
Pacific Surfliners, and Amtrak buses, stop here. The Coast Starlight does not. Nor do any Union Pacific freight trains.
But its solitude is magnificent, the birds charming, and the winds refreshing and the sound of the waves hypnotic.
The area is worth a visit if for no other reason than it is a desolate side of California railroading few witness, let alone appreciate.