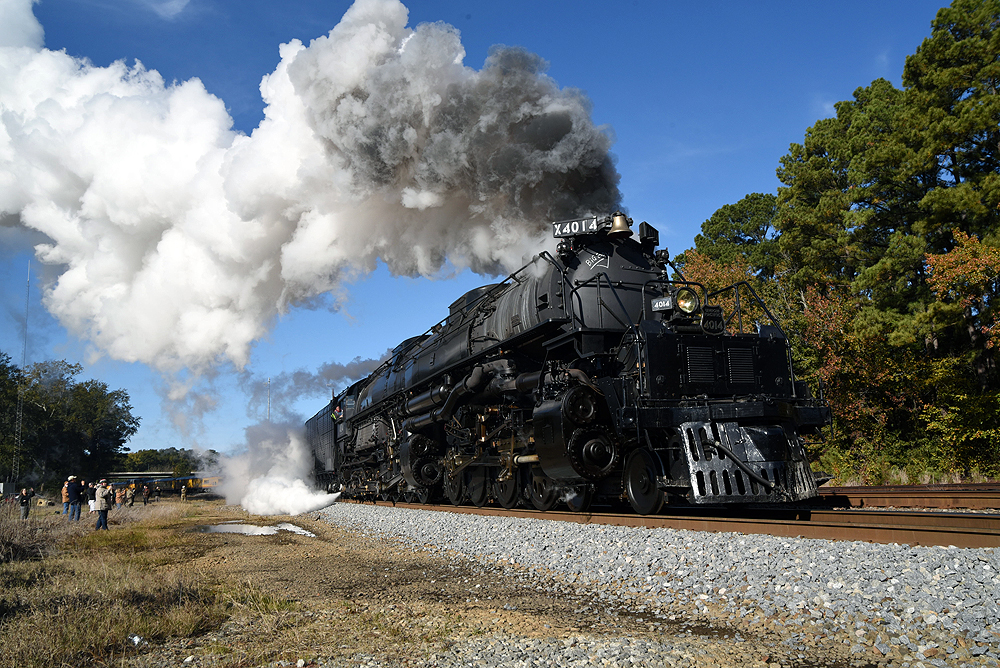 Before you head out to watch the world's largest steam locomotive in August 2021, here are Big Boy etiquette tips you should know.
Big Boy on the move
Union Pacific Big Boy 4014 will set out eastward from its homebase in Cheyenne, Wyo., bound for New Orleans. This is the first time for the locomotive to work its way to the Crescent City since its 2019 restoration and grand debut in celebration of the 150th anniversary of the first Transcontinental Railroad. After sitting out 2020 due to the Covid-19 pandemic, the world's largest operating steam locomotive will be on the road 35 days. Between Aug. 5 and Sept. 8, the 600-ton heavyweight steam champion will cover an amazingly large portion of the central and southeastern parts of the UP system. Thousands will turn out to admire its 6,000-horsepower and amazing articulation. You should be one of them.
Let's get ready to watch No. 4014 put on a show. Let's start with preparation, and then practical advice for being in the field. Get the most out of your Big Boy viewing experience.
Preparing to watch Big Boy
Preparation is essential, and it begins with the upsteam.com website, where the schedule is published. After choosing the days you want to witness No. 4014, pick the location(s) you want to view the train. Then spend time with your favorite online mapping program. Do you want to see the locomotive as it pauses during one of its stops or in a display city? Or do you want to see it on the road in full stride? You will find that Big Boy attracts large crowds so make your travel plans conservatively to see and follow it. A large motorcade is likely to be with the train at all times. Follow traffic rules, don't speed, and don't try to pass large numbers of cars on two-lane roads.
Big Boy etiquette pro tip: Leapfrog
If you can drive the route in advance, you can locate the best viewing areas that offer plenty of parking. One pro tip: Plan on viewing Big Boy once between stops and you won't be disappointed. Leapfrog the train. Catch No. 4014 leaving first thing, then get ahead of the train while it makes one of its display stops. Keep doing that throughout the day, and you'll come away with several views of the train.
Big Boy etiquette pro tip: Stand at least 25 feet away from the track
UP has asked spectators to give the train 25 feet of clearance. That's ample space to be able to view the engine and still be safe from open cylinder cocks. You'll find at many crossings, people who have come to see the train who are standing at the edge of the crossties. Way too close. If you can politely help them back up from the tracks, it's a good thing.
Remember that all tracks are considered to be active, so don't go on railroad property and don't stand on tracks. UP doesn't have the luxury of shutting down the busy railroad when No. 4014 runs, so it is often meeting or passing (or being passed by) freight trains.
If you're using a cell phone to record images and video of No. 4014, remember that the wide-angle lens may be deceiving when it comes to determining how close you are to active tracks. When in doubt, put extra space between yourself and the end of the crossties.
Watching Big Boy No. 4014 in action in the 21st century is a gift. We never thought we'd be so lucky witness of the steam era's superstars in action 80 years after it was built. Do your homework, get out there and watch and photograph the steam train, and be safe. You'll be glad you did. The images and the memories are priceless.