Clean locomotive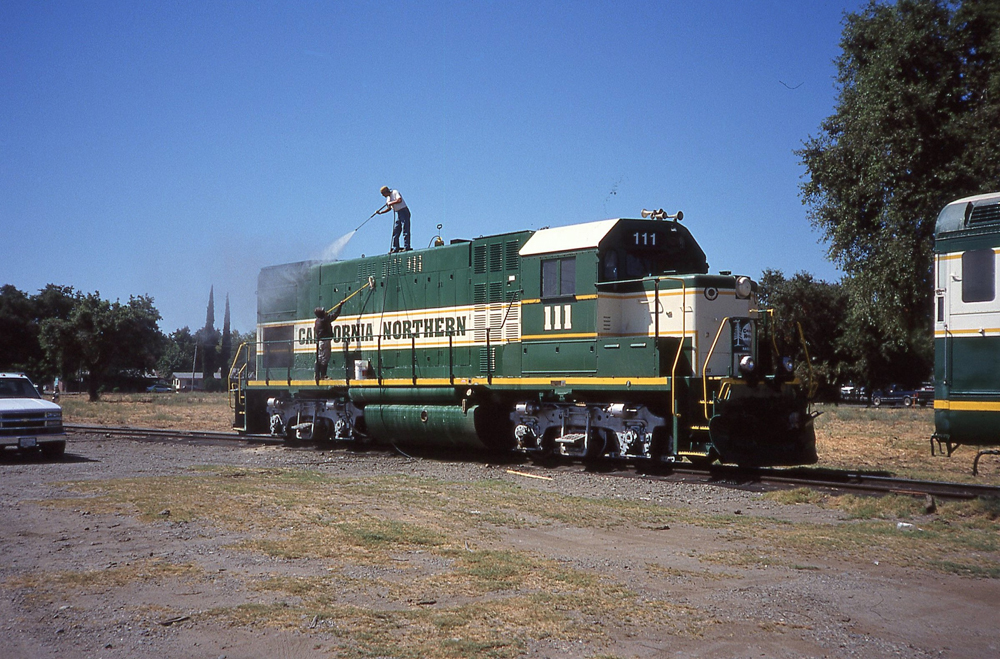 ---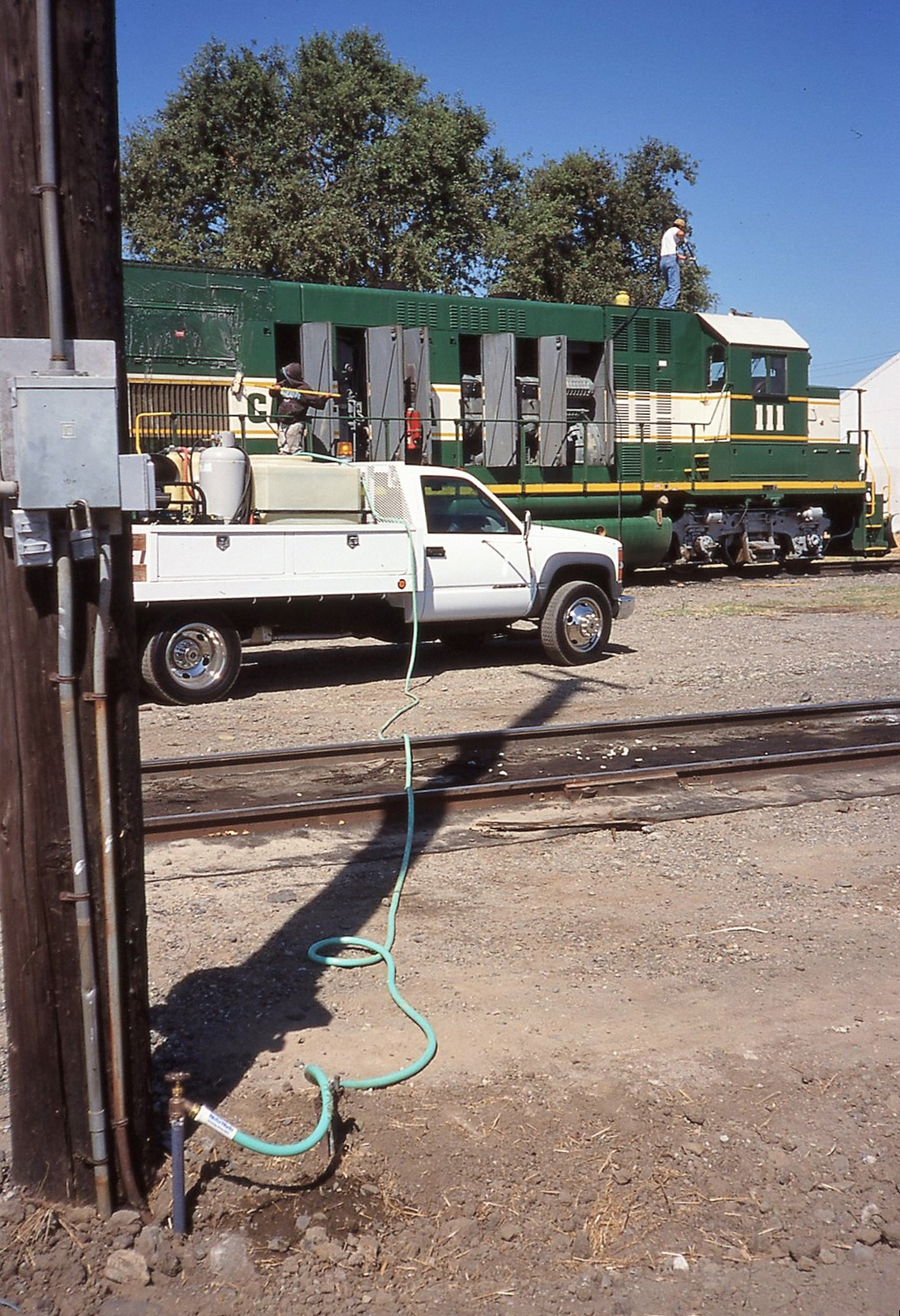 Finding a locomotive being washed and cleaned before it went to work left me in awe. As a railroad, one of the ways to give your customers with a good impression is taking care of your locomotives. That was the mantra of the original California Northern Railroad management when it began on cast-off Southern Pacific lines in Northern California in the 1990s.
In the Sacramento area on business, I made a detour to a local California Northern yard to possibly get a photo of one of their units. Besides seeing a different railroad than I would find at home in Southern California, I was also intrigued by their motive power — a handful of 1,500-hp, four-axle EMD GP15-1s that began life on the Chicago & North Western, and a couple of six-axle EMD SD9s.
Driving around in the area searching for the railroad, I soon spied GP15-1 No. 111. I was in luck. The unit was in decent light. As I was getting my camera, a flatbed truck drove up to the unit and two men got out. They were a cleaning crew!
On the back of the truck was a generator, power cords, and scrubbing brushes. As one of the workers plugged the hose into a nearby water connection in the yard, the other began unreeling the hose and started washing the unit. The other worker was right behind him.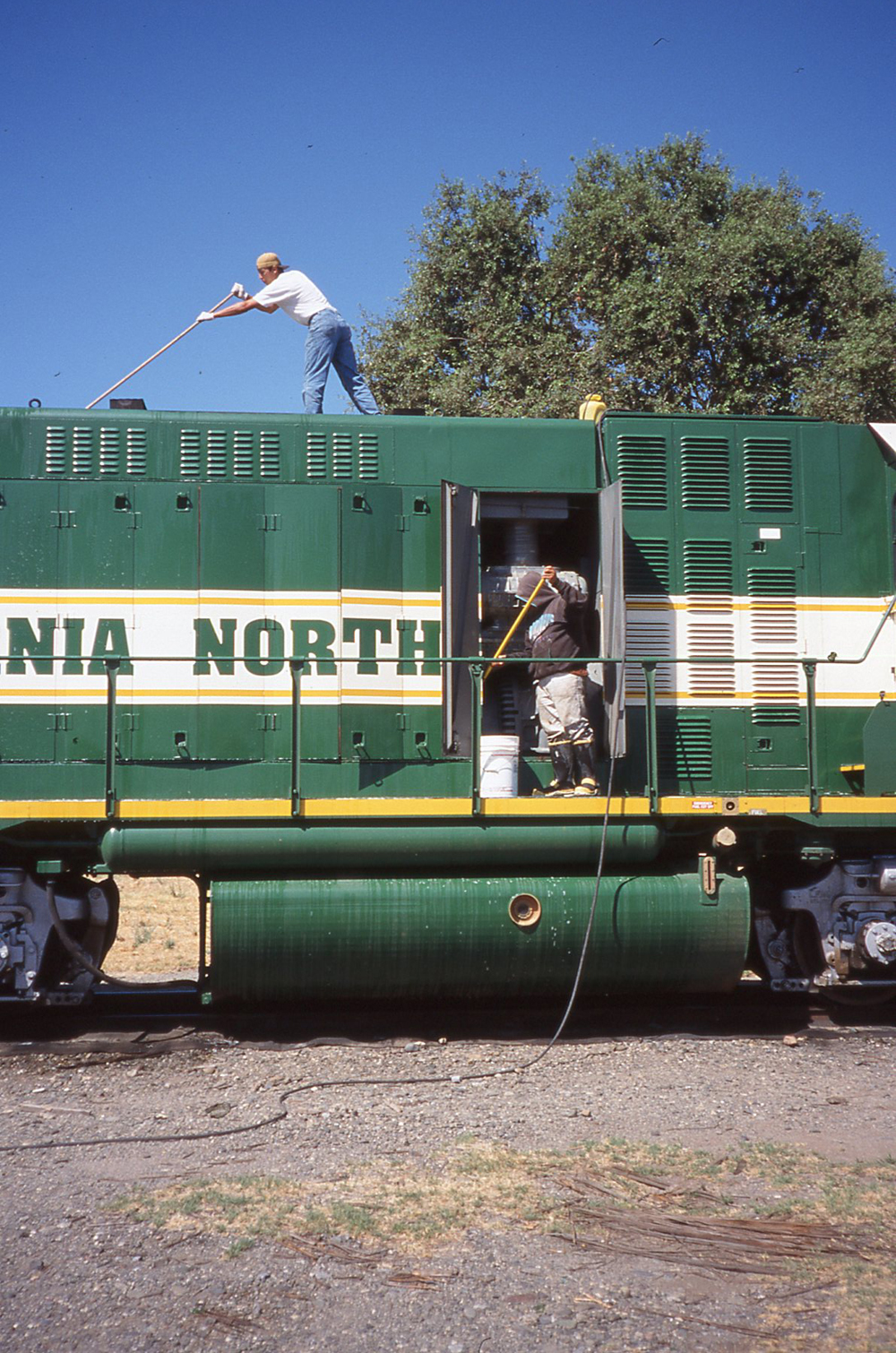 Soon, one guy was on the top of the locomotive, while the other was using a broom on the walkway. What really surprised me next was when the long-hood doors were opened, and the two men began cleaning everything inside. About 30 minutes later they were done. They retrieved their ladders, retracted the hose, stored the brooms, and unplugged from the water source. A few minutes later they hopped backed into the truck and left, with only the wet ground around the No. 111 showing, briefly, they had been there.
In an overall view of the world, my little encounter that morning would have hopefully bagged a photo to add to my collection. But the no-nonsense cleaning crew smartly going about their work made all the difference in the world. I got to watch a railroad getting ready for the day's work.
As I was heading back to the airport that afternoon, my thoughts went to my car back home. Maybe it was about time I gave it a bath. At least the outside of it.