An Amtrak Cardinal day trip to Clifton Forge is well within reach! Don't let Amtrak's three-day-a-week schedule on the Cardinal route deter you from a scenic Amtrak day trip through the Appalachia Mountains of southern West Virginia and Virginia along CSX Transportation's route through the New River Gorge National Park & Preserve. This passenger rail experience is an appropriate balance of scenery and rail history as Amtrak amfleets provide the platform to experience West Virginia's most notable rail landmarks on this 400-mile round-trip experience.
On Sunday, Wednesday, or Friday, board Amtrak's eastbound Cardinal No. 50 in the early morning hours at Huntington, W.Va., (7:09 a.m. Eastern time) or Charleston, W.Va., (8:21 a.m. ET) before continuing east on CSX's former Chesapeake & Ohio main line along the Kanawha and New Rivers. Early in your journey you will pass West Virginia's state capitol building, visible from the conductor's (left) side of the train as you depart from the passenger railroad's Charleston station. Soon after you'll transition from suburban neighborhoods to a mountainous river valley, passing notable C&O landmarks at Handley (MP CA 429.8), the site of a former coal yard and steam-era coaling tower. The next noteworthy attraction is reaching Hawks Nest, an iconic picture-taking location where the railroad's double-track main line splits, with one main crossing to the north side of the New River, and the one remaining on the south.
When traveling track speed, about five minutes east after reaching Hawks Nest you will pass underneath West Virginia's most symbolic attraction – the 3,030-foot steel arch bridge spanning the New River Gorge 876 feet above the rail head. While the Cardinal doesn't exclusively travel the railroad's north or south main, the best views are from the side of the passenger train closest to the river. East of the New River Gorge Bridge, the next significant attraction is Thurmond (MP CA 391.1), a ghost-like town with shuttered storefronts and homes renovated by the National Park Service to underpin the town's historical significance and close ties with railroading. Thurmond features a renovated two-story C&O depot housing railroad artifacts and seasonal U.S. park ranger volunteers. Thurmond, named after Confederate Army Captain W.D. Thurmond, who founded land there in the 1840s, features a steam-era coaling tower. When approaching the town, keep an eye on the conductor's side (left) for Thurmond's storefronts, and engineer's side (right) for the coaling tower and depot. Thurmond is a flag stop for the Cardinal today.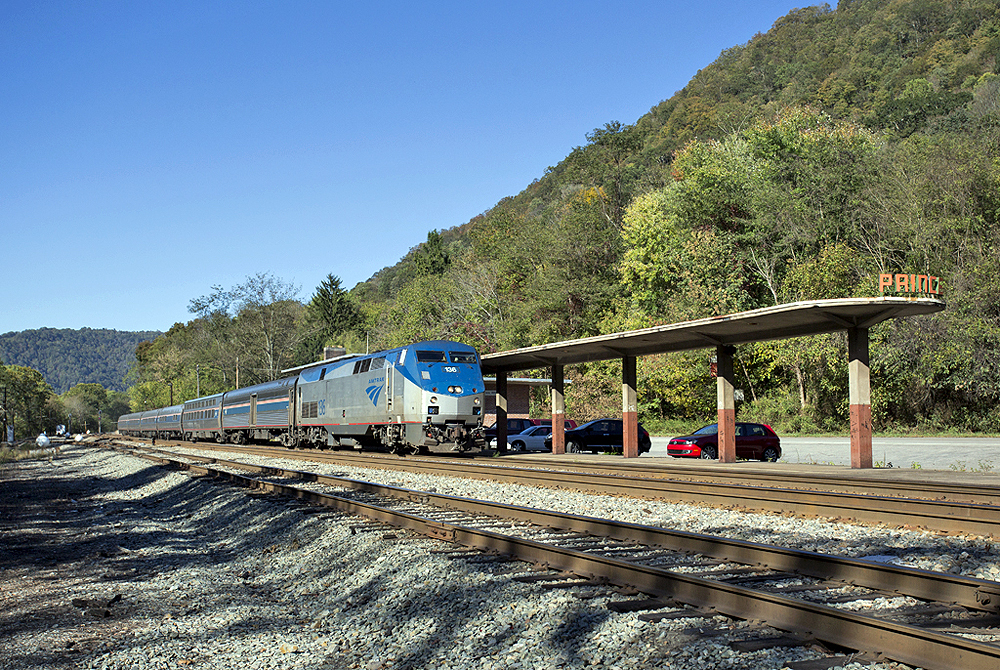 East of here, you'll continue hugging the New River to Prince (MP CA 380.0), home of the Art Deco-inspired Prince Depot, another Cardinal stop, before rounding the bend to the Quinnimont (MP 378.5) coal yards, and later Meadow Creek, before arriving at Hinton (MP CA 357.0).
Hinton allows you to catch a glimpse of the Class I railroad's coal scene in its small crew hand-off yard. As you depart Hinton to the east (10:34 a.m. ET), you'll ascend the Alleghany Mountains, passing through Alderson (MP CA 336.3), Ronceverte, and the outskirts of Lewisburg, W.Va., as you arrive at White Sulphur Springs (MP CA 311.9) and home of West Virginia's Greenbrier Resort. The Greenbrier is a luxurious resort and golf destination with ties to the C&O and CSX. White Sulphur is also an appropriate alternative destination to de-train while waiting to intersect the westbound counterpart, Cardinal No. 51. When on schedule, eastbound No. 50 will arrive at White Sulphur at 11:39 a.m. ET, while No. 51 is scheduled to arrive less than six hours later at 5:05 p.m. ET.
From White Sulphur Springs, your Amtrak Cardinal day trip train will pass over the Alleghany Mountains via the railroad's Alleghany Tunnel, entering Virginia at the site of C&O's former interlocking cabin – A Cabin. From here you'll descend into Covington, Va., and soon thereafter arrive in Clifton Forge, Va., the eastern-most destination for this day trip. When on schedule, eastbound Cardinal No. 50 arrives at Clifton Forge at 12:44 p.m. ET and westbound Cardinal No. 51 arrives three and a half hours later at 4:05 p.m. ET.
Clifton Forge (MP CA 276.8), like many towns along the Cardinal, is closely affiliated with railroading. It is a crew change point for CSX and was once a major terminal for servicing eastbound trains having just descended the Alleghanies, while readying them for the trip east along the Blue Ridge Mountains to Richmond, Va. Today, Clifton Forge is an important Class I yard for handling CSX's export coal business between West Virginia and Newport News, Va., about 300 miles to the southeast of Clifton Forge. The Buckingham Branch Railroad also interchanges carload traffic to the Class I railroad at Clifton Forge, providing occasional variety during the lull between Cardinal trains.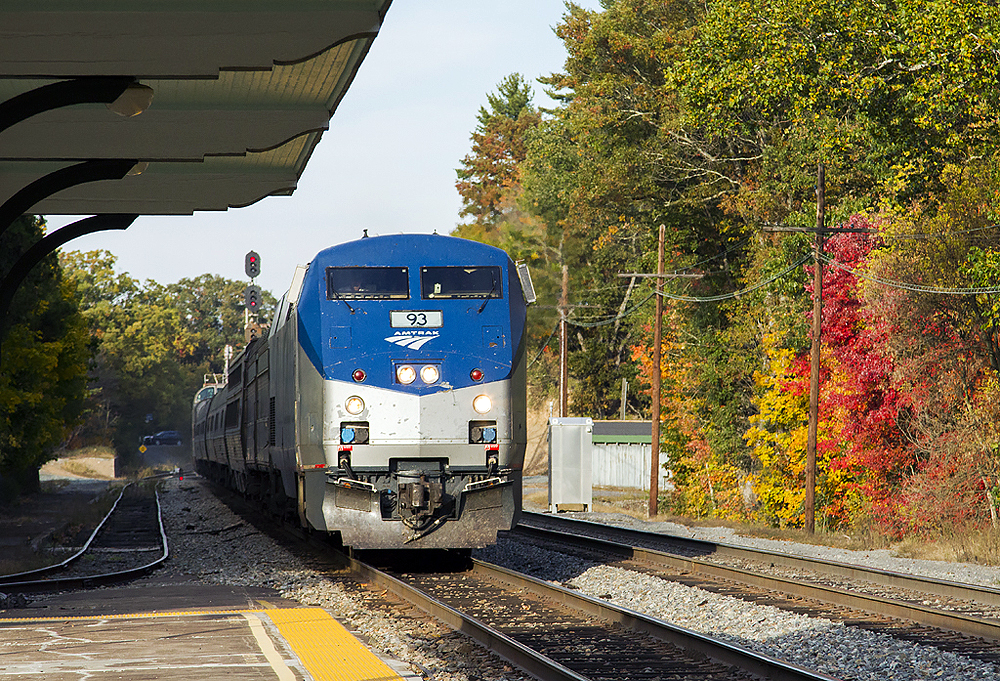 Today, Clifton Forge is home to the Chesapeake & Ohio Historical Society and its C&O Railway Heritage Center located at 705 Main Street. C&O 4-8-4 No. 614 is cosmetically restored at the center, displaying an eccentric Greenbrier Resort-inspired green-and-gold livery. It is joined by other artifacts, including C&O EMD SD40 No. 7534, of which was the recipient of a CSX-led cosmetic restoration to its blue-and-gold at the Class I railroad's Huntington Locomotive Shops in 2019. Other artifacts include C&O EMD GP7 No. 5828, C&O diner Gadsby's Tavern, and other passenger and freight rolling stock. The heritage center features a restored freight house, replica interlocking tower, a staffed archives building, model railroad layout, and other C&O-inspired structures. The museum is open Tuesday through Sunday from 10 a.m. to 4 p.m.
Clifton Forge also hosts a number of locally owned restaurants appropriate for the noon-hour layover. The author recommends Jack Mason's Tavern and Brewery at 400 E Ridgeway Street, featuring great food and atmosphere, and a CSX mural on its backwall.
You'll board westbound Cardinal No. 51 at 4:13 p.m. ET when on-time. In the fall and winter months you will have shortened daylight views on the return trip west, however in the summertime, daylight will persist until the outskirts of Charleston, where you are scheduled to return at 8:29 p.m. ET, and later, Huntington at 9:44 p.m. ET.
[J. Delbatis is a railroad author with no personal or business affiliation with the businesses mentioned in this article.]
Tips & Recommendations:
• AAR 08 (160.230) is the primary CSX scanner frequency on the Cardinal route if you are listening to train crew chatter with a portable scanner.
• When traveling east, select a seat on the engineer's side (right) for optimal river views.
• Pay close attention to eastbound Cardinal No. 50's timetable to ensure an adequate layover in Clifton Forge, or alternatively, de-train at White Sulphur Springs and experience the Greenbrier.