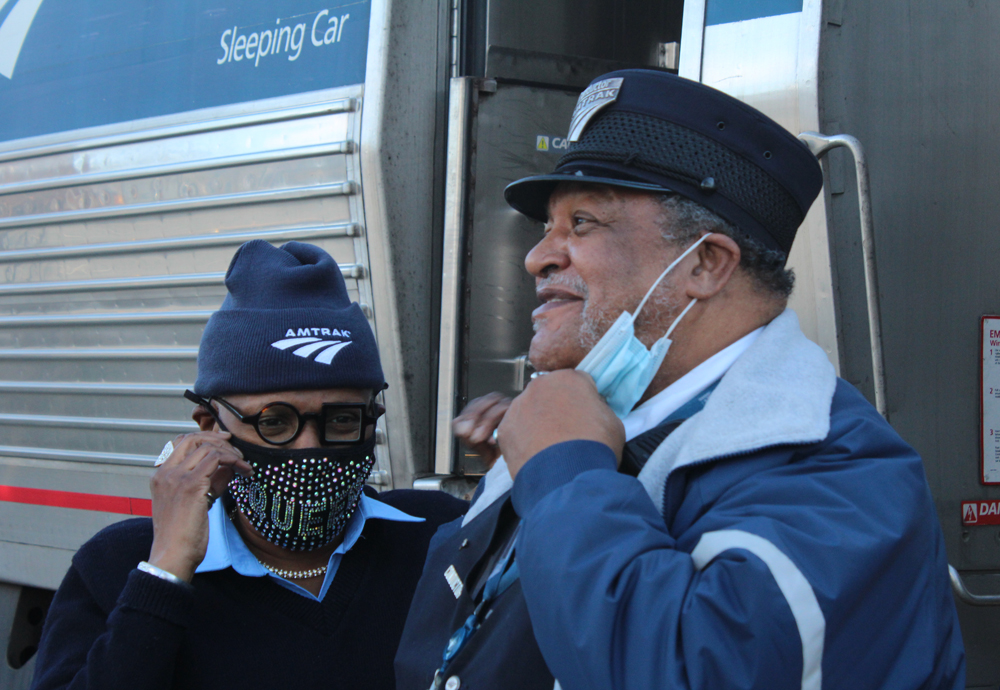 ---
First of two parts.
For decades, two Amtrak employees developed mutual respect for their work ethic among regular or occasional passengers, fellow employees, and each other.
Janice Adams joined Amtrak as a train attendant in 1984. Leonard Claytor started with the Chesapeake & Ohio in 1969 and was promoted to a conductor in 1975 when C&O crews still staffed the Cardinal and other Amtrak trains. He moved over to the passenger operator as an assistant conductor in 1985.
Adams, affectionately known as "Mama J," retired from her final assignment as a New York-based Cardinal sleeping car attendant in May 2021; Claytor, "L.L" to most who know him, made his last trip Dec. 19, 2021.
A special relationship
People who observe and ride passenger trains often develop an affinity for exceptional employees, and Adams' and Claytor's long-running tenure together on the Cardinal is a perfect example. On Jan. 22, 2021, at Charlottesville, Va., where Claytor begins his run to Amtrak's Huntington, W.Va., crew base, local well-wishers came out to greet the pair and pose for photos after news of their impending retirement spread.
A few months later, Staunton, W.Va., resident and Trains subscriber Ann Barnett supplied contact information and suggested we delve into their stories. Photographer J. Eric Miller had also begun capturing images of the two years ago. Both Adams and Claytor have a lot to share about their values and extensive Amtrak experiences, so they will be featured in separate profiles. We'll start with Janice Adams.
Adams: Dedicated to customer service on the Cardinal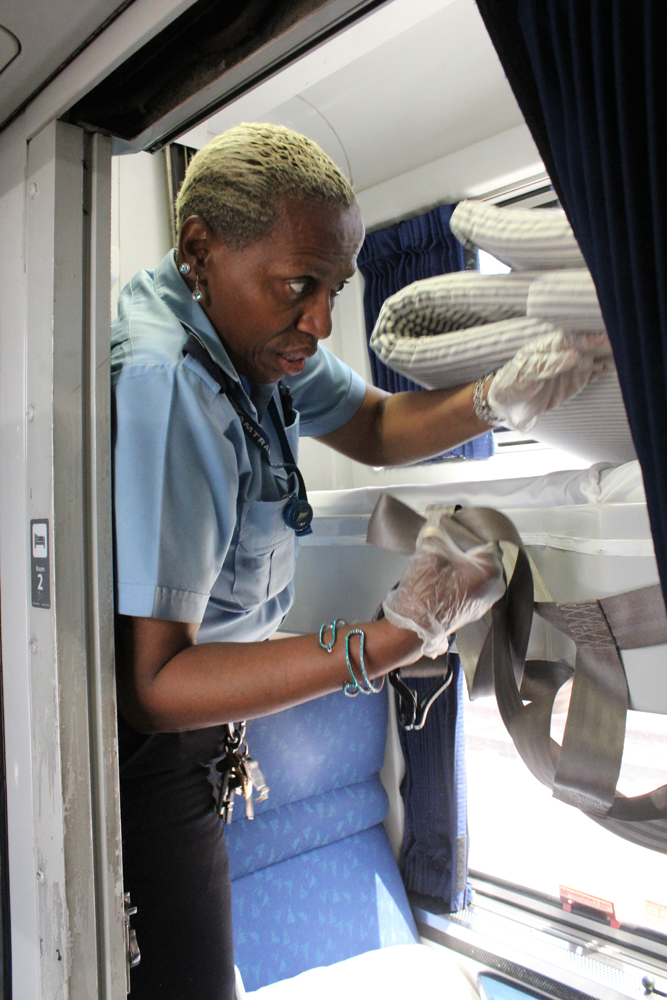 How do you learn the correct way to treat passengers? For Mama J., it was from her first on-the-job instructor, Joe Hartley, back in 1984.
"I was working the Crescent as a coach attendant," she says. "We had onboard service chiefs at the time; and Joe woke you up after 4 hours rest and ran you through all the coaches, sleepers, all of the electrical lockers, because you always had to be at the top of your game. At one point he told my supervisor, 'She's not going to make it.'
"He scared me, but I was a young girl at the time. And I told myself, 'I must be the best — I'll be unstoppable. You see me now?" Shortly thereafter, she remembers being told, "You have that spunky personality, so we're going to promote you to the diner.'"
The lessons learned then and in the following 37 years served Mama J well. She earned the final Amtrak Customer Advisory Committee Service Award in 2018 before then-CEO Richard Anderson disbanded the group of passenger advocates.
"I have believed the whole time in my heart that I have to keep the torch lit — stand for the service those old-timers provided before me, and how they helped me to become the person I am," Adams says.
Executive inspiration — looking back
Yet she also credits her work ethic to the example set early on by another Claytor, Amtrak President W. Graham Claytor Jr. A frequent passenger aboard the Crescent, he ran the company from 1982 to 1993 and later succumbed to cancer.
"If we could pull him from that grave, I would love for him to run this company now," she confides. We're sitting in the Cardinal's cafe car after her last westbound run while waiting for the equipment to be pulled to the Chicago coach yard for servicing.
"He fought to keep onboard standards high and Amtrak afloat. I watched that man come into the dining car to make sure we had everything we needed: jelly and marmalade to sugar and sodas and food stocked to the ceiling, so we would never run out. The whole train had to be spotless," Adams recalls.
Maintaining standards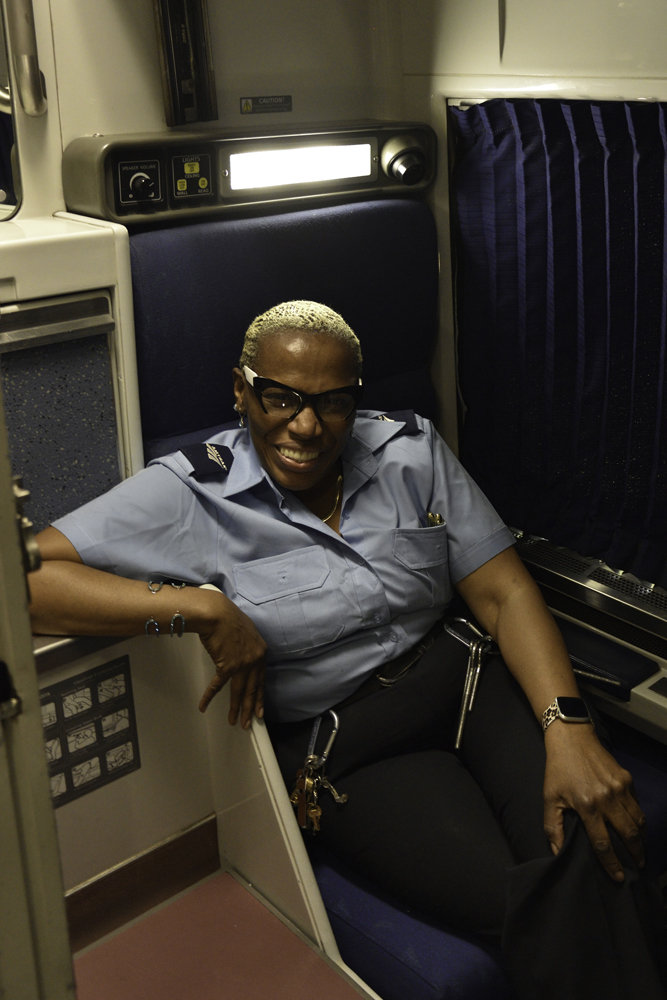 Prophetically, after the train pulled around the wye on that beautiful May morning, it bypassed the washer, so the windows would remain dirty for the eastbound trip that evening. Rather than go to the hotel, Adams stayed with the car to make the beds for her last revenue run. She's done that for the past 10 years.
"I never chase people out of their rooms before we get in," she says. Another trade secret: "I try not to ever use the P.A. to introduce myself. If I go face-to-face, make suggestions about the food — such as it is — and talk to you, by the end of the trip, we're friends. Since I've been doing it my way, it works every time."
As Adams goes about her work stripping the beds, putting used linen and towels into separate colored laundry bags, and stacking pillows a certain way so the ready crew can put pillowcases on them, yard mechanics stop by to offer congratulations on her retirement.
"You see these pipefitters and electricians coming through here — If I tell them something is wrong, I know they'll fix it because I treat them right," she says, then asks, "Why can't we all be happy? There's enough sadness just dealing with this company now. They changed the food menu, cut the cars and staff down, and supervisors call you to nitpick on the littlest things."
She has worked every Amtrak train operating east of Chicago, from the City of New Orleans to Acela First Class. But as her seniority status rose to No. 1 among attendants at the New York crew base, she was able to hold the Friday westbound–Saturday eastbound sleeping-car position. With the Cardinal's triweekly operation, this allowed Adams to drive to and from her home in Pennsylvania's Poconos for time off between runs, although the late New York arrivals and early departures meant she would have to spend nights at New York's Sunnyside Yard.
"In our locker room there, chairs have never been reupholstered; we don't have beds to sleep on, so I have to bring my own air mattress. The money they get doesn't go to fix up crew quarters or these trains or supplies we can hardly ever get — it's just cut, cut, cut," Adams says, adding with emphasis, "I can say what I want to say because I'm retired!"
But she remains hopeful for the future. "Do you know how great this corporation could be if you have the right people running it? I mean, the airlines could never touch our hospitality!"