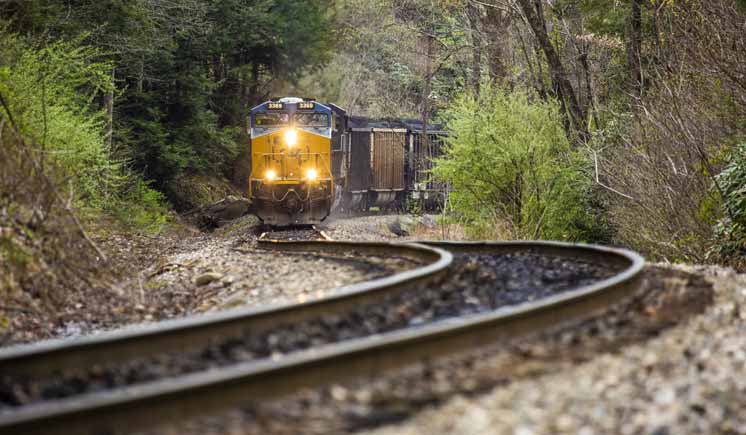 West Virginia Line summary
The West Virginia Line (RJCV) is a short line railroad, owned by R.J. Corman Railroad Group, that operates in the mountains of West Virginia. Starting at the railroad and coal town of Thurmond, the line travels 18 miles west to Pax.
History
Long before serving under R.J. Corman, the West Virginia Line began life in 1893 as the Lou Creek Branch out of Thurmond. By 1910, the line reached Pax under the Kanawha, Glen Jean & Eastern Railway to interchange with the Virginian Railway. By 1940, coal traffic made the branch the most profitable asset for its new owner, the Chesapeake & Ohio Railway. It was never meant to last as the mines dried up in the mid-1980s, leaving the Lou Creek Branch with a grim future. In 2006, the struggling line was purchased by R.J. Corman from West Virginia Southern who had ownership since 2003 from the C&O's successor, CSX Transportation. A new mine was constructed at Pax near the end of the branch, hence the railroad's intention for acquisition. By the end of the year, coal trains were in full service on the renamed West Virginia Line for the first time in nearly two decades.
Operations
Today, the Contrua Energy coal mine in Pax is the only active business on the West Virginia Line. Once at the mines, the train splits into three cuts and loaded separately. This is in part due to the 2.2% grade heading toward Mount Hope on the way back to Thurmond. Each loaded section is hauled and dropped off at Mount Hope one at a time before eventually continuing on as one train for the rest of the return journey to Thurmond. It's typically a two-day process from Thurmond to Pax round trip.
R.J. Corman utilizes CSX motive power that is dropped off by the Class I railroad at Thurmond with empty coal hoppers. Two EMD SD40T-2 "tunnel motors," which are owned by the short line, are added at Harvey as pushers before proceeding to the mines at Pax.
Thurmond still stands as the West Virginia Line's interchange with the CSX network. Most of the coal loads from the branch are en route to Newport News, Virginia for export. Once back on the ex-C&O New River Subdivision, the train heads east to Tidewater and a waiting ship.
Read more about the West Virginia Line in Trains' April 2021 issue.