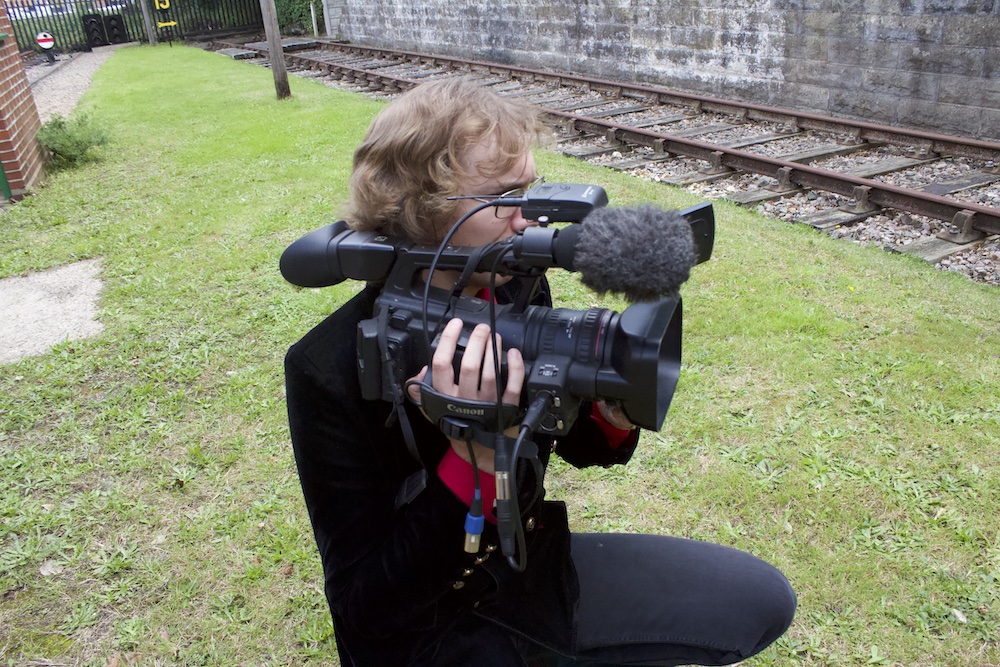 ---
From the ground up
The roots of railroad videography can be traced back to the late 19th century when French brothers, Louis and Auguste Lumière released Arrivée d'un train (à la Ciotat) as a marketing tool for their developing Cinématographe. While not being fully restricted to many, filming [later video recording] trains was approached for years as less appealing compared to its photography brethren, mostly due to limitations in equipment affordability and viewing opportunities. While the rise of internet access opened the door for the latter by the turn of the 21st century, it wasn't until 2005 when the catchphrase, "Broadcast Yourself" became a game-changer for the hobby and industry.
Since its humble beginnings with amateurish uploads at 240p maximum for resolution, today's YouTube has blossomed into the largest video distribution website with professional productions now being viewed up to 2160p (4K). The accessibility to millions has led to a surge in railroad videography with a growing community reaching younger enthusiasts from around the world. Of course, technological advancements have played a major role in the hobby's spike with camera equipment and editing software becoming more affordable to a point where capturing the sights and sounds in 4K can be possible through a smartphone.
In the United States alone, there seems to be no stone left unturned with a buffet of railroad coverage on YouTube. Is there now oversaturation? That depends on one's preference. In an overwhelming experience with millions of videos uploaded to the platform, viewers can still find what they're searching for with new content breaking the mold to become more innovative and cinematic. Some "YouTubers" are creatively going above and beyond the hobby on the site.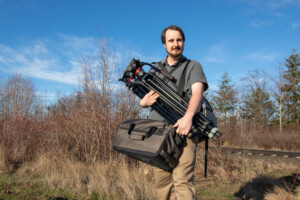 Mike Armstrong grew up in San Diego, Calif., filming trains locally before discovering YouTube and becoming a member in 2008 with his primary channel, CoasterFan2105. "I never really thought that it had the potential to become any kind of a career," said Armstrong. "YouTube was only a couple of years old at the time and there was no Partner Program."
At age 18, Armstrong was invited to join YouTube's said program where monetization is possible through advertisements being placed on his videos in exchange for revenue per clicks and views. The release of his videos, Steam Trains Galore and Union Pacific Big Boy No. 4014's move from Pomona to West Colton, Ca. – the former reaching one-million views while the latter became the first video to surpass 10,000 views in a single day – propelled Armstrong's channel and career path. Today, he owns a full-time business producing a variety of railroad videos for his CoasterFan2105 channel and other social media platforms.
Across an ocean
On the other side of the Atlantic, England's Chris Eden-Green joined YouTube in February 2007, initially as a casual viewer. While transitioning into a career in videography by 2010, he noticed a lack of documentary-style reviews of steam locomotives, a passion Eden-Green has carried throughout his life. The BBC's Top Gear became a key driver for him to fill the void.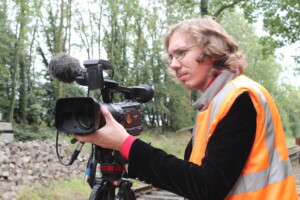 "They did the series 13 premier where they raced Peppercorn Class A1 No. 60163 Tornado against a Jaguar XK120 sports car and a Vincent Black Shadow motorbike," said Eden-Green. "I looked at the videography and thought, 'See, this is how you do it.'"
Eden-Green's flagship series on YouTube, Steam Locos in Profile showcases the now presenter crisscrossing the United Kingdom and occasionally overseas, highlighting the different classes of locomotives. While distributing full episodes on the platform as part of the series' promotion since 2012, DVD and digital download sales make up the overall funding for the continual production.
Back in the States, Nick Martin started his YouTube channel, Pennsy Productions in 2018 to create videos of trains ranging from 1:48 to 1:1 scale. An opportunity to experience Nickel Plate Road steam locomotive No. 765 at the Cuyahoga Valley Scenic Railroad that year, along with learning of Kelly Lynch's video work became a turning point for him.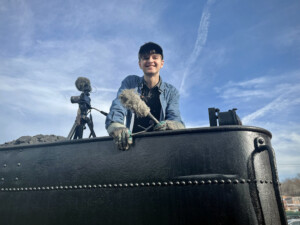 "How Lynch's stories were put together and how professionally they were done," Martin explained. "That's something I really admired."
Once part of one of the most renowned video production programs in the country at his high school, Martin's railroad videos have evolved into a documentary style of cinematography and storytelling. His growing skill set also brought the missions of the Midwest Railway Preservation Society and the American Steam Railroad Preservation Association into the public eye. The high school graduate now pursues a career in filmmaking.
Ever-evolving landscape
Of course, it's not always clear track when laying them across YouTube's ever-changing landscape. Video monetization on the platform with its strict guidelines requires consistent uploads while relying on a substantial view count per video to even make a dent in the amount of revenue earned. This has put Armstrong in a career that's unique from others in the industry, while he constantly stays on his toes to maintain it all. "I am in the middle of working on several of my biggest projects ever and they have taken up a lot of my time," Armstrong explained. "It can be a challenge to balance between that and making sure I have a new video out every Friday morning."
Eden-Green also uses YouTube's monetization on his videos to assist in covering the costs for Steam Locos in Profile. However, the algorithm in recommending videos doesn't coincide well with the narrative documentaries produced by both him and Martin, resulting in an extra push for exposure yet little ad revenue earned. "Logistics is a juggling act because each episode can cost up to thousands of pounds to make but then get very little in return at least through YouTube," said Eden-Green. "Which can then take years to recuperate production costs through DVD and download sales."
"The disadvantage of doing these documentaries is that they don't do as well in the algorithm, unlike the regular, non-narrative railfan videos," Martin added.
Solving the puzzle
Even with these headaches, there are still pieces to a more challenging puzzle that circles back to the question of oversaturation. On a website full of thousands of channels within railroad videography alone, it's a matter of finding one's voice and a cohesive style that can fit like a glove. "When people ask me for advice on what looks good, I respond with 'That's something you have to decide on your own,'" said Martin. "There's never going to be one right answer."
No matter who you talk to, there are more reasons why YouTube isn't perfect and never will be. Despite the imperfections resulting in challenges, are the rewards still worth it?
"It's pretty incredible to see just how many people enjoy what I do and for that, I will be forever appreciative and grateful," Armstrong answered.
"Other people have come up to me and said, 'Because of you, I'm now invested in the hobby or working full time in the rail industry,'" Eden-Green explained. "I still can't believe it sometimes."
"When you make a video that a lot of people really like, good things can come from that," Martin added. "It's gaining connections."
Railroad videography on YouTube has opened the door for many to become invested in the growing hobby and industry with no signs of it closing. For those who wish to go above and beyond the hobby, Armstrong, Eden-Green, and Martin all said it's a matter of being yourself. In YouTube's case, it's best to "Broadcast Yourself."