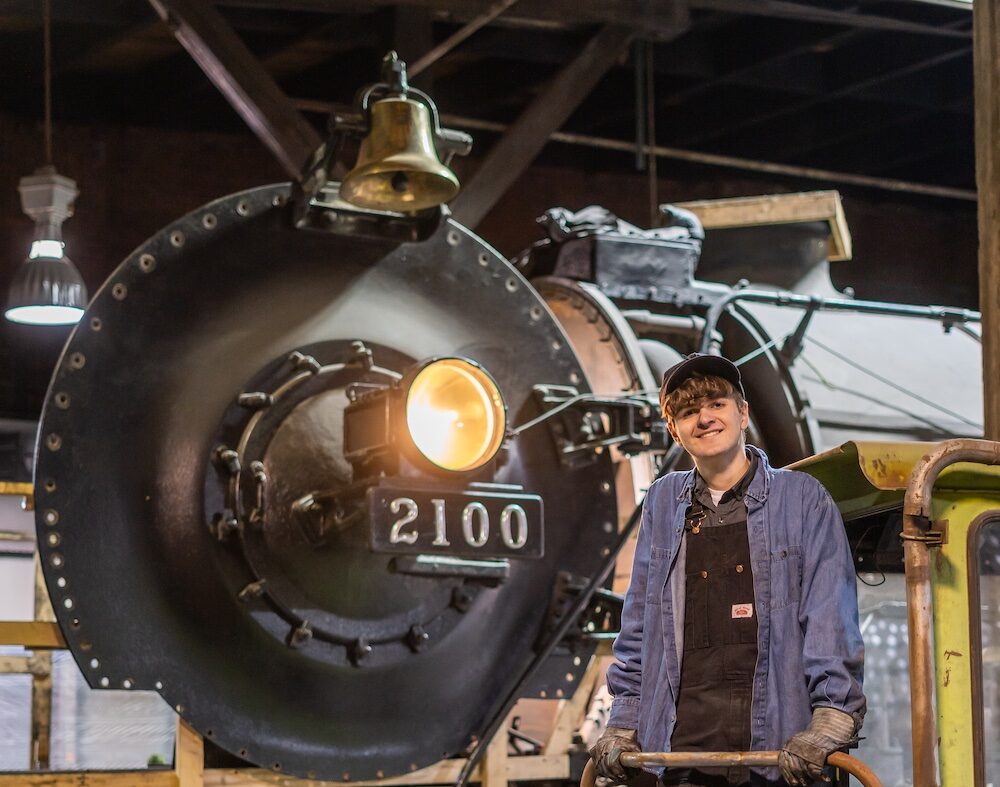 ---
The roundhouse of the former Baltimore & Ohio Railroad in Cleveland is home to the Midwest Railway Preservation Society (MRPS) and the American Steam Railroad Preservation Association (ASR). Nick Martin – age 18 – is a regular to the roundhouse, volunteering his growing skill set in videography to help bring the missions of these non-profit organizations into the public eye. His current preservation project is in video and media for ex-Reading Company T-1 No. 2100, the resident 4-8-4 steam locomotive undergoing restoration by ASR.
How did you get involved in rail preservation?
Nick Martin: I discovered the original launch video in 2017 that was made for No. 2100 when it was being shipped back east from Washington. American Steam Railroad said it was being moved to the B&O roundhouse in Cleveland for restoration and I thought to myself, "that's just an hour away from me." I started looking at when I could attend an open house because I wanted to see the locomotive and the progress.
It was 2018 when I was able to attend an open house, as I was just getting back into trains. No. 2100 was the last stop on the tour and that's when I met Forrest Nace – ASR's Treasurer and restoration crew volunteer – who was the tour guide. It was impressive to see the locomotive partially disassembled, instead of all-in-one piece. It was at that point I thought, "how can I join?"
I bought my membership to ASR in April 2019 and reached out to see how I could get involved with the restoration, as well as make a video about both the organization and the locomotive for my YouTube channel, Pennsy Productions. ASR was very supportive of my goals, and with them providing the people, time, and information I made the video. It was a great introduction to the project and rail preservation.
As a young preservationist at age 18, what have you found to be the most challenging aspects in the industry?
Nick Martin: I think at my age, and this has been an occurrence only a few times, there are some who underestimate you and your abilities. However, once they see that you have a good work ethic and skills you can bring to the table, the opinion they have of your capabilities usually changes. Thankfully, ASR is an organization that is willing to teach people of all ages and backgrounds new skills, how to use the tools needed, and assign tasks you're passionate about.
What's been the most rewarding for you so far?
Nick Martin: Filling a role that I already have a skill set for. I was already doing video production as a hobby when I joined ASR. My role within the organization has grown along with my skill set, and it's something ASR appreciates and finds beneficial. It's been really fulfilling to actually be able to do something I'm already capable of doing that I really enjoy.
On the other hand, it's learning so many new things. I had very little knowledge of steam going in, and every single time I exit the roundhouse, I have information and experience that I didn't have when I went in that morning. For example, there are a lot of things I still don't know about machining, but every single time we have something machined or cast, I gain additional knowledge.
Where do you see rail preservation as it is today and what do you hope it'll become for the future?
Nick Martin: From the media point of view, I think we're at a real turning point, especially with the advent of social media in the past 10 years that has skyrocketed in popularity. As an industry by and large, we are in a very good position, but we need to recognize the challenges. It's survival of the fittest, and that simple principle of either you adapt, or you don't make it very far. With media, both social and mass, it's going to be something that the rail preservation industry will need to stay in tune with and be able to navigate.
For railway preservation over the next 10-15 years, I can see many changes occurring. Within the steam community where I mostly spend my time, I believe we're going to see less use of coal being used as fuel, with a variety of former coal-burning locomotives having been recently converted to burn oil.
What advice would you give for any young person looking to get involved in the industry?
Nick Martin: Start local, begin with something you're passionate about, and be ready to learn. There's never a better time than right now to get involved.
No matter what your skill set is, you're going to fit in somewhere.
— Edited for factual accuracy, style, and content. 
Contact Trains.com Staff Writer, Lucas Iverson to help spotlight the next young gun in rail preservation.