Mirrorless cameras in railfan photography: The mirrorless camera revolution might be the biggest conversation in photography since the introduction of the digital camera more than 45 years ago, but will mirrorless camera technology evolve to become the new norm, or does it simply give photographers more options?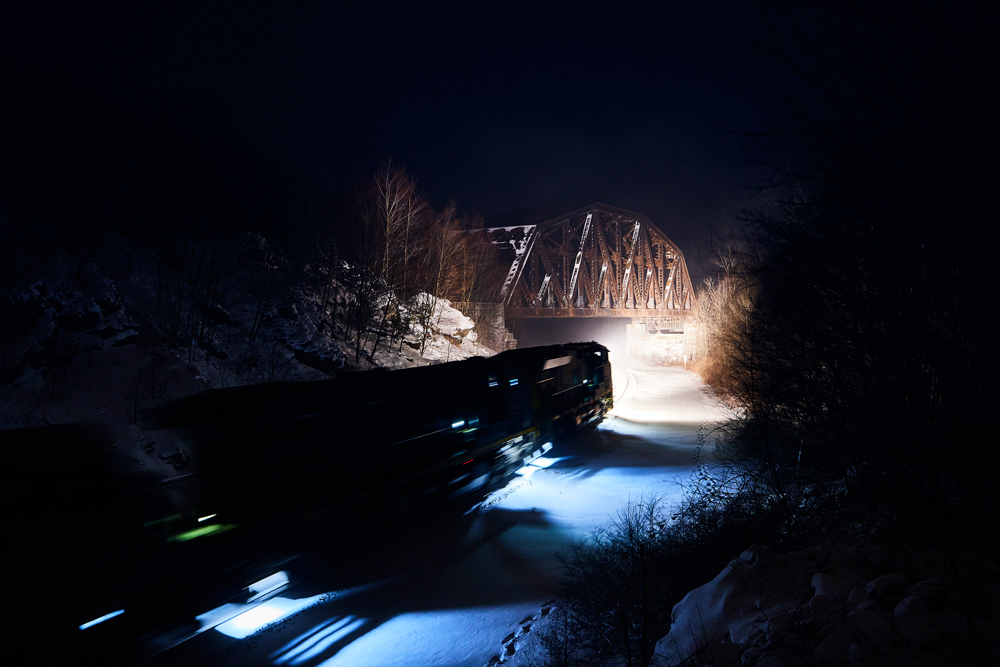 Brief history of mirrorless cameras
Mirrorless technology was introduced to the marketplace in 2008 with the release of the Panasonic Lumix DMC-G1. Fujifilm entered the mirrorless arena with its X-series in 2011, as did Nikon with its Nikon 1. Canon entered the market in 2012 with its EOS M lineup.
Early on, the convenience of a mirrorless camera made them attractive to amateur and hobbyist photographers, while serious and professional photographers remained loyal to the DSLR. But as the mirrorless technology has improved, some DSLR-dependent shooters are branching out and embracing the electronic viewfinder, lightweight design, and portability offered by mirrorless cameras, produced by Fuji's X, Nikon Z, and Canon's R mirrorless brands, among other brands.
To better respect the relationship of DSLRs and mirrorless cameras, we have summarized the key characteristics of each camera type below.
DSLR characteristics & advantages
• Optical viewfinder
• Image stabilization minimizes camera shake
• Manual settings placement
• Longer battery life
• Durability under adverse conditions
• Broad selection of interchangeable lenses
Mirrorless characteristics & advantages
• Electronic viewfinder
• Compact, lighter design
• Continuous live view features
• Fast auto focus, shutter speeds
• Simplified lens mount adapters
• Superior video quality
Opinions of mirrorless cameras among railfans
TRAINS recently surveyed regular contributors, as well as gauged several well-known rail photographers who have transitioned to mirrorless. In our conversations, it was clear that many were initially drawn to the mirrorless camera for its lightweight and compact design.
"I do a lot of hiking for my photography, so keeping weight down is helpful … In early 2014, I sold all of my Canon gear and took the plunge with Fuji. I haven't looked back. It made photography fun again," says Scott Lothes of Madison, Wis., with the Fujifilm X-T20.
"What made me switch was pretty straightforward: form factor … I do a lot of hiking to spots, so the lighter the load and more room in my camera bag is very beneficial," says Ben Sutton of Pittsburgh, Pa., with the Canon R5.
Image quality and auto-focus are comparable with no defined winner
After surveying photographers, the consensus was that image quality with mirrorless cameras is comparable to that of a DSLR. But advancements in technology may give mirrorless cameras an edge in the long run as new models further improve autofocus, image resolution, and high-ISO sensitivity. In some instances, some photographers believe mirrorless quality may already be superior. But in summary, it's a draw.
"I'd say [mirrorless] image quality is comparable or slightly better. The Fuji files are sharper straight from the camera than anything I saw out of my Canons. I do occasionally see the smaller sensor of the Fuji struggle to resolve large areas of extremely fine detail, like blades of grass in a distant field, but that takes some serious pixel-peeping and only comes up in those kinds of texture-heavy situations," Lothes says.
"Image quality is roughly the same … and I did get the benefit of faster ISO speeds and cheaper image stabilization features [compared to the Canon 5D Mark II]," says J. Alex Lang of Pittsburgh, Pa., with the Fuji X-2 Pro.
"The [Canon] R5 is basically a mirrorless version of the 5D series," Sutton says. "The migration was seamless."
Mirrorless cameras in railfan photography: Embracing the electronic viewfinder
In replacing the optical viewfinder, the new electronic viewfinder may be the single most noticeable change. Some of the perks of the EVF include a real-time live image preview that allows you to alter settings without taking your eye out of the viewfinder. In other words, no more test shots as you wait for the train to come into view, because the end result is shown in real time, all within the viewfinder. For some, this is welcomed.
"The ability to change the exposure in the viewfinder, in the moment, has been a game changer for me. I find that I have more 'keepers' with the EOS R than I ever had with a DSLR," says Jeff Terry of Newport, Minn., with the Canon R. "Even better is that I can have the histogram displayed for me in the viewfinder itself, so I know right away if I'm going to clip the highlights."
"The electronic viewfinder is great if you're doing a lot of running and gunning because you don't have to set your exposure, chimp the photo, and adjust. You can see the changes in front of you," says Justin Franz of Whitefish, Mont., with the Canon R.
But Sutton warns not to be too reliant on the tech-heavy mirrorless.
"The EVF is something to get used to. It can do exposure simulation, but you can really mess up an exposure if you don't pay attention to your meter," Sutton warns.
DSLRs come out on top for durability, battery life
While the small, compact design of a mirrorless camera is attractive to many rail photography consumers, the bulkiness of a DSLR gives the impression its heavy design is able to withstand more trackside abuse compared to its lighter successor. And as for battery life, the DSLR is far superior.
"Battery life was definitely better with my DSLRs; it's an Achilles' heel of mirrorless cameras," Lothes says.
"My [mirrorless] Canon R eats up batteries like you wouldn't believe," Terry says.
"I haven't had any situations in terms of drops or anything like that, but the [Canon] 5D Mark III feels like it could handle accidental situations a little better," Sutton says.
Mirrorless cameras in railfan photography: Who prevails in the lowest of light?
Railroading is a 24/7 sport and low-light photography is a dramatic time to capture trackside action. Knowing which camera is proficient at the darkest hour is crucial for most any semiserious shooter.
"The grittier, the darker, the rainier, and the muddier the better," Sutton says. "The 5D Mark III was excellent in that regard, but when adding the R series, specifically the R5, to my arsenal, my style was elevated tenfold. I knew mirrorless tech and updated Canon sensors could handle higher ISO and lower light pretty well, but when I started shooting with it in those conditions, I was in another realm."
"For low light, I might give a slight edge to a full-frame DSLR compared to my APS-C mirrorless cameras, but honestly, it's a slight edge. The mirrorless is definitely as good or better than the APS-C DSLRs I've used. I have not tried any full-frame mirrorless cameras, so I can't speak for their capabilities. I don't hesitate to shoot at up to ISO 6400 with my Fujis, and that's as high as I ever went with any of the Canons that I've owned," Lothes says.
"Low-lighting conditions are evenly matched, although I give my Canon 6D a slight edge in that department," Terry says. "I still use [the DSLR] for night photos."
Photographers still have the option to choose between DSLRs and its vast collections of interchangeable lenses or make the plunge to mirrorless, but camera makers' focus on mirrorless tech will ultimately make the purchasing decision for consumers in favor of mirrorless cameras in railfan photography. Manufacturers are spending more research and development on the mirrorless realm. It was announced in early 2022 that Canon's 1D X Mark III will be the maker's last DSLR, with the company focusing on mirrorless cameras going forward.
"I figured the end was coming for the Canon SLR — eventually — but I wasn't expecting it to come this soon," says Franz.