EMD's Triclops locomotives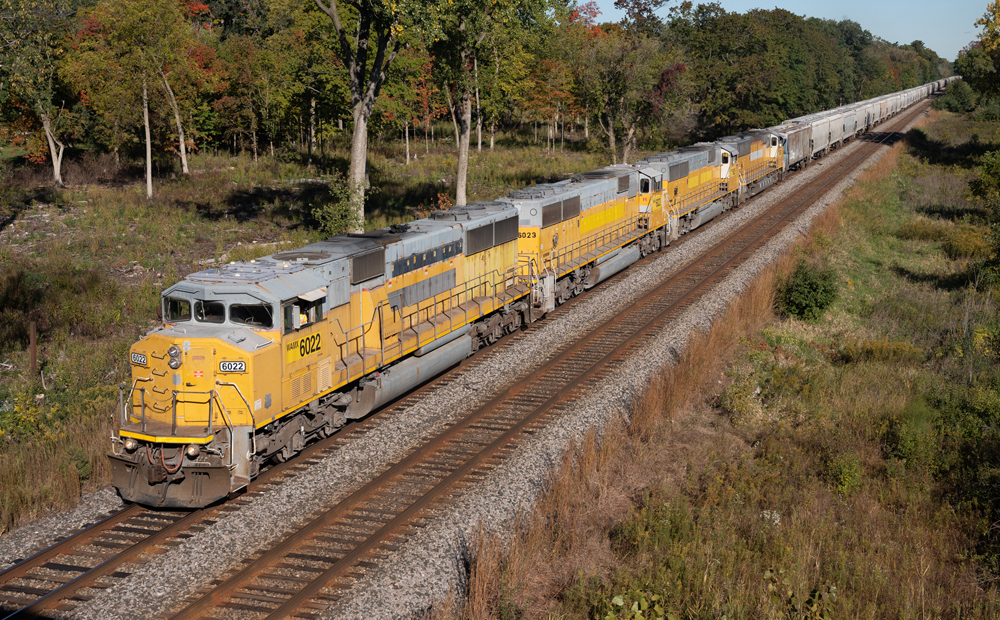 ---
At the beginning of the comfort cab revolution in the United States, EMD constructed its first "North American cab" SD60M for customer Union Pacific. Numbered 6085, it was a similar design to what Canadian National had been using for years, with one visual difference. The new cab featured three front windows instead of the four-window design on CN's orders.
Nicknamed "triclops" by railfans, this design would only last for a handful of years beginning in 1988 and would be replaced by EMD's refined design that used a two-piece windshield on future comfort cab-equipped freight locomotive orders. Only four EMD models — the passenger F59PH and freight SD40-2F, SD60M, and SD60MAC — were so equipped, and only one model, the SD60M, would continue to be built with a North American cab with two windshields. It should be noted the successor to the F59PH, the F59PHI, also had three front windshields, but uses a significantly different design and never carried the triclops moniker.
All 73 F59PH passenger locomotives were built for two customers, GO Transit and Metrolink, while 25 SD40-2Fs went to Canadian Pacific, and 240 three-piece windshield SD60Ms were built for Union Pacific, Soo Line, and Burlington Northern. The four SD60MACs were test beds for EMD and never sold.
While some of these unique locomotives found new homes years ago, many of Union Pacific's large group of 185 three-piece windshields SD60Ms have been entering the second-hand market recently, increasing the number of railroads operating them. With the exception of Soo Line and Burlington Northern SD60Ms, all freight and passenger railroads still roster some of their original purchases today, with BN's and Soo Lines units folding into BNSF's and CP's rosters, respectively. Also of note, the North Carolina Department of Transportation converted five of its F59PHs into unpowered cab control cars for push-pull service.
Current owners of three-piece windshield EMDs:
F59PH
GO Transit
Metra
Metropolitan Transportation Network-EXO (Montreal)
North Carolina Department of Transportation
Trinity Railway Express
SD60M
BNSF
Buffalo & Pittsburgh
Canadian Pacific
CIT Rail
Fort Worth & Western
Hudson Bay Railway
Illinois Railnet
Kaw River Railroad
Larry's Truck Electric Service
National Railway Equipment
Southwestern Railroad
Stillwater Central
Union Pacific
Wisconsin & Southern
SD40-2F