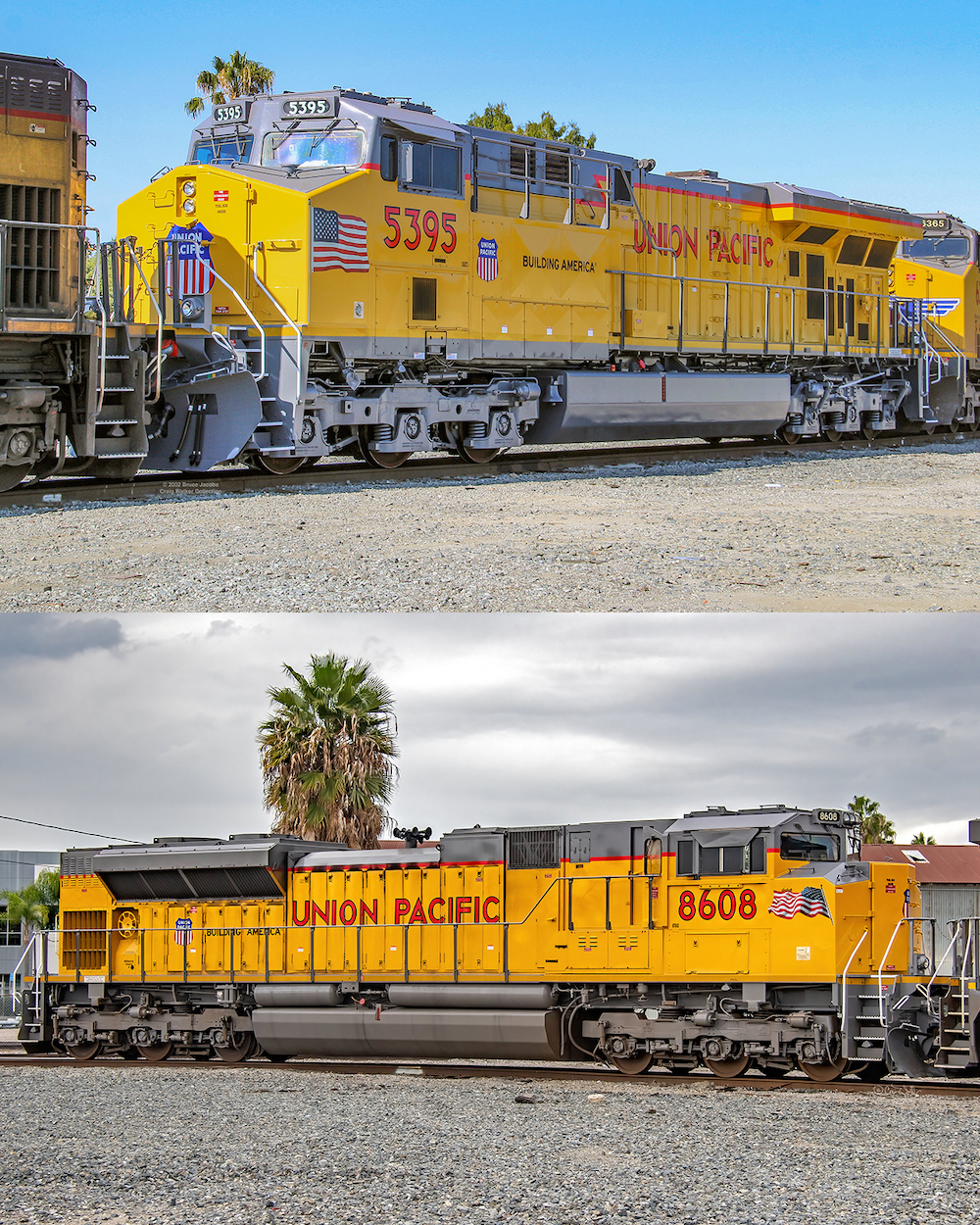 ---
Union Pacific is in the final stage of modifying the paint scheme of its locomotive fleet. Announced in July 2022, company employees at Jenks Locomotive Shop in North Little Rock, Arkansas, created the new design which relocated the flag logo from the long hood to a smaller version placed on the side of the nose, eliminated the lightning stripe design on the red stripe behind the cab and removed the wings from the nose while retaining the UP shield in its place. One reason for the change was excessive heat generated by the locomotive engine caused the flag decals to fade and peel. For that matter, so did the occasional engine fires on General Electric locomotives due to fuel line leaks. The result was unsightly flag decals on hundreds of UP engines.
Normally when a railroad makes changes, existing supplies of decals are used up before making the transition to the new image. Union Pacific has instead been tweaking its design since last summer, creating small batches of locomotives with components of both the new and old design. Repainting in the company paint booth at Jenks in North Little Rock and at Wabtec's Fort Worth, Texas, plant applied to rebuilt locomotives have further increased the variety of designs with both shops releasing different versions simultaneously.
The first design released by Jenks was on UP ES44AC No. 5395, which replaced the winged shield on the nose with a shield that was slightly larger than the one found within the old logo, a large flag decal on the side of the nose that had less waviness in its design, and 'Union Pacific' spelled out on the long hood. The locomotive retained its lightning stripe along the red stripe on the carbody used on the previous paint scheme. At the same time, rebuilt locomotives from Wabtec changed slightly, dropping the flag on the long hood for 'Union Pacific' spelled out on the hood. While No. 5395 released from Jenks used UP's standard Gothic lettering style on the long hood, rebuilds from Wabtec used a different font and thinner lettering than the UP standard.
Over time, Jenks repaints dropped the lightning stripe and changed the flag decal on the side of the nose to a scaled-down version of the original design previously used on the long hood. Wabtec would continue to release rebuilt units with only the flag-for-lettering swap on the long hood until late 2022 when the flag on the cab was added and the winged nose logo was dropped. The font on the long hood switched to UP's Gothic style in early 2023, though the lightning stripe remains on rebuilt locomotives released to this day.
So next time you're trackside on Union Pacific and see a freshly repainted locomotive, be sure to pay close attention to which design variation it wears!