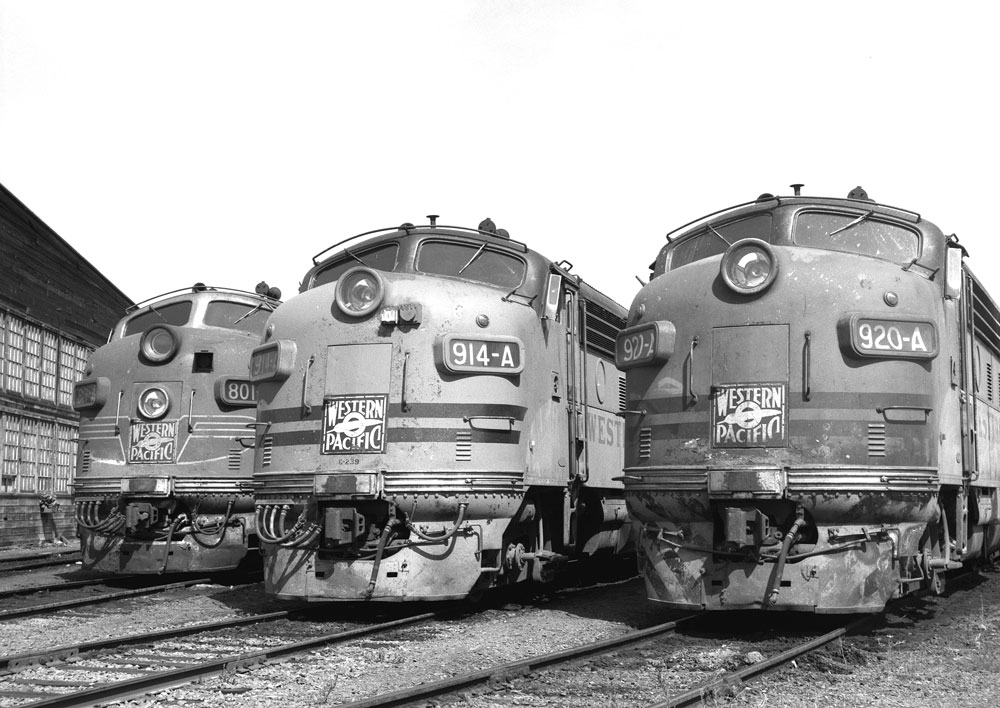 You have to be tough to survive the railroad. Just look at any train crew, mechanic, or switchman. Just look at any piece of motive power or rolling stock. Just look at this trio of Western Pacific diesel locomotives awaiting their next call to duty in this Stockton, Calif., roundhouse scene in August 1965. They are road weary and high mileage. But they work, and they are a part of what always made the WP a fan favorite.
It was usually the underdog railroad wherever it operated. The Ogden, Utah–Oakland, Calif., main line was seemingly always filled with activity that made fans gravitate to it not only from around the country but the world. But there was more: The beautiful California Zephyr passenger train, the longest Budd RDC route (more than 900 miles), a fleet of venerable EMD FT cab units, Alco and Baldwin switchers, two subsidiary operations, gorgeous mountain and desert scenery, and a carfloat operation from Oakland to San Francisco.
Western Pacific shop mechanics kept these steeds in the best shape they possibly could. In good times that was fairly easy. In not-so-good times it was the railroad equivalent of bailing wire and spit. But the mechanics, and the locomotives, always tried their best. And they usually succeeded.
Looking back at the camera this day is EMD F3A No. 801A. You can tell it's a passenger locomotive by the silver-and-orange paint scheme. A rather uncommon unit, it was designated F3A-P, part of a four-unit set of locomotives where both the A and B units carried steam generators, but only the B had space for a significant amount of boiler water, necessitating water being pumped as needed from to the A-units in the consist. It left the builder's shop floor in June 1947, was renumbered in 1968 to 925A, and entered freight service before being traded back to the builder three years later as fodder for a new GP40.
Freighter No. 914A is in the middle. It joined the WP in 1950 and was sold for scrap 22 years later after suffering an electrical fire. On the right is No. 920A. Another 1950 graduate. Renumbered in 1971 as second 913A, she was sent to locomotive rebuilder Morrison-Knudsen seven years later for an overhaul.
Over the years the three units gained unique personalities. No. 801A has both a headlight and an oscillating one; only one of the two freight units has front multiple-unit connectors. All are kind of beat up, all three will do their duty when assigned to their next train out. When you're railroad tough, you just do it.
And by the way, if you ever get to the California State Railroad Museum in Sacramento, say hello to the 920A. It's carrying its new No. 913. She was refurbished so nicely, it looks like she came out of the EMD builder's bay seven decades ago.
Tough guys it seems, never go out of style.