Major 2020s steam locomotive restorations (so far!) will take a look at five locomotives that returned to service in the early part of the decade. Even in these challenging times, the restoration efforts show no signs of slowing down. Check out our list:
U.S. Sugar No. 148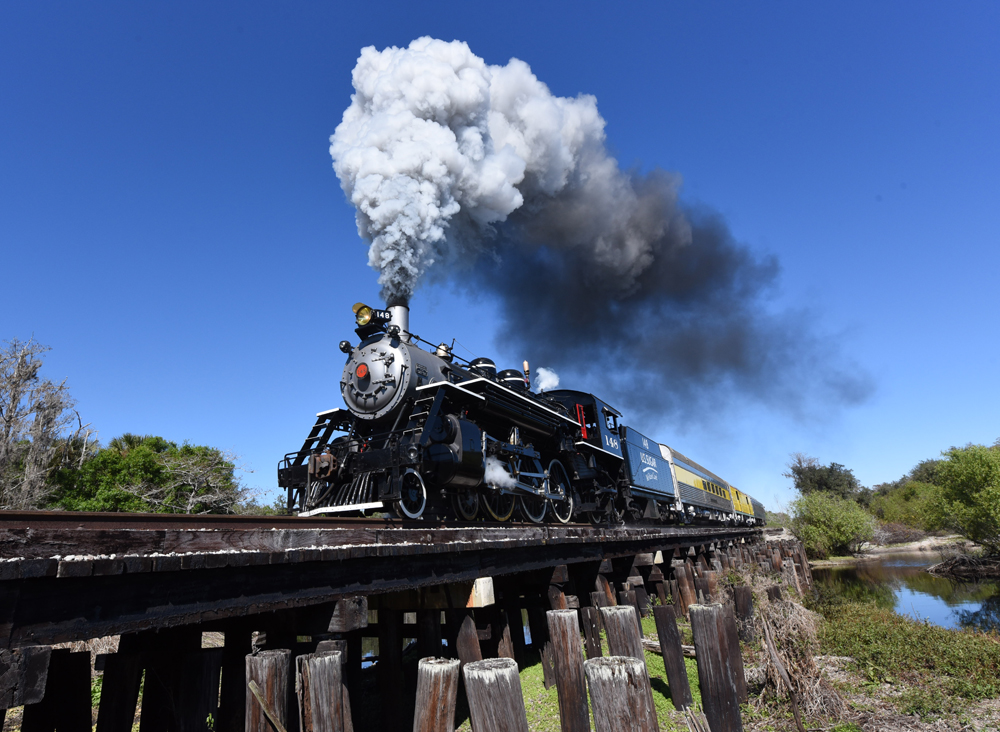 Restoration completed in 2020: Built in April 1920 by the American Locomotive Company, this 4-6-2 Pacific-type steam locomotive called Florida home for 50 years. First with the Florida East Coast Railway and then with the U.S. Sugar Corporation. What happened next after 1970 was a series of moves for the locomotive to New Jersey, then Michigan, and finally Colorado. Tired and in need of a serious overhaul, if there was any hope for No. 148, it meant returning to its roots.
Understanding the value of honoring the rail heritage surrounding central Florida, Robert H. Buker Jr. and U.S. Sugar reacquired No. 148 and returned it to Clewiston for restoration. With work conducted by Steam Operations Corporation and FMW Solutions, the project included a new front boiler course and smokebox. If there were any bright spots to come out of April 2020, it was the debut of No. 148 in time for its 100th birthday. It was a satisfying homecoming for the locomotive as it now heads the company's Sugar Express, a blossoming excursion and tourist operation.
Santa Fe No. 2926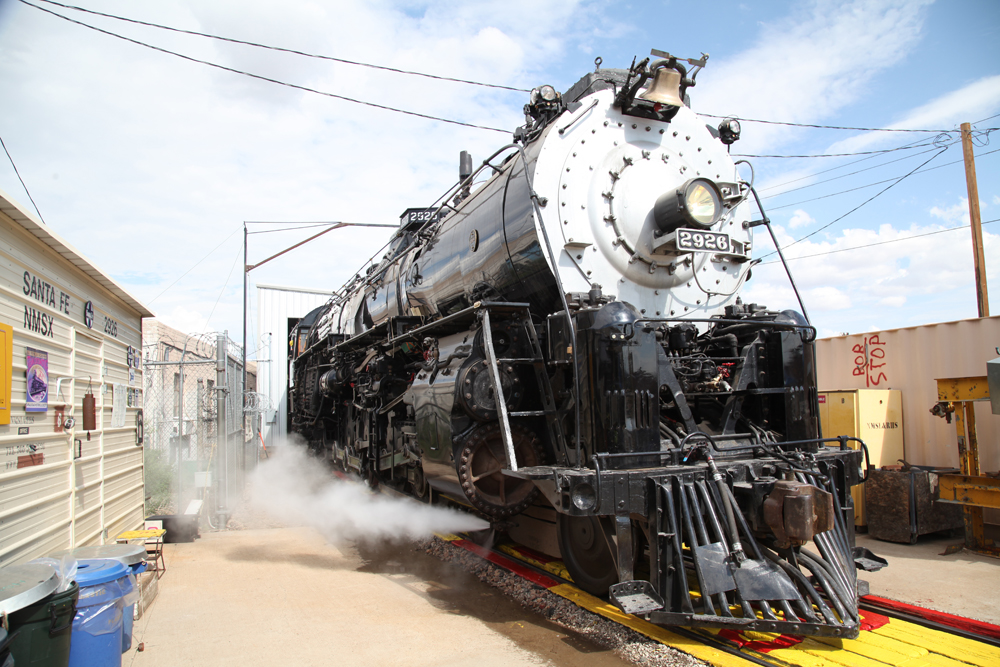 Restoration completed in 2021: The 2900-class steam locomotives from Baldwin were heavy and modern for their time. These 4-8-4s operated with 80-inch driving wheels on roller-bearing axles, Walschaerts-type valve gear, and an operating pressure of 300 psi. No. 2926 served the Atchison, Topeka & Santa Fe Railway from 1944 until retirement in 1953. It was displayed at Coronado Park in Albuquerque, N.M. until June 23, 2000.
Incorporated in 1997, the New Mexico Steam Locomotive and Railroad Historical Society relocated the acquired No. 2926 in 2002 to its current location near 8th and Haines Avenue in Albuquerque for restoration. Trials and tribulations left marks on the 20-year project. Yet, the hard work of the non-profit organization is now paying off with the first movement under steam by the locomotive on July 25, 2021. The next step now is to upgrade the spur track from the NMSL&RHS work site to the rail network. It's a big piece to a bigger puzzle that involves future excursion opportunities for today's largest operating 4-8-4.
Western Maryland No. 1309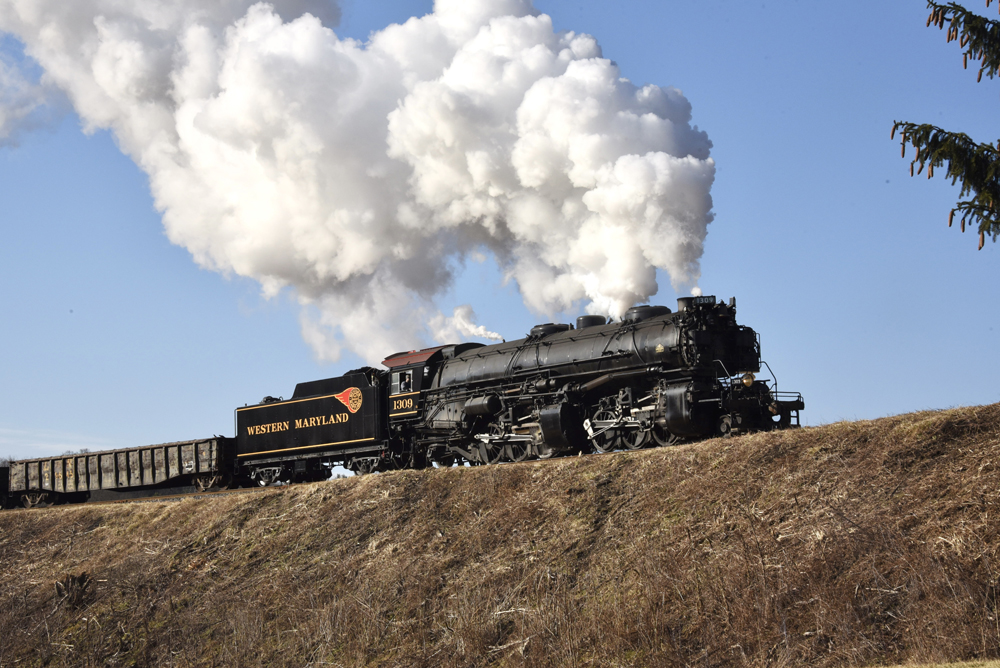 Restoration completed in 2021: As Baldwin's last built steam locomotive for domestic use, this 2-6-6-2 Mallet-type hauled coal in Kentucky and West Virginia for the Chesapeake & Ohio Railway. It was a quick service life for No. 1309 between 1949 and 1956, before becoming a static display at the Baltimore & Ohio Railroad Museum in Baltimore. Meanwhile, during the early 2010s, the Western Maryland Scenic Railroad in Cumberland, Md. was in search of a second steam star to work alongside their 2-8-0 No. 734. It was in 2014 when both worlds collided.
No. 1309 was acquired and moved to Cumberland for restoration at the WMSR. To call the restoration "lengthy" may be putting it lightly. Like No. 2926, trials and tribulations took a toll on both the overhaul and the railroad. Yet through determination and dedication, there was light at the end of the tunnel. To cap off what was a rebuilding year for the Western Maryland Scenic, the long-anticipated No. 1309 was put into service just in time for the 2021 Polar Express. With a full 2022 season hauling sold-out excursion trains up to Frostburg, the "Beast of the East" has been heading a renaissance for the scenic railroad.
Reading and Northern T-1 No. 2102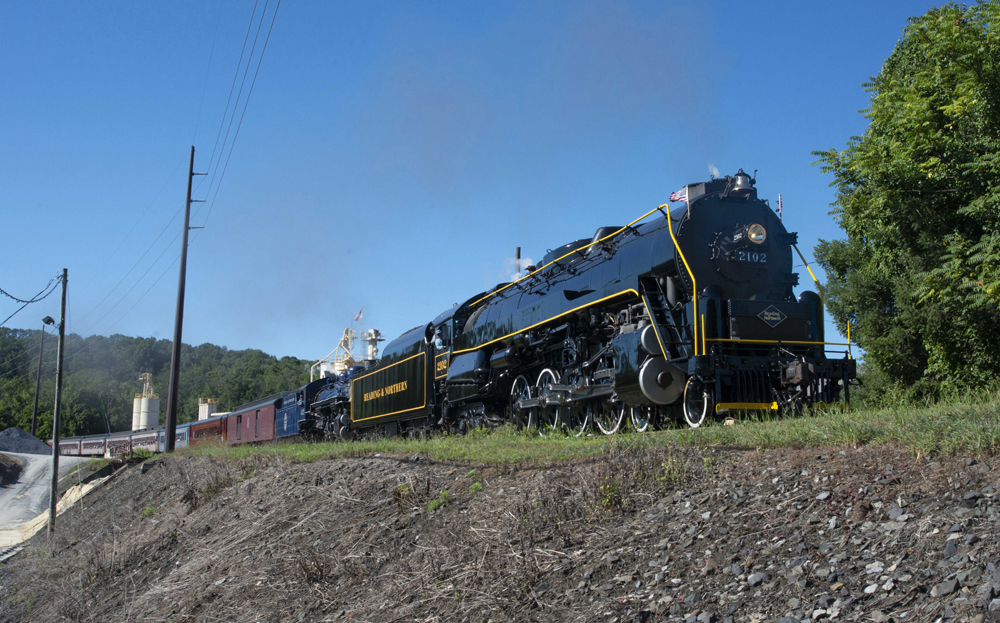 Restoration completed in 2022: No. 2102 is one of four survivors out of 30 4-8-4 T-1s which the Reading Company built from 1945 to 1947 for fast freight. The class was synonymous with the company's famous "Iron Horse Rambles" of the 1960s, a series of fan trips headed by these locomotives. Andrew M. Muller Jr. acquired No. 2102 in 1986 for operations on his Reading Blue Mountain and Northern Railroad and over Conrail before placing the locomotive in storage by 1991.
Today's Reading & Northern in Pennsylvania has an impressive passenger excursion operation with historic steam and diesel to serve as goodwill towards the community and promote freight on the regional railroad. The 2022 reintroduction of No. 2102 after a 6-year restoration has been the cream of the crop. That year's revived Iron Horse Ramble all-day excursions from Reading to Jim Thorpe ran 18 to 20 passenger cars and were all sold out during the summer and fall outings. With a massive boost in passengers for 2022, No. 2102 looks to be a winner for the R&N and a new fan favorite for many.
East Broad Top No. 16
Restoration completed in 2023: No. 16 is one of three large 2-8-2 Mikado-type steam locomotives out of six total on the East Broad Top Railroad in Rockhill, Pa. With piston valves, Southern-style valve gear and superheater units, the 1916-built locomotive could handle 22 empty hoppers uphill. Retired in 1956 at the conclusion of the narrow-gauge railroad's common-carrier era, No. 16 never saw service in the tourist era… Until now.
When the East Broad Top Foundation Incorporated acquired the railroad in 2020 after a decade-long shutdown, No. 16 was selected as the first locomotive to be returned to steam. A 3-year restoration led to a grand debut at the annual Winter Spectacular in February 2023 with train rides and events completely sold out. The restoration of No. 16 is more than just the return of another steam locomotive, it's a major step in the return of the East Broad Top Railroad with the best yet to come for the National Historic Landmark.