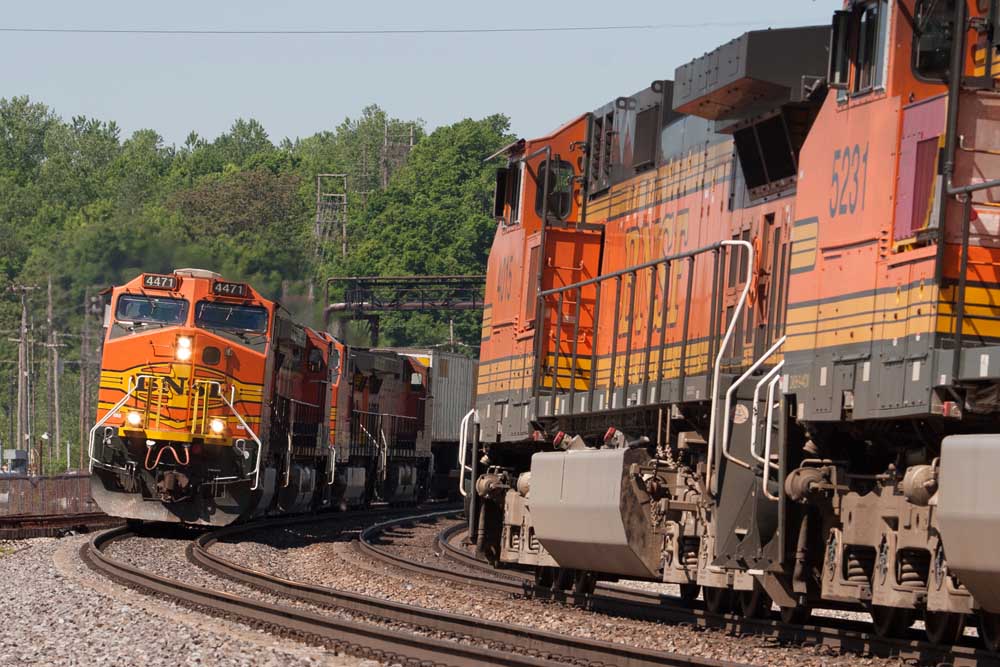 General Electric's 4,400 hp C44-9Ws were, by far, the most popular D.C. traction locomotives the company every produced, with almost 3,600 copies built for North American customers. Sales began in the early 1990s just as A.C. traction was taking hold in the industry. Many railroads were still either wary of the new A.C. technology and its benefits while others decided the cost premium for A.C. at the time wasn't worth the investment, bolstering C44-9W production for years to come.
Using the proven 7FDL 16 prime mover, the model was a reliable workhorse built during a period when rail traffic was surging and many railroads couldn't buy enough power to keep things moving. BNSF Railway was far and away the largest purchaser of the model, buying almost 1,800 copies during the locomotive's 12-year production run. BNSF's merger partner Santa Fe brought its 100 C44-9Ws to the new company and was the seed for the BNSF's huge C44-9Ws roster. Norfolk Southern was the other significant customer, buying almost 1,100 copies. Always the conservative-minded company, Norfolk Southern purchased the C44-9W with a reduced output FDL engine producing only 4,000 hp. The model was called the C40-9W, but Norfolk Southern began to re-rate its fleet to their full 4,400 hp output beginning in late 2013 and rebranding them C44-9Ws.
Today, five of seven Class I railroads own the model, with CSX retiring its fleet several years ago. Kansas City Southern is the newest Class I railroad to own them, having recently purchasing 50 former BNSF units. With Precision Scheduled Railroading in use across North America, many C44-9Ws are currently stored or being returned off lease. Norfolk Southern has begun rebuilding and converting many of its C44-9Ws to AC44C6Ms, installing a new control system and adding A.C. traction to the rebuilt locomotives. BNSF dabbled in converting a handful of its C44-9Ws to A.C. traction using four traction motors instead of six, calling the locomotives AC44C4Ms. The railroad ultimately chose to purchase new four-motor General Electric ES44C4s instead of converting additional Dash 9s.
North American C44-9W original customers:
Atchison, Topeka & Santa Fe
BC Rail
Burlington Northern Santa Fe/BNSF Railway
Canadian National
Chicago & North Western
CSX Transportation
Norfolk Southern
Quebec North Shore & Labrador
Southern Pacific
Union Pacific