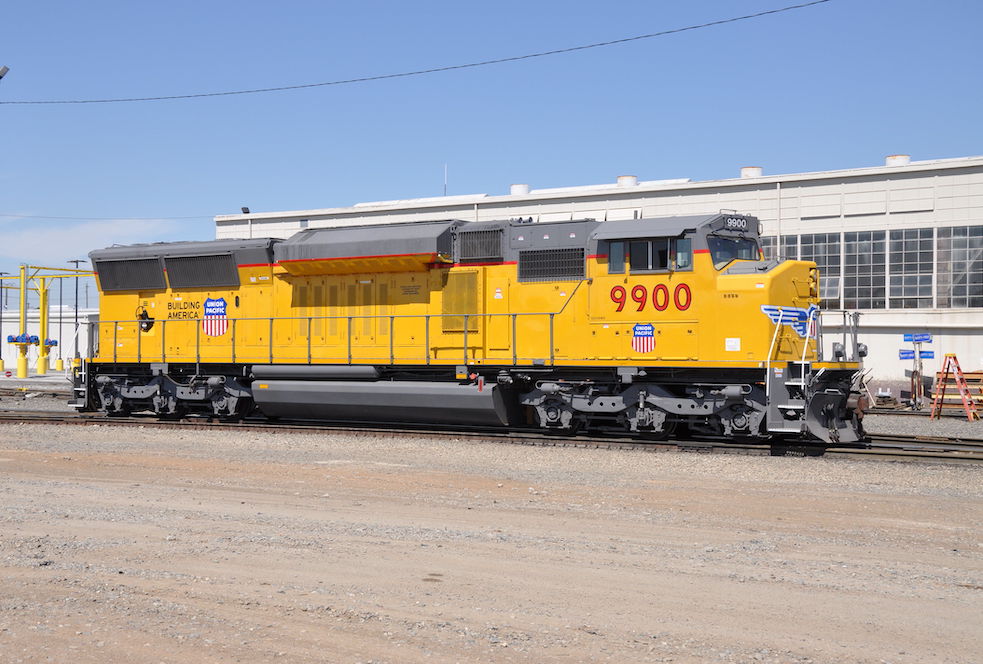 ---
In need of reliable medium-horsepower six-axle road switchers, Union Pacific's Mike Iden turned to Progress Rail's EMD subsidiary to rebuild a batch of out-of-service EMD 3,800-hp SD60s into more modern 3,150-hp units with new prime movers for secondary road freights. Twenty-eight — Nos. 9900 to 9927 — were built in the late 2000s. Progress later incorporated the unit into its catalog, calling it the SD32ECO. Then they made a unique low-emission locomotive.
One unit, No. 9900 was picked as a one-off testbed and equipped with catalytic scrubbers to see how far existing technology could be pushed to reach US government-mandated Tier 4 emissions.
On Aug. 22, 2012, at Roseville, Calif., just northeast of Sacramento, Union Pacific officially unveiled the new unit with a unique hump in the middle of the long hood. Internally, the unit housed three emissions-reducing technologies including exhaust gas recirculation (EGR), diesel oxidation catalysts (DOC), and diesel particulate filters (DPF).
The railroad and EMD expected No. 9900 to move toward the Tier 4 standard with a 45% reduction in the oxides of nitrogen emissions compared to the Tier 2 standard and an 85% reduction in particulate matter emissions based on preliminary analysis. Union Pacific and the California Air Resources Board jointly analyzed the locomotive's emissions-reduction capability over the next 18 months.
Kept on a tight mechanical leash, No. 9900 rarely strayed past 200 miles from Roseville, as environmental engineers poked, prodded, and looked at data accumulated on its many runs, mainly north to Redding and return.
To create the space needed to install the after-treatment technology in the body of the locomotive, engineers reduced the engine size of a traditional road freight locomotive.
Did No. 9900 meet its Tier 4 objective? Almost. Testing revealed the unit regularly achieved Tier 3.5, a good first step.
When the testing period was over, the unit was shipped to Marshalltown, Iowa to have the experimental equipment removed. With its removal also went the unique hump and No. 9900 became "just another" SD59MX.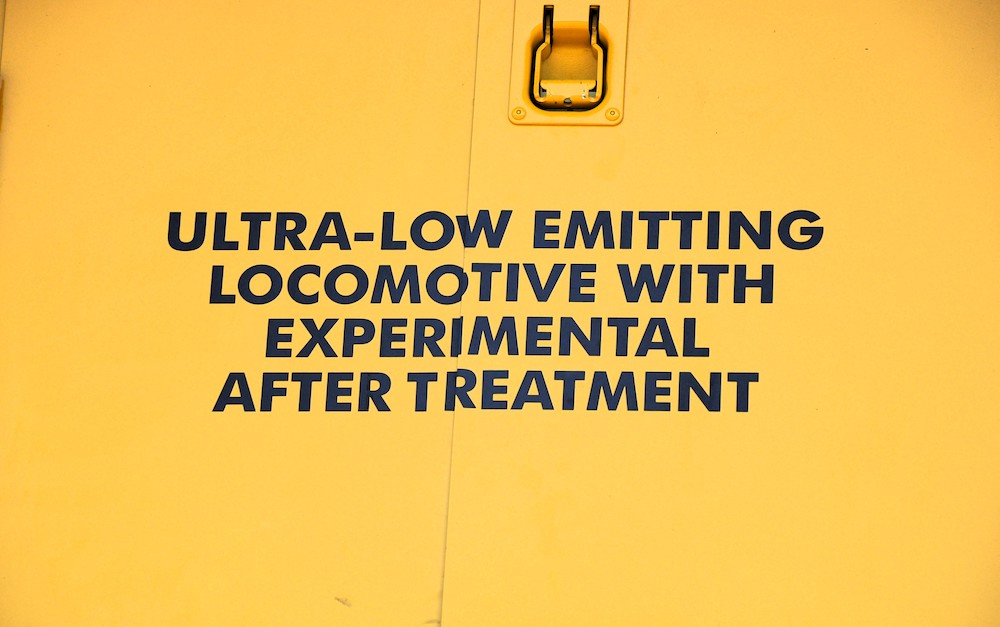 ---