9 oddball diesel locomotives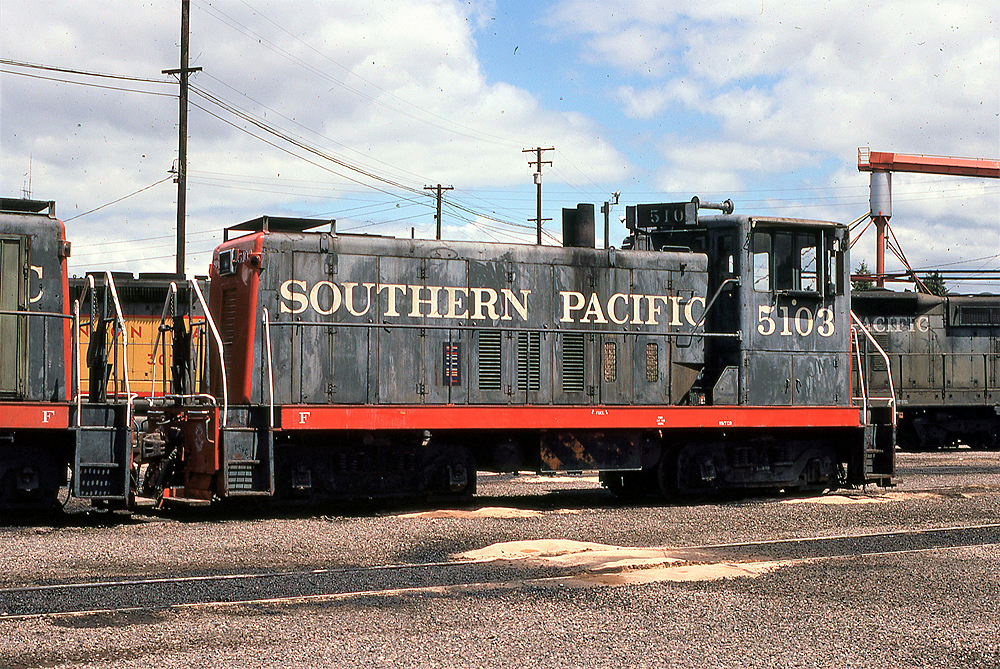 9 oddball diesel locomotives: Just when we think we understand the rationale behind particular railroad locomotive fleets, they like to throw us a ringer or two.
Standardization is the key to a streamlined and efficient operating department, and while an endless parade of one particular model may become a little monotonous for fans, railroad accountants are in numbers' heaven.
With that in mind, we must to wonder the reasoning why some of these roster oddball diesel locomotives were brought into the system in the first place. For the most part the oddballs are good units, but sharp-eyed lineside observers usually spot them as "out of place." Here are some of our favorites.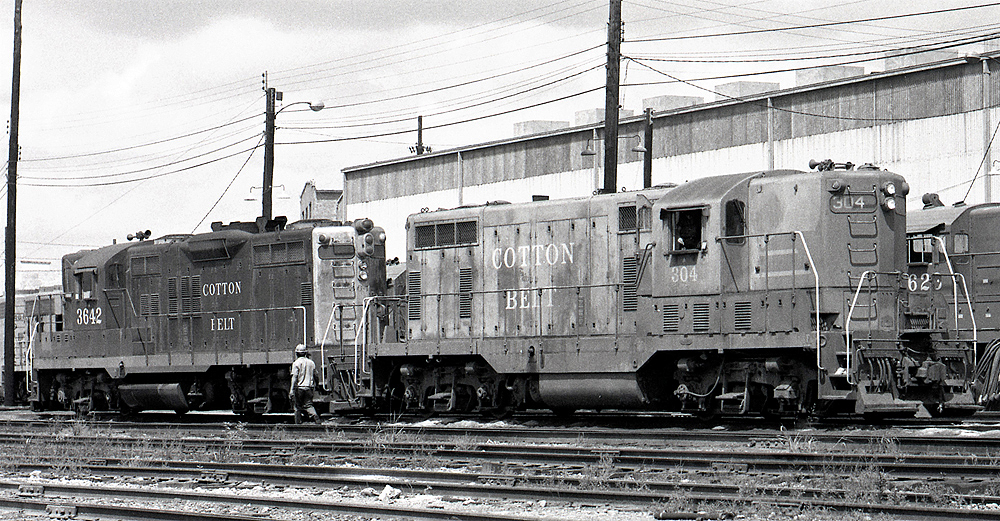 St. Louis Southwestern GP7 No. 304 in Houston, Texas, in 1972. (Jim Hickey, Lloyd Transportation Library)
St. Louis Southwestern GP7 320, later renumbered to 304

Seems like everybody had a GP7 or a GP9 on the roster back in the day, but here's an oddball diesel locomotive if ever there was one. St. Louis Southwestern, better known as Cotton Belt, was controlled by Southern Pacific for decades. What was good for SP was usually considered appropriate for SSW. Yet in 1950, the smaller railroad purchased a single 1,500-hp EMD GP7 with a steam generator for backup passenger assignments. The company even painted it in Daylight red and orange to match its other unique purchase, a 1,500-hp EMD FP7. Both started out life in the then-in-vogue passenger colors. In the late 1950s, it was repainted in SP's standard black-widow paint scheme and eventually the more utilitarian red and gray. Its steam generator was also history at this point.

The unit stayed on Cotton Belt and SP's Texas & New Orleans subsidiary operating in Texas and Louisiana until eventually being traded in for newer locomotives. Upgraded and rebuilt with a chopped nose, it survived to operate on Mid-South Rail Corp. The other Cotton Belt oddity, their FP7 was sent west to work the San Francisco commuter operation until its ultimate retirement.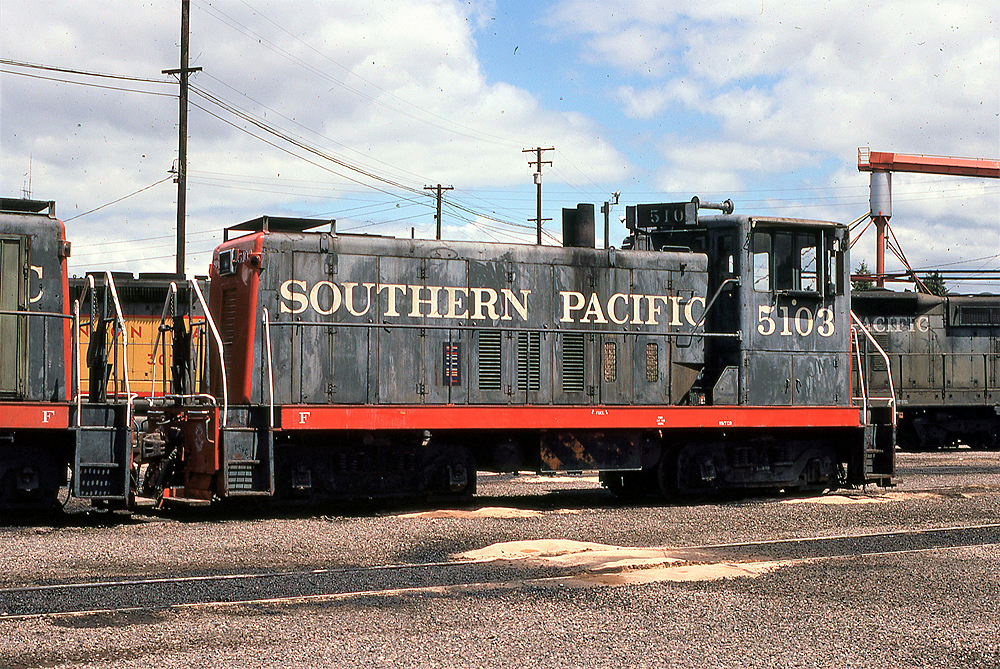 Southern Pacific GE 70-ton end-cab No. 5103 in Eugene, ore., in 1969. (David Lustig)


Southern Pacific GE 70-ton end-cab switchers
Leave it to General Electric to perfect the ultimate low-horsepower, lightweight, end-cab switcher ideal for shortline and industrial railroads with less-than-ideal right-of-way and wanting an easy-to-maintain locomotive. And leave it to giant Southern Pacific to have the largest fleet of them in the country at 21.
SP, like many other railroads in the early stages of dieselization, would specify particular locomotives to replace similar steam locomotives. A prime case were these 70 tonners. Originally, they could be found throughout the western part of the system scattered from El Paso west to Los Angeles, south to San Diego, and north to Oregon, assigned to light-rail branch lines and subsidiaries. One even worked a scheduled mixed train in Arizona. Efficient and easy to maintain, many were on the roster into the late '70s.
The little units could be seen on other Class I railroads, as well, including a pair on the Southern that were inherited when that railroad absorbed the original Norfolk Southern.


Norfolk Southern No. 703 at Chesapeake, Va., in 1972. (Lloyd Transportation Library)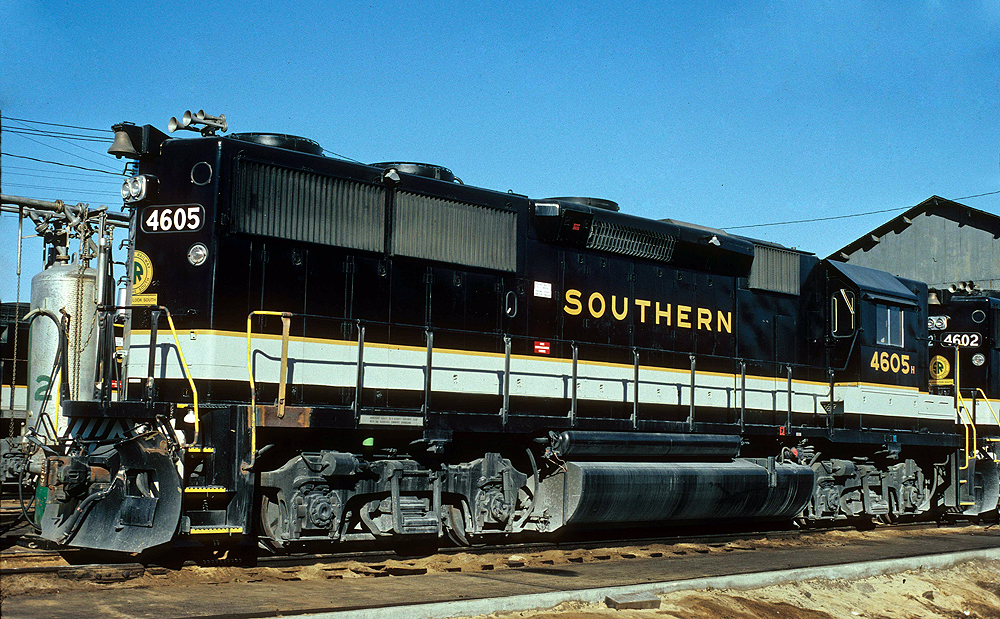 Southern GP39X No. 4605 at Ludlow, Ky., in 1981. (Bryan Rice, Lloyd Transportation Library)

Oddball diesel locomotives: Southern's six EMD GP39Xs
Here's a rarity. Southern picked up the only six 2,600-hp GP39X units built in 1980, complete with that railroad's usual high-short-hood option. After Southern became part of Norfolk Southern, they were upgraded by EMD to GP49 standards in 1982. Successful enough to stay on the roster until 2001, these oddball diesel locomotives were upgraded again, this time their high noses cut down to standard low-nose configuration and had head-end power equipment installed. Now classified as GP49PH-3s, they went to work for Florida's Tri-Rail commuter agency.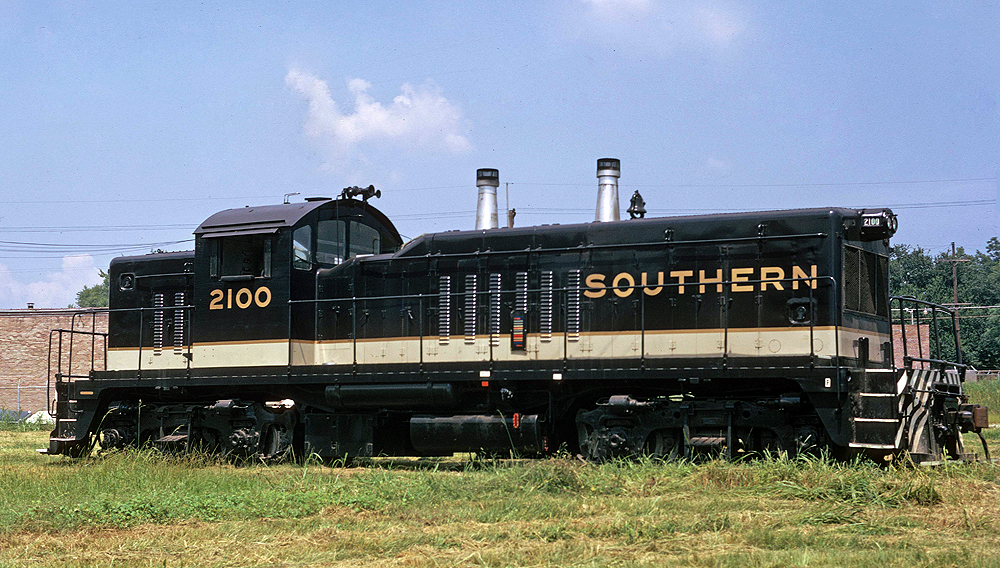 Southern NW5 No. 2100 at New Orleans in 1970. (James L. Jeffery, Lloyd Transportation Library)

Southern NW5 2100
Among the switcher variants offered by EMD immediately after World War II was the NW5, a 1,000-hp light road-switcher equipped with a steam generator in the short hood. Alco, Lima, and Baldwin cataloged similar units. A total of 13 were built between 1946 and 1947.

Ten went to Great Northern, a pair went to Union Belt of Detroit, and Southern picked up a lone unit. It spent most of its time working the New Orleans passenger station, and according to more than one area enthusiast, was the one Southern unit you just had to make the pilgrimage to Louisiana to see.

Unlike many roster oddballs, Southern 2100 survives today on the Massachusetts Central Railroad. For those who want to see one firsthand elsewhere, one is in Duluth, Minn., as part of the Lake Superior Railroad Museum collection, and one of the Detroit units, lettered Fort Street Union Depot, is on display at the Florida Railroad Museum in Parrish, Fla.


MKT U23B No. 351 at Parsons, Kan., in 1973. (Mac Owen, Lloyd Transportation Library)
MKT U23Bs – the only 'modern' GEs on the roster
For a smaller Class I, Missouri-Kansas-Texas Railroad rostered an amazing variety of diesel locomotive models from a number of builders. In the 1960s through the '80s, it purchased a variety of EMD four-axle road-switchers — and intermixed with them was a trio of General Electric U23Bs in the '70s.

A good locomotive, nonetheless, the three were seemingly out of place on the Katy, which by that time had either re-engined most of its non-EMD products or scrapped them in an attempt at uniformity.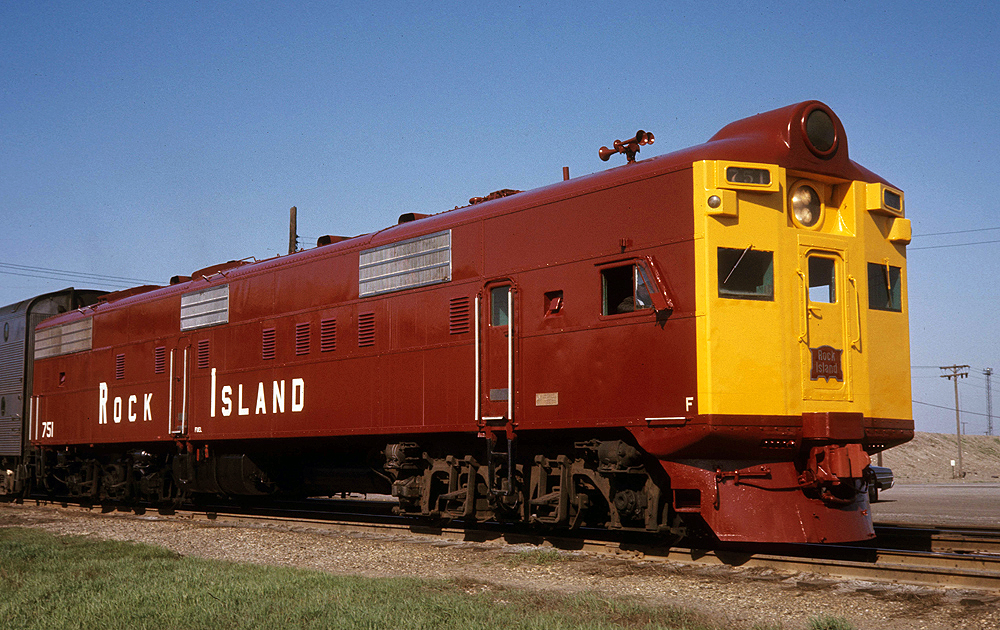 Rock Island AB6 No. 0751 at Blue Island, Ill., in 1968. (The Garys, Lloyd Transportation Library)

Rock Island AB6s
If you're a Rock Island fan, the railroad's two EMC AB6 six-axle passenger locomotives may not be a surprise to you. But for the rest of us they were truly odd units.

Two were built specifically for the road's Rocky Mountain Rocket passenger train, operating between Chicago and Colorado. I say Colorado because westbound trains would split at Limon, Colo., with part of it destined for Denver, the other to Colorado Springs. The reverse would happen eastbound with the two segments meeting at Limon to become one train.

When railroads were still concerned about how their passenger trains looked, and the thought of streamlined passenger locomotives m.u.'d nose-to-rear elephant-style was abhorrent, one answer was the AB6, a B unit with a fully functioning cab, pilot, and headlight. The unit, a derivate of the standard E6 design, originally had a baggage compartment replacing the standard second 1,000-hp 567 prime mover. Later, the baggage area was removed, and a second prime mover installed. Both eventually wound up in the Rock Island's Chicago-area commuter fleet and lasted into the mid-'70s before being scrapped.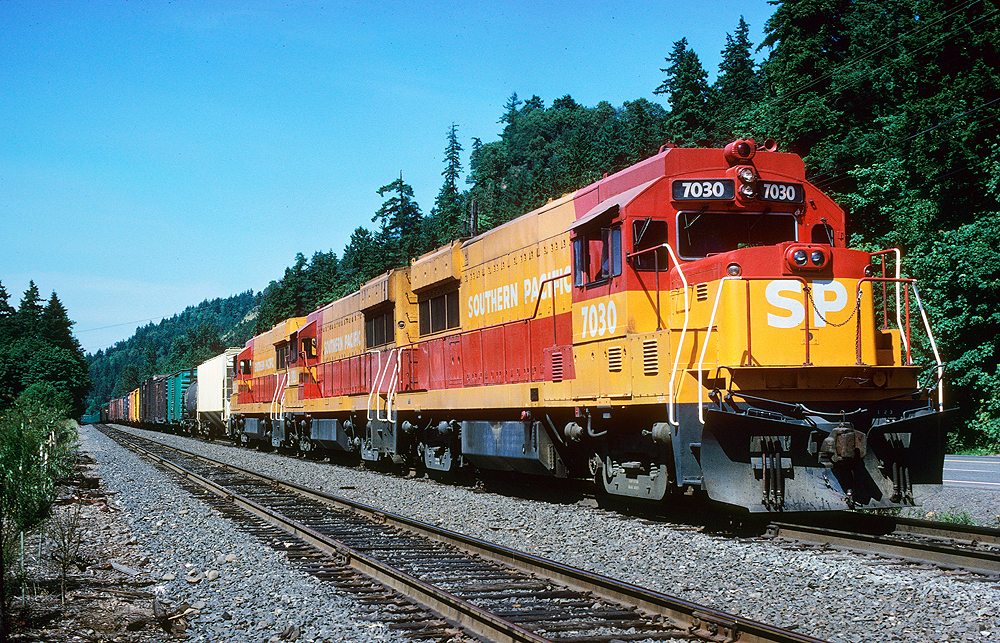 Southern Pacific TE70-4S No. 7030 near Portland, Ore., in 1979. (Kenneth M. Ardinger, Lloyd Transportation Library)

Southern Pacific M-K TE70-4S
Southern Pacific was always looking for more efficient motive power. In that quest, it turned to Morrison-Knudsen of Boise, Idaho, to produce a quartet of 2,800-hp test beds to try out the promising Swiss-designed Sulzer 12ASV 25/30 V-12 four-stroke turbocharged prime mover. What rolled out of the builder's bays in 1978 was this group of units, utilizing retired GE U25B carcasses as a starting point. Stories of railroad mechanics dreading working on them abound as they were complex machines to maintain. The railroad tested them around the West Coast and finally sent them to the Oregon freight pool where most of the time they sat out of service. They were off the roster by the mid-'80s, last spotted in a scrap yard in Oakland. The units came painted in a unique red-and-orange scheme, which promptly earned them the nickname "Popsicles."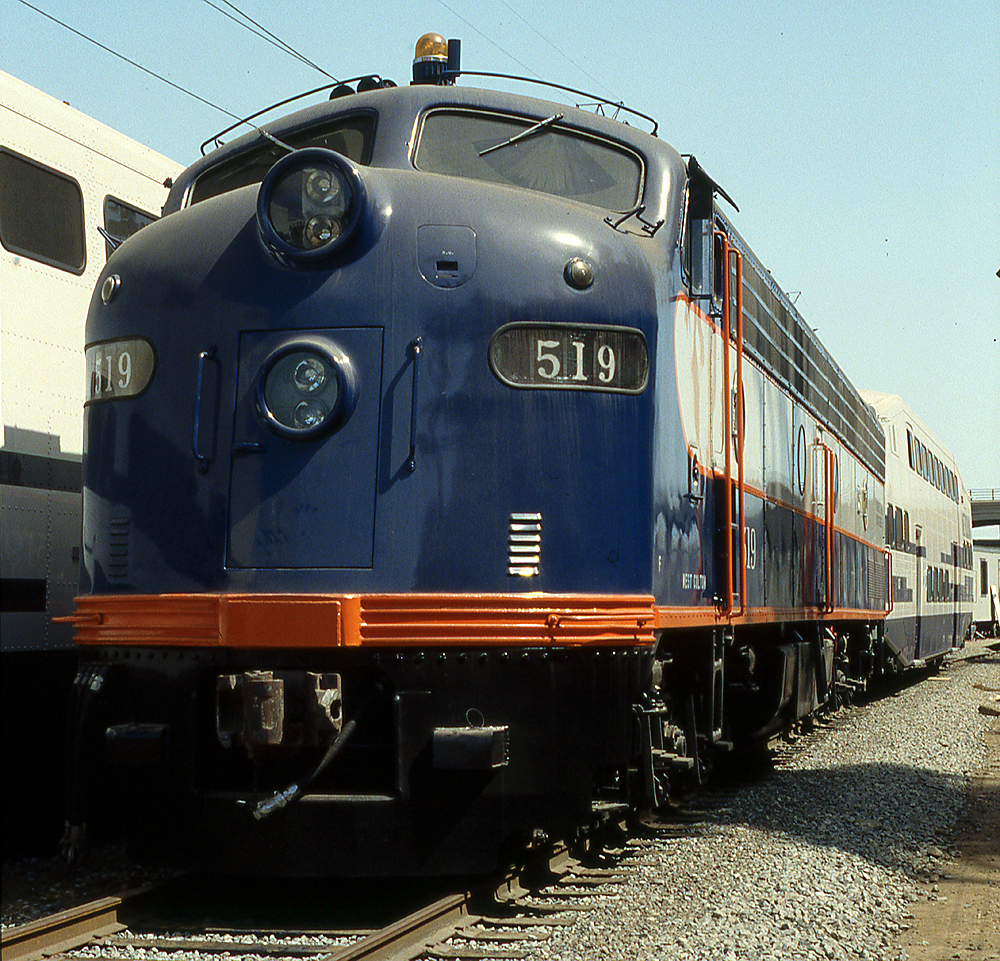 Metrolink E8A at Los Angeles in 1991. (David Lustig)

Metrolink EMD E8A
Before Metrolink — the Southern California Regional Rail Authority – became an operating entity, a short demonstration trainset was assembled to show off what the new commuter agency trains would look like.

Some of the Bombardier commuter cars had arrived, but the initial order for EMD F59 diesel locomotives was still under construction. In the interim, enterprising officials located a retired EMD E8A passenger locomotive that at one time worked for Chicago & North Western. It was languishing in a Southern California scrapyard. Repainted and lettered, the unit and a pair of cars made the rounds throughout the area. When operations officially began in October 1992, the cars joined the rest of the new fleet in service. The E8A disappeared, presumably back to the scrap yard from whence it came.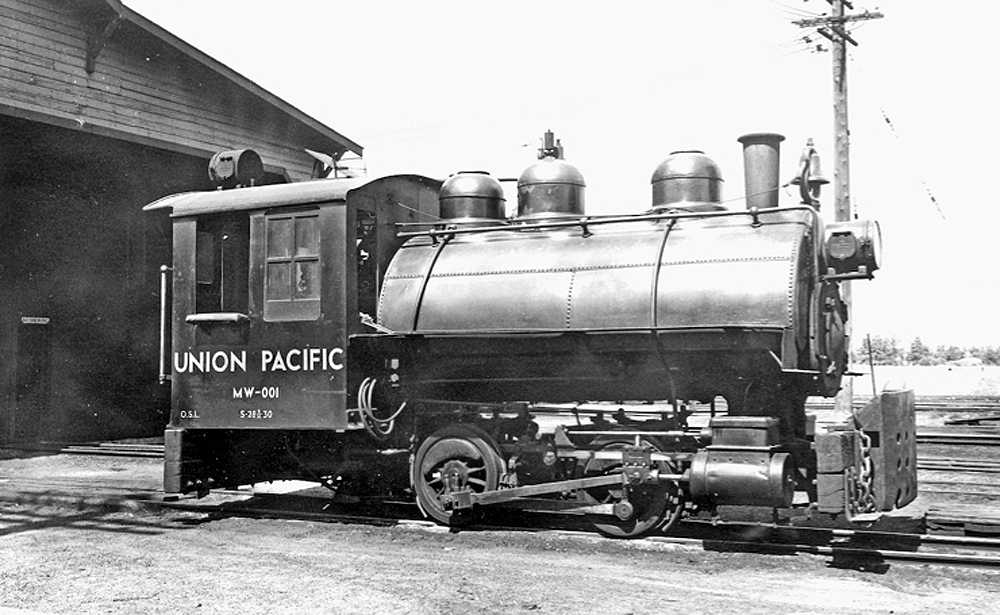 Union Pacific switcher MW-001 at Pocatello, Idaho, circa 1950. (Joe Strapac)
A Union Pacific not-so-Big Boy
Here's the ringer in our list. Commonly found on industrial and small switching operations, requiring diminutive locomotives to traverse tight curves and light rail, Union Pacific employed this 3-foot-gauge 0-4-0 saddletanker as a Pocatello, Idaho, tie-plant switcher. At the end of its life, the little tea kettle was presumably cut up on the spot. Apparently as a piece of maintenance-of-way equipment, it had the status of any other vehicle; when it was used up or its job no longer necessary, it was removed from the roster.