44-ton locomotives in North America: There was a time in North American transportation where railroads were the king of moving goods and services, providing every industry whether it be 50 cars or one, a spot on their daily switch list.
When steam was being dethroned by internal combustion, many railroads replaced them in-kind with similar sized diesels, sometimes on a one-for-one basis. To make that goal economically sound, operating departments were always on the look out for locomotives that adhered to union contracts that permitted power under 45 tons to be operated without a fireman. Thus, the rise and reign of the 44-ton locomotives in North America. Not exclusively the domain of General Electric – although to some of us it may have seemed that way – a plethora of builders introduced these smaller units into their marketing brochures and sales catalogs.
The majority were a center-cab design, with some end-cab switchers thrown into the mix.
Here are some examples of smaller diesels on larger railroads.
Santa Fe 44-ton locomotives
Santa Fe assembled a handful of smaller units, including GE 44-tonners in the 460 series and scattered them around the system. When it was photographed, No. 463 had been sold to an online storage facility but still kept its lettering. The location is Plainview, Texas, just north of Lubbock.
Boston & Maine 44-ton locomotives
Boston & Maine rostered 10 GE 44 tonners and used them throughout the system. They were assigned to branch lines and shop facilities and wherever there was light rail and tight curves.
Chicago, Burlington & Quincy 44-ton locomotives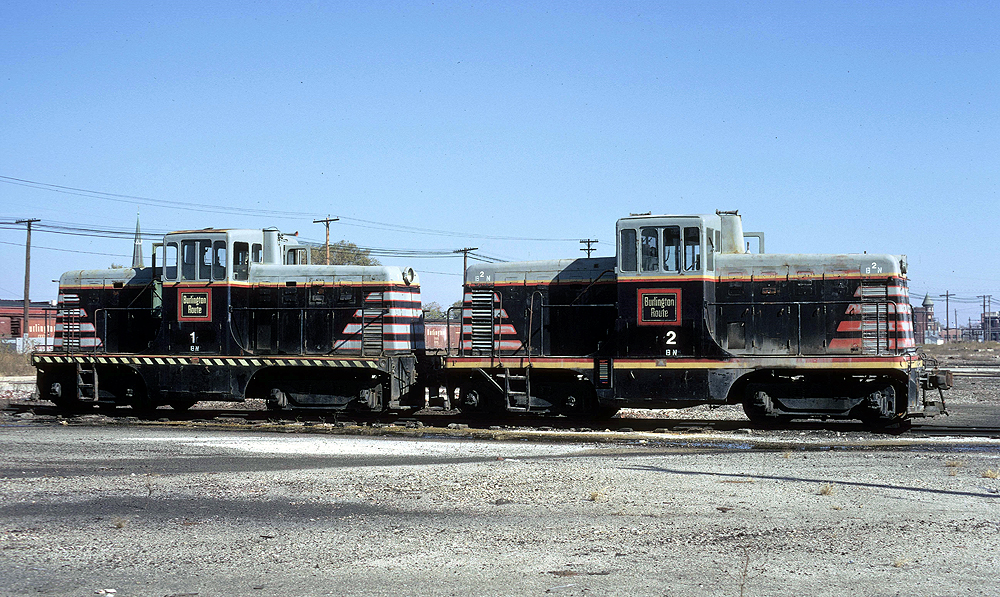 Chicago, Burlington & Quincy rostered a small number of GE 44 tonners, with four of them surviving into the BNSF era. CB&Q was one of the earliest buyers of small diesel locomotives from a variety of builders. Nos. 1 and 2 are at Galesburg, Ill., in October 1970.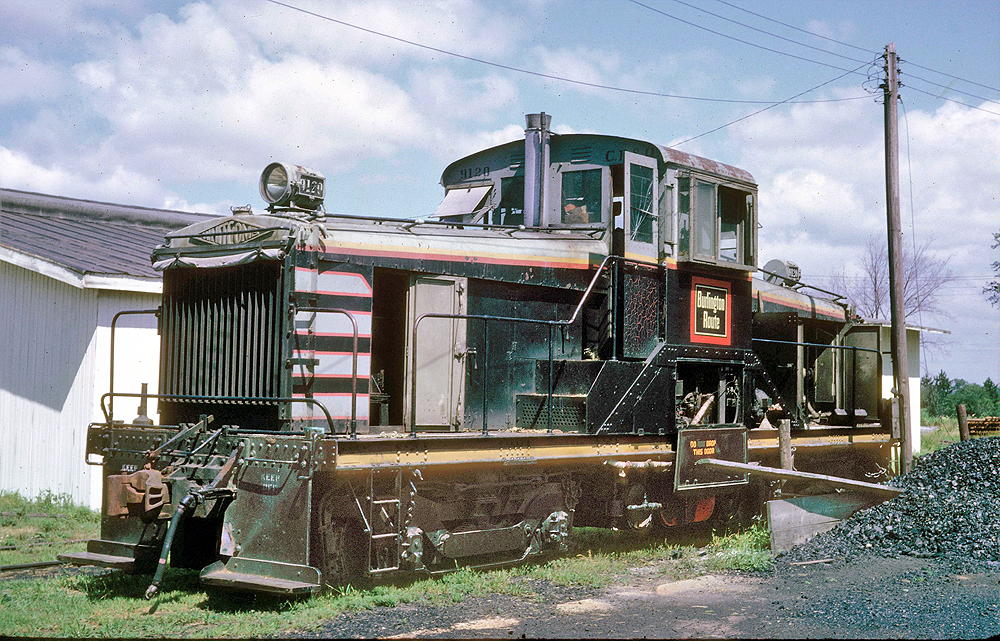 CB&Q Whitcomb No. 9120 produced 400 hp from twin diesels. At 60 tons it is heavier than most of the units pictured here but deserves mention due to its longevity. Built in 1932, it stayed on the roster until the late 1950s and was then sold to a shortline. It was reportedly working into the mid-60s. Looking a little worse for wear – notice the cracked window, it has been modified to include an all-weather cab window.
Denver, Rio Grande & Western 44-tonners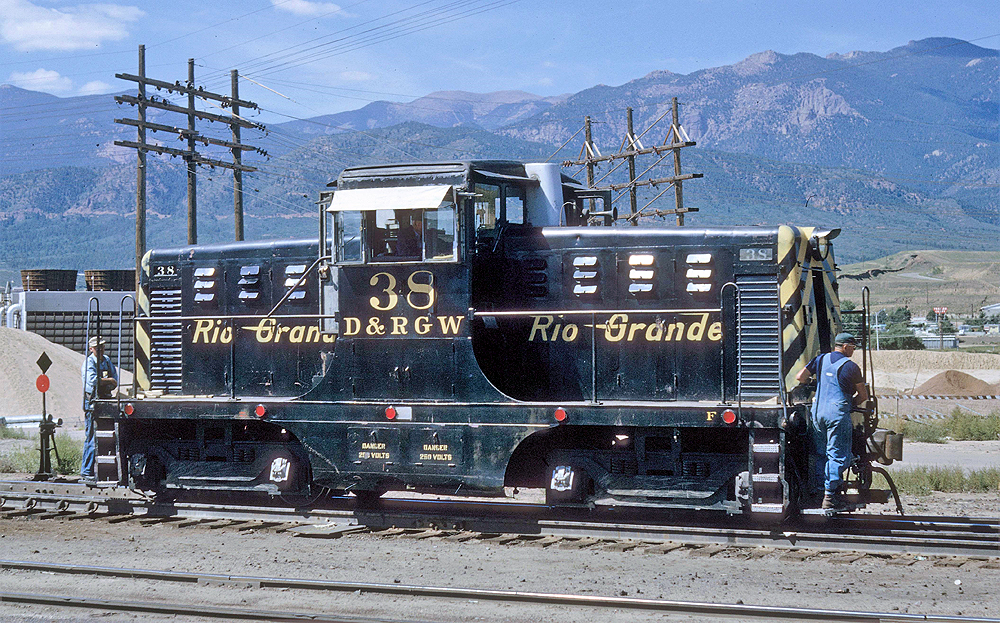 Denver & Rio Grande Western GE 44 tonner No. 38 at Colorado Springs, Colo., in 1963. A half-dozen worked on the railroad.
New Haven 44-ton locomotives
A grimy New York, New Haven & Hartford 44 tonner, No. 0801 rests with a sister at one of the railroad's shops. A guess might be New Haven, Conn. March 1970.
Penn Central's 9999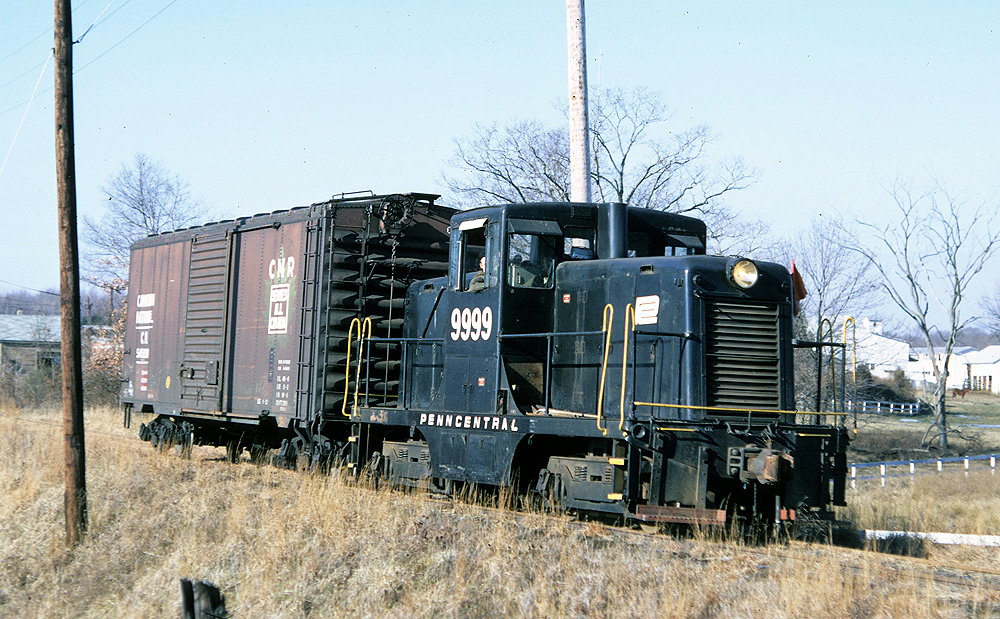 One of the smallest engines with one of the biggest numbers. Penn Central No. 9999 with a single box car at Cookstown, N.J., in January 1972. It was originally Pennsylvania Railroad 9353. The unit made it onto the Conrail roster with the same number.
Petaluma & Santa Rosa Nos. 3&4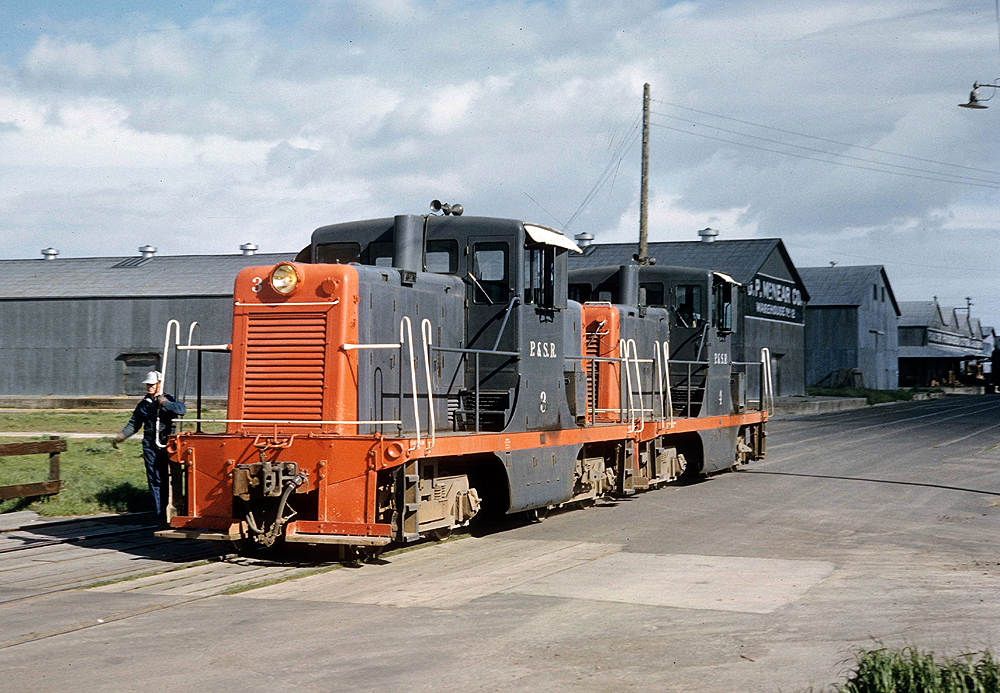 Petaluma & Santa Rosa GE 44 tonners Nos. 3 and 4 were working street trackage in Petaluma, Calif. March 10, 1962. Numerous Southern Pacific subsidiaries rostered the GE units, including Visalia Electric and Pacific Electric. Gordon E. Lloyd caught the MU'd pair on the former electric railroad.
St. Louis & San Francisco 44-ton locomotives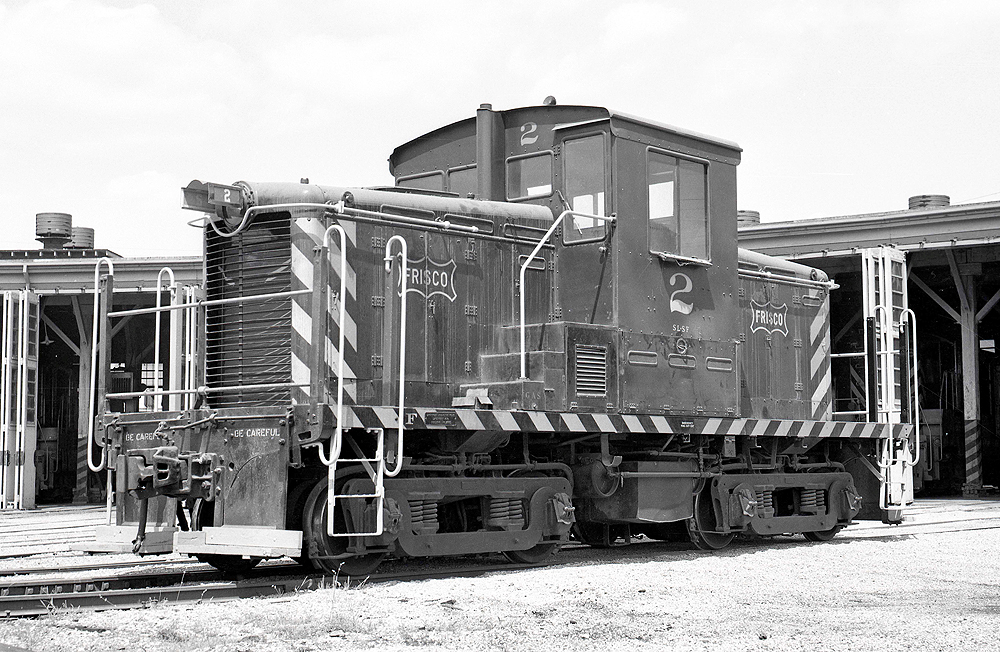 Not every 44 tonner was a GE. Here's Frisco No. 2, a 44-tonner built by Davenport Locomotive Works. A number of builders offered 44 tonners, and other Davenports could be found on Rock Island, Milwaukee Road, Santa Fe, and Missouri Pacific. Originally a builder of industrial-sized steam locomotives, a few of their steamers can still be found today. Fort Smith, Ark. 1957. Frisco also rostered five GE products. No. 8 is at Birmingham, Ala., in 1961.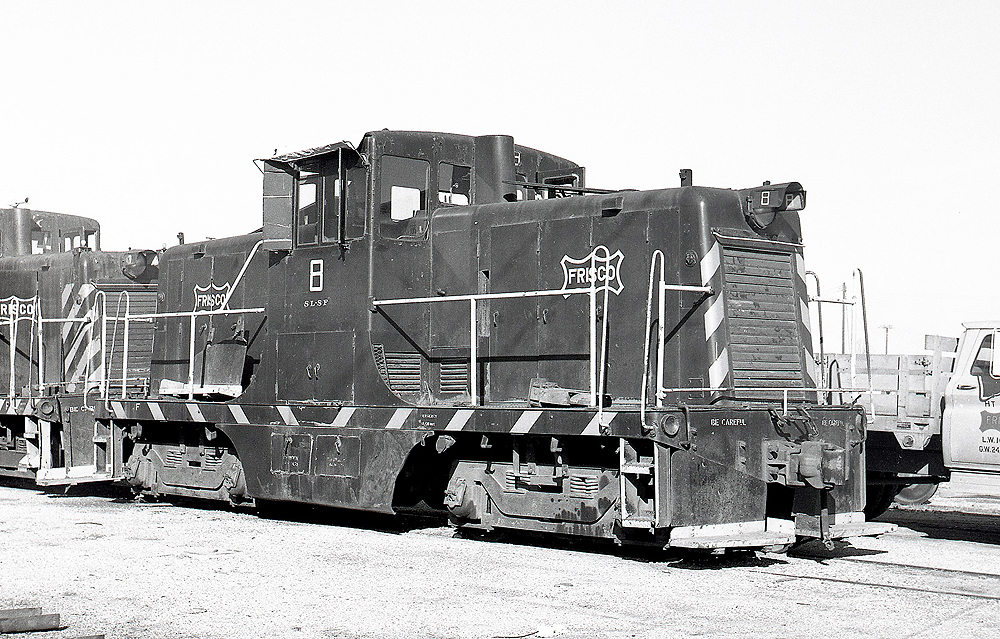 Sacramento Northern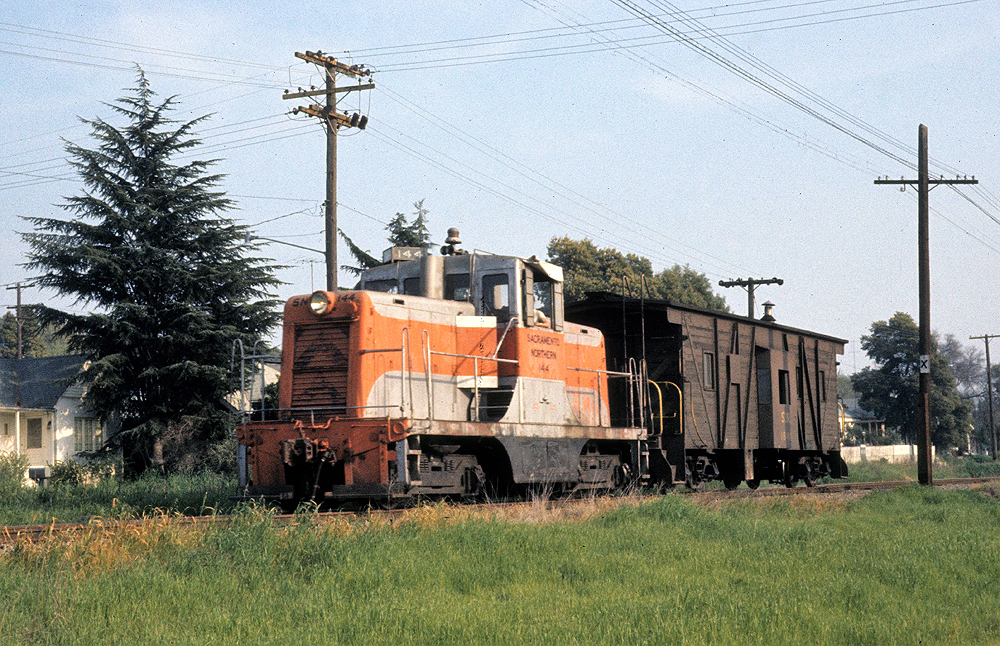 Besides being an interurban, Sacramento Northern had freight traffic through much of its system. Here's GE No. 144 at Clyde, Calif. just north of Concord and east of San Francisco in 1970. Don't you just love that outside braced wood bay window caboose?
Southern Pacific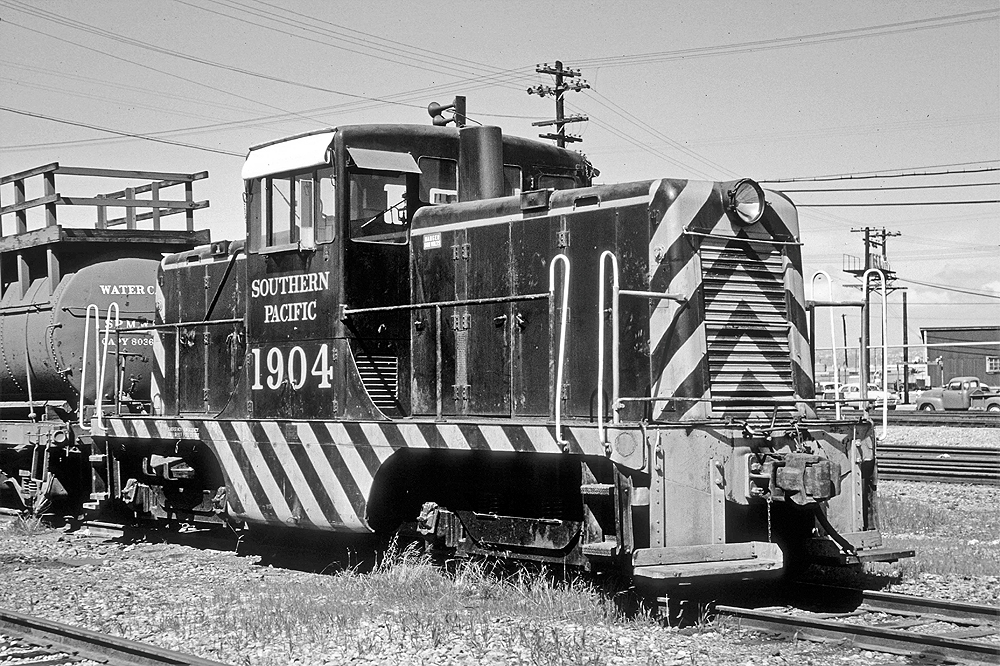 Southern Pacific No. 1904 at Oakland, Calif., in 1962. Among other duties, SP assigned a 44-tonner to the barge slip at Tiburon on the southern end of subsidiary Northwestern Pacific just across from San Francisco. Former Pacific Electric 44 tonners found their way to Northern California for additional work, as well.
Western Maryland
Western Maryland GE 44-tonner No. 76 in Baltimore, Md. December 1958. Note the subtle differences in the hood door over earlier models. No. 76 and sister 75 usually held down Port of Baltimore assignments. At least one was later resold to a short line in Michigan.