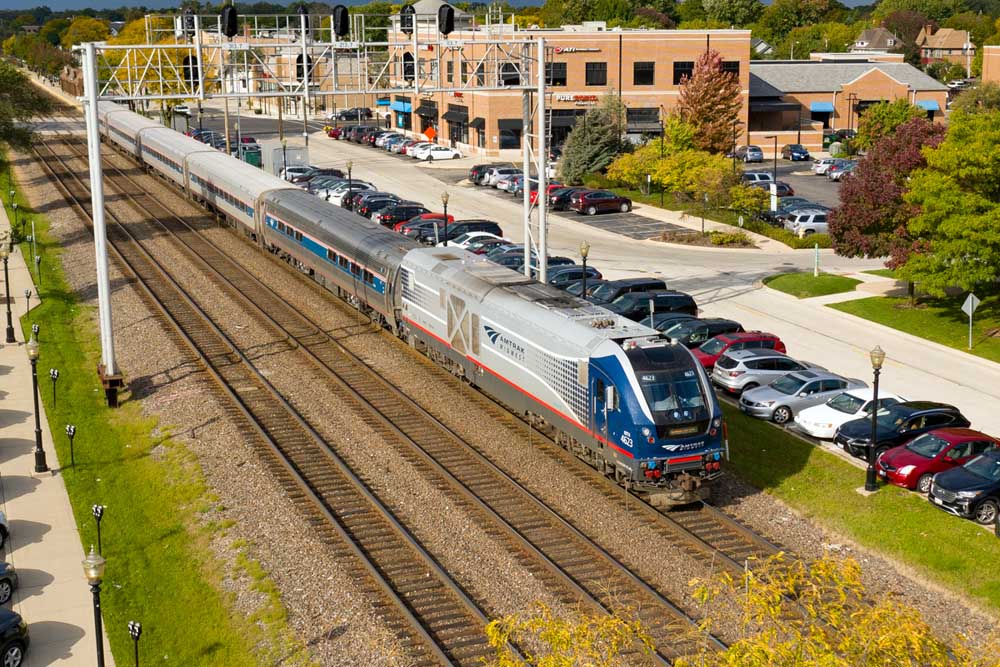 Locomotive builders use model designations to differentiate between products, describing major features found on them. Often, these model designations will be used by the railroads who purchase them, or they will be shortened or modified to conform to space limitations on a computer system, uniform naming schemes, or to identify features that are important to that specific model. Today, the three major builders are Progress Rail and its EMD locomotives, Wabtec and its GE locomotives, and Siemens, which produces most new passenger power for North America. Progress Rail and Wabtec each produce primarily one locomotive model for North American freight customers, the SD70ACe-T4 and ET44AC, respectively, while Siemens has the SC-44 passenger locomotive.
EMD's model designation begins with SD, which stands for Special Duty, meaning it's a six-axle locomotive. The "70" denotes the series of locomotives which first appeared in the 1990s while "AC" means the locomotive has A.C. traction. The "e" means "enhanced" and was first used in 2005 with the introduction of the SD70ACe model. The T4 on the end means the locomotive meets Tier 4 emissions regulations, which became standard on all new locomotive built after Jan. 1, 2015.
On General Electric's ET44AC model designation, the "E" stands for Evolution Series engine, "T" is for Tier 4 emissions compliant, "44" is the abbreviation for 4,400 horsepower, and "C" denotes it's a six-axle design.
On Siemens model SC-44, the "S" is Siemens, "C" stands for Charger, the name of the locomotive line, and 44 denotes the horsepower — 4,400.
Name variations occur when minor changes are made to the primary locomotive each company builds. For example, BNSF orders a special type of locomotive from GE that has only four traction motors instead of six. This design carries the ET44C4, with the "AC" shortened to "C" and "4" added to the rear to denote only four powered axles. Siemens builds a 4,000-horsepower version of its locomotive and is called SC-40 by the customers that order it.