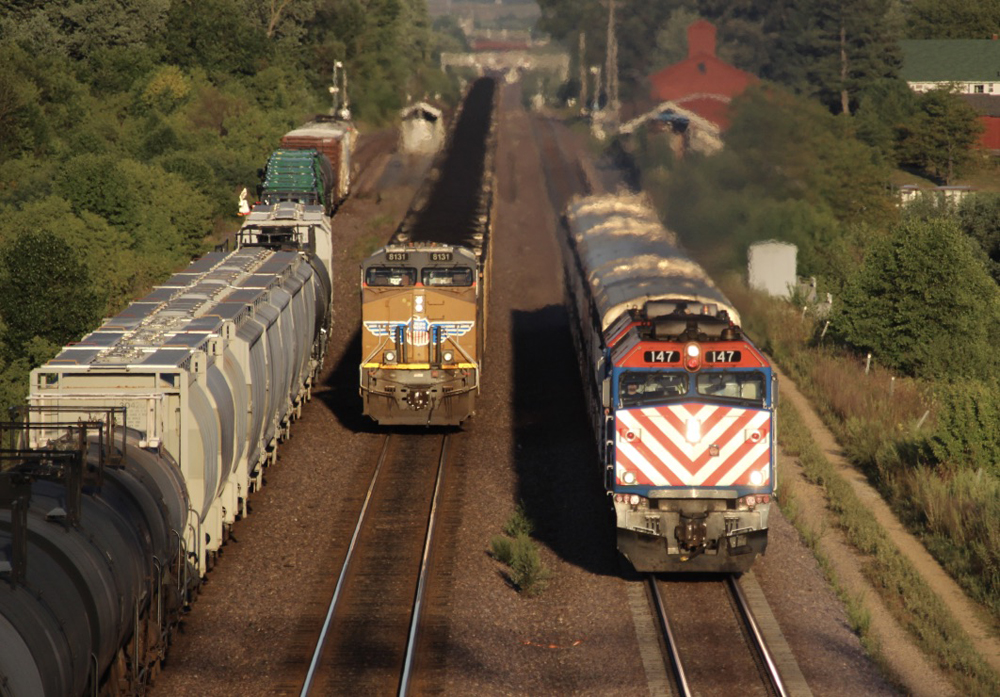 One in an occasional series on Senior Editor David Lassen's favorite Chicago-area railfan locations
Railfanning LaFox, Illinois
Well west of Chicago, in a still mostly rural area with suburbia gradually encroaching, is La Fox, Ill., on Union Pacific's Geneva Subdivision. There's barely a community to speak of, but it does have a Metra station. What makes La Fox worth a visit is that the station is, for westbounds, at the top of a notable grade — 0.68%, according to UP's timetable; the tracks climb about 130 feet in the 5.3 miles from Geneva. OK, it's not Donner Pass, but for Illinois, it's rather striking. Since the grade is also arrow-straight, it's possible to literally see those westbound trains coming for miles. The best photo location is just west of the station, at an overpass on Harley Road. The good news is the view is great in both directions — that long upgrade to the east, and a straight but undulating line to the west. The bad news is the bridge is narrow and doesn't have a walkway. There's still room to stand, but you'll never be relaxed as traffic passes. A sheriff's officer once stopped to talk to me while I was standing there and said the railroad will occasionally call and ask for people to be moved off the bridge; I haven't had it happen, but I'm aware it's a possibility.
Fortunately, there are also photo possibilities at the La Fox station itself. From the south platform, you can catch at least some of that long upgrade to the east; from the north platform — which is between the second and third tracks — there's a good shot for eastbounds, and an opportunity to use a barn adjacent to the station as a backdrop for westbounds. In La Fox proper, there's also a post office sign that makes a good prop.
One additional note about that Harley Road bridge: I made a trip to La Fox in winter 2021 and discovered that the roadway had been cleared of snow — but the shoulder had not been touched, leaving nowhere to stand. So, this may not be your best spot to visit after a snow storm.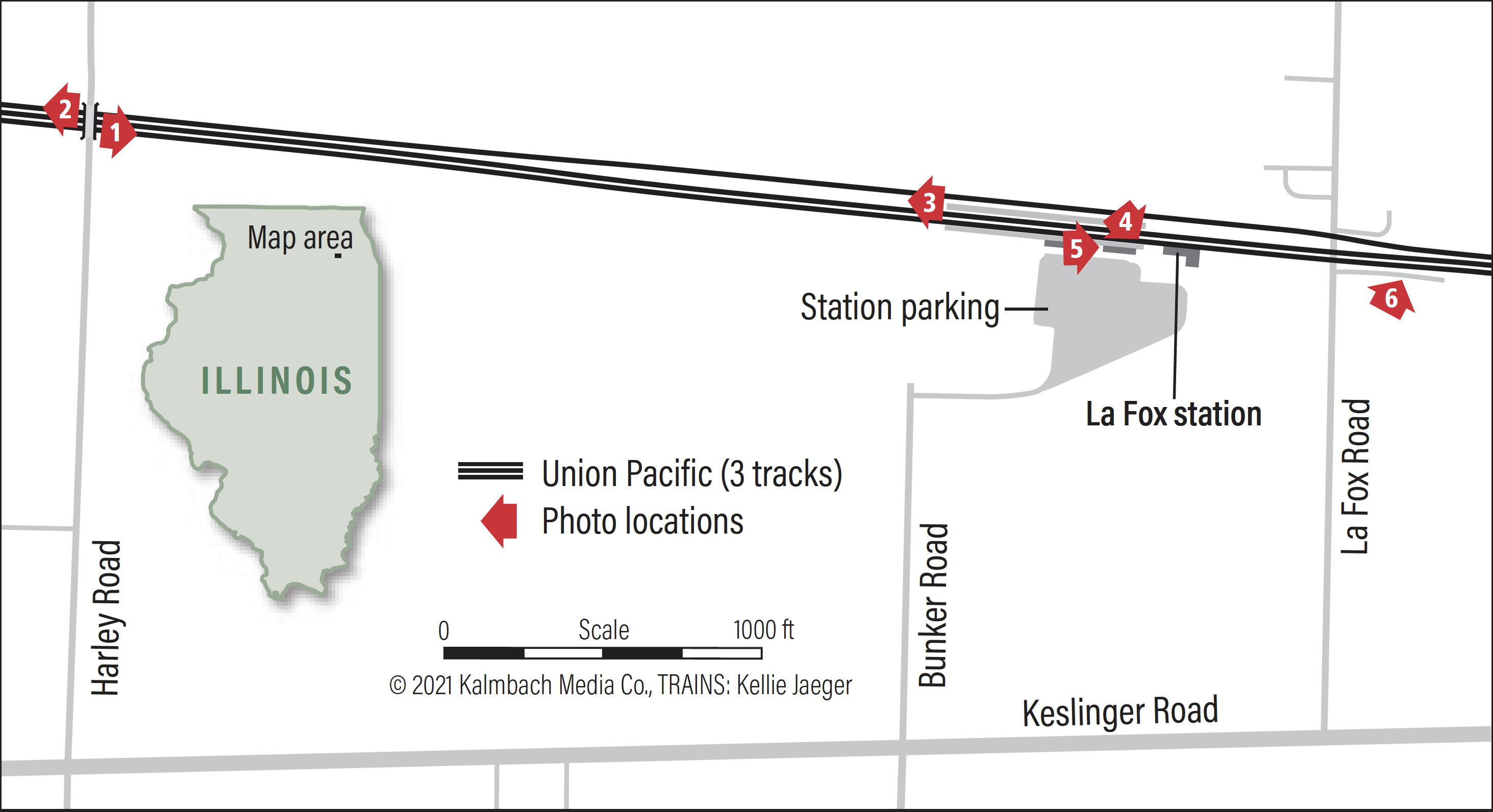 Things to do near La Fox, Illinois
Getting there: La Fox is a little more than 50 miles west of downtown Chicago; you'll likely take Interstate 88 to get in the general vicinity, but there are a number of routes to get from the Interstate to the Metra station, which is off Keslinger Road at Bunker Road. Trust the map app on your cellphone for details.
Creature comforts: Few in the immediate area. For food or public restrooms, there are some fast food outlets and other restaurants in Elburn, about a 10-minute drive to the west. (Elburn also has an exceptional hobby shop specializing in European trains, Reynauld's Euro Imports, at 122 N. Main St.) About 10 minutes in the other direction, there's a cluster of restaurants around the Geneva Commons shopping center on Randall Road; a few minutes farther east is the town of Geneva, with lots of options.
Train time: In addition to the Union Pacific traffic, La Fox is the next-to-last stop on Metra's UP West line. At this writing, weekdays see 34 Metra trains daily; there are 18 on weekends.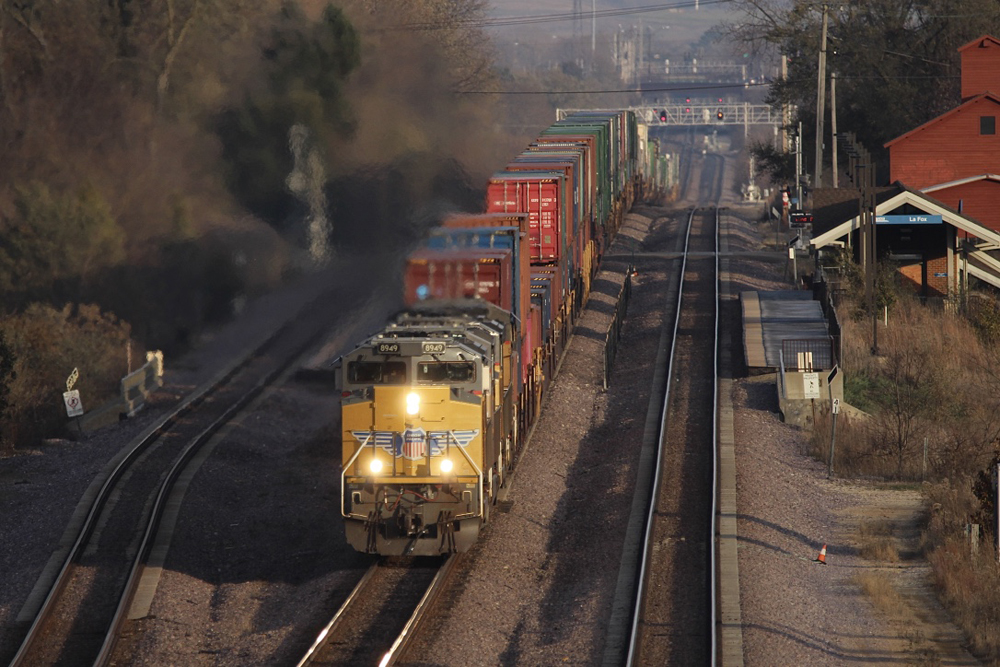 Photograph location 1A on map.
This is the best reason to go to La Fox: From the Harley Road overpass, the grade from Geneva is visible for miles in the distance as a westbound intermodal train makes the climb in late-afternoon light on Nov. 9, 2019.

Photograph by David Lassen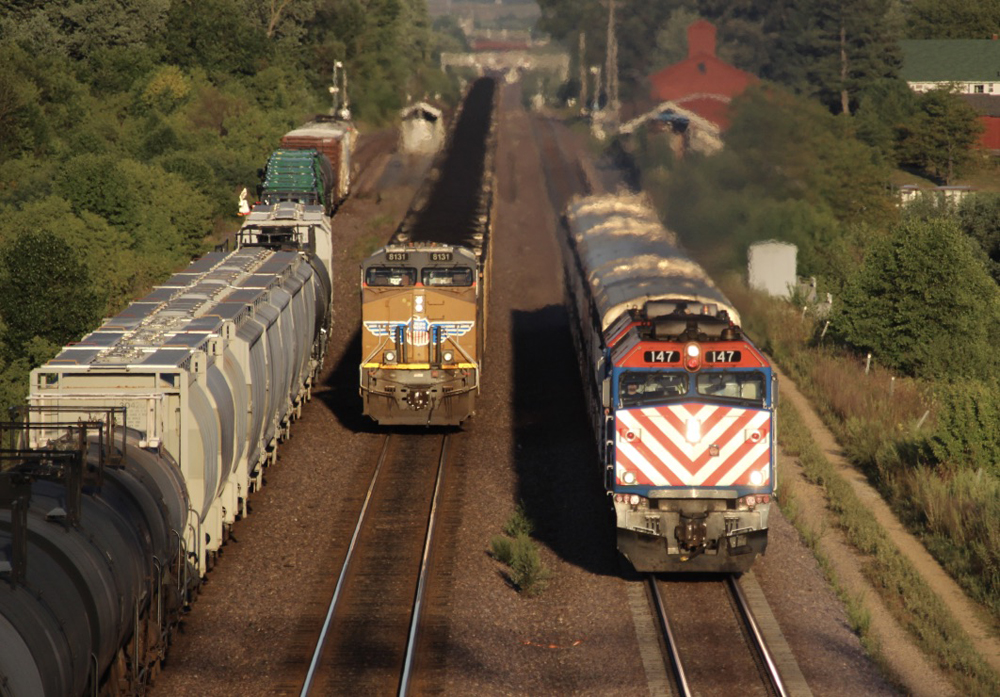 Photograph location 1B on Map.

One more look at the view from Harley Road. This time, an outbound Metra train passes the DPU of a coal train, while a general merchandise train waits for its turn to head down the hill to Peck, where the three tracks are reduced to two.
Photograph by David Lassen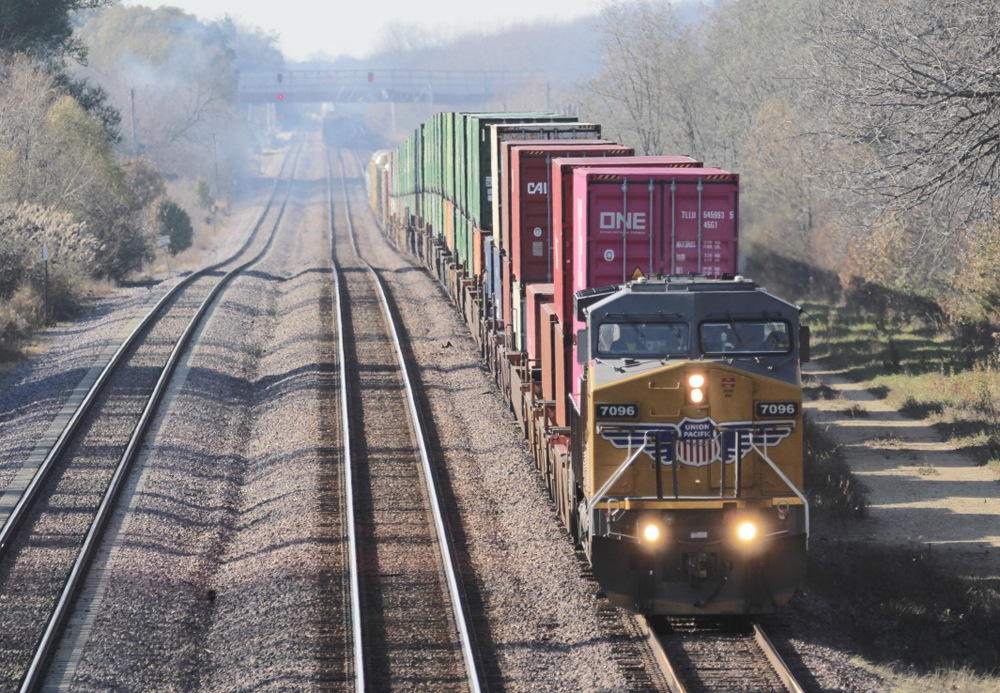 Photograph from location 2 on Map.

The view looking west from the Harley Road bridge.

Photograph by David Lassen


Photograph from location 3 on Map.

An eastbound auto rack train makes the curve to go around the center platform at the La Fox Metra station on May 31, 2019. In the distance on the center track is the distributed power at the end of a westbound train.

Photograph by David Lassen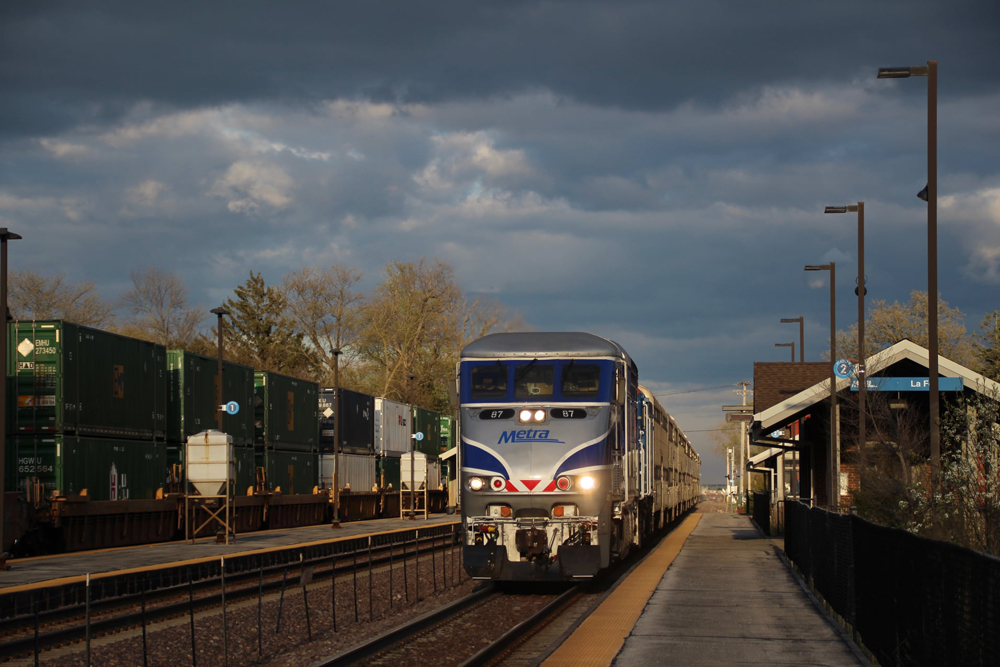 Photograph from location 4 on Map.

A westbound with one of Metra's ex-Amtrak F59PHI locomotives halts at the La Fox station under cloudy skies on April 15, 2021.
Photograph by David Lassen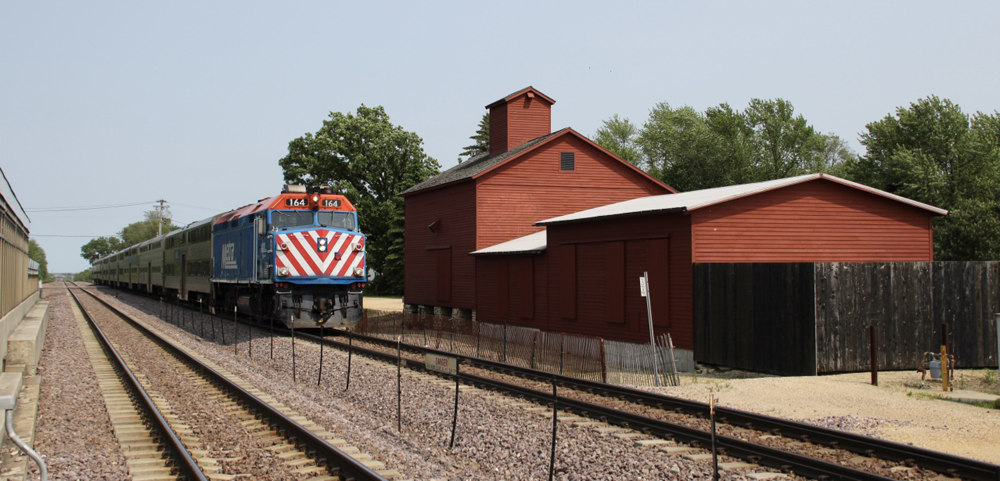 Photograph from location 5 on map.

A westbound Metra train passes the barn next door to the Metra station.

Photograph by David Lassen


Photograph from location 6 on map.

A weathered sign for the La Fox post office provides a good identifying shot on May 31, 2019.

Photograph by David Lassen