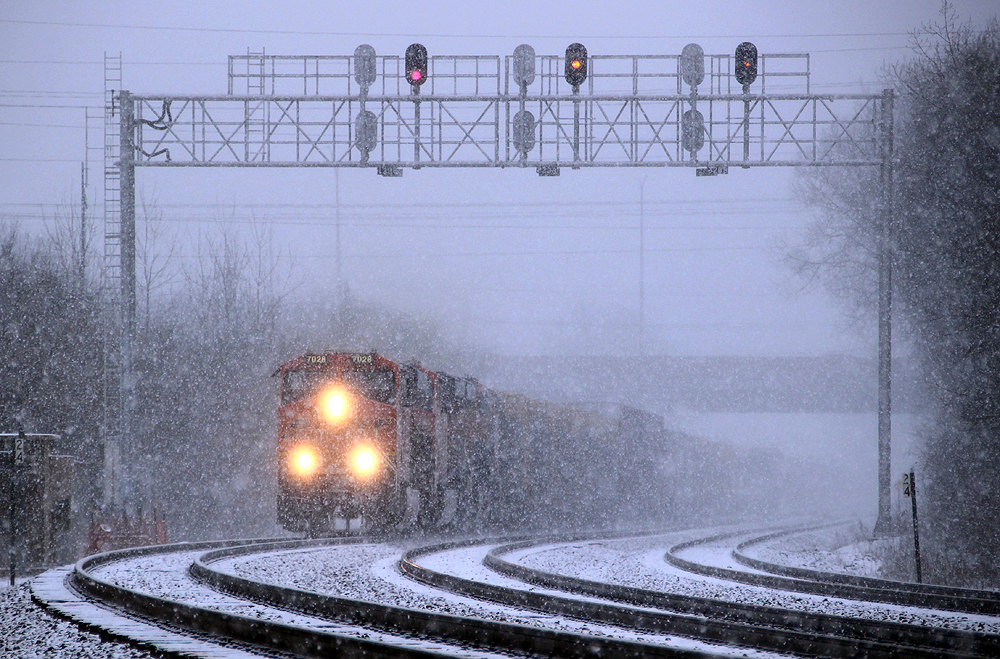 Railfanning Chicago at Lisle, Illinois, is good for those hard winter days. You know, the ones that sometimes feel like it requires all the preparation, gear, and endurance of the Amundsen South Pole expedition.
This is what makes Lisle, on BNSF Railway's triple-track main line between Chicago and Aurora, Ill., is a good place to visit. It's a good location to do your train-watching where you can watch for approaching traffic from your car and jump out into the rain/snow/wind/cold just long enough to get a photo.
Of course, most days are good for a trip to Lisle — as you'll see from the photos, I've spent plenty of time there on nice, sunny days. With one of the few major curves on the Racetrack, convenient parking, and the sheer volume of traffic, you'll keep busy. There may not be the variety of photos that some other locations offer, but sometimes quantity is its own reward.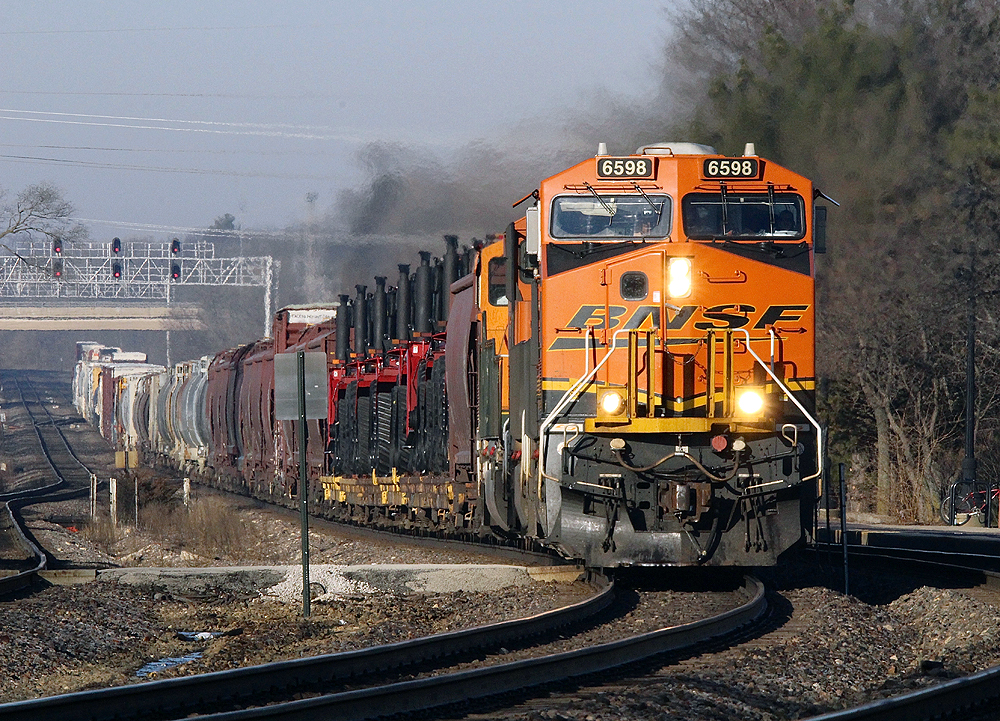 Watching trains at Lisle
To watch from your car, you'll want to go to the Metra station's Lot E, accessible from Burlington Avenue by passing through Lot C, adjacent to the Lisle Village Hall. On weekdays, a permit is required until 2 p.m.; the daily permit is available in the Village Hall starting at 7:55 a.m. and costs $3. (Helpful hint: there are clean restrooms in the lobby.)
With a little experimentation, you'll find a spot near the center of the lot (which conforms to the curvature of the main line) that allows you to see the signal bridges to the east and west, which will help alert you to oncoming traffic. For westbounds, you can walk to the eastern end of the lot (or if it's really nasty or you're feeling lazy, you can drive there) for a good shoot. For eastbounds, you'll more or less be looking down a long straight-away at approaching trains. (This will be particularly true if you have a higher-riding vehicle like an SUV; with my compact car, the fence between the lot and tracks allows me to see the signals but not the tracks. Occasionally a train sneaks up on me.)
There are some secondary shots available from the Metra station platform. But really, the parking lot is your best place to go.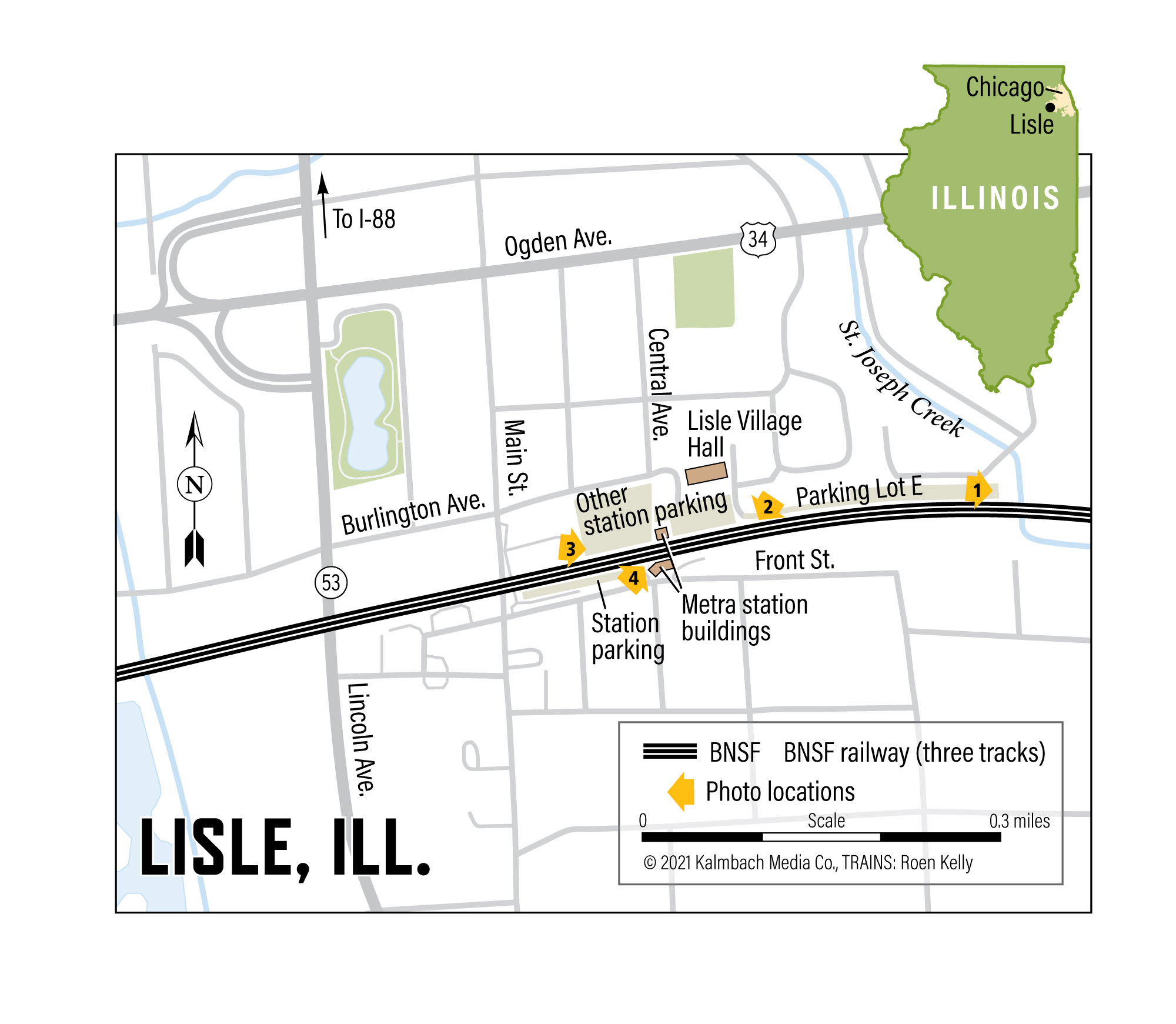 Chicago railfanning at Lisle: getting there
Lisle is about 25 miles west of downtown Chicago, about 9 miles west of the previously featured Shoofly location straddling Western Springs and Hinsdale, and about 5 miles east of the Amtrak and Metra station in Naperville, a popular railfan location we'll probably cover at a future date. If you're coming from a distance heading west, take Interstate 88 (a toll road) to state Route 53 and head south; turn left at Burlington Avenue and continue straight ahead until you enter the Village Hall Lot. There's no Route 53 exit from the east, so take I-88 to I-355 south, and exit at Ogden Avenue; head west, make a left at Center Avenue, and another left at Burlington. If you're coming from other nearby locations, just take Ogden to Center.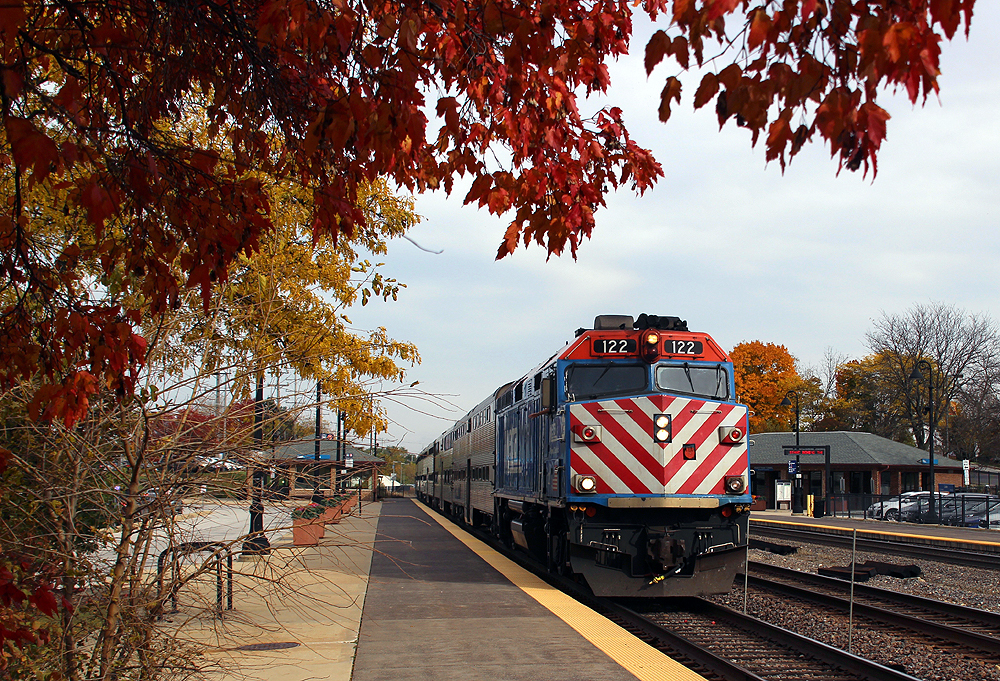 Lisle's railfanning creature comforts
There are gas stations and fast-food places galore along Ogden Avenue, and some restaurants on Lisle's Main Street, just a couple of blocks from the station. Nearby, Naperville has plenty of restaurants and hotels.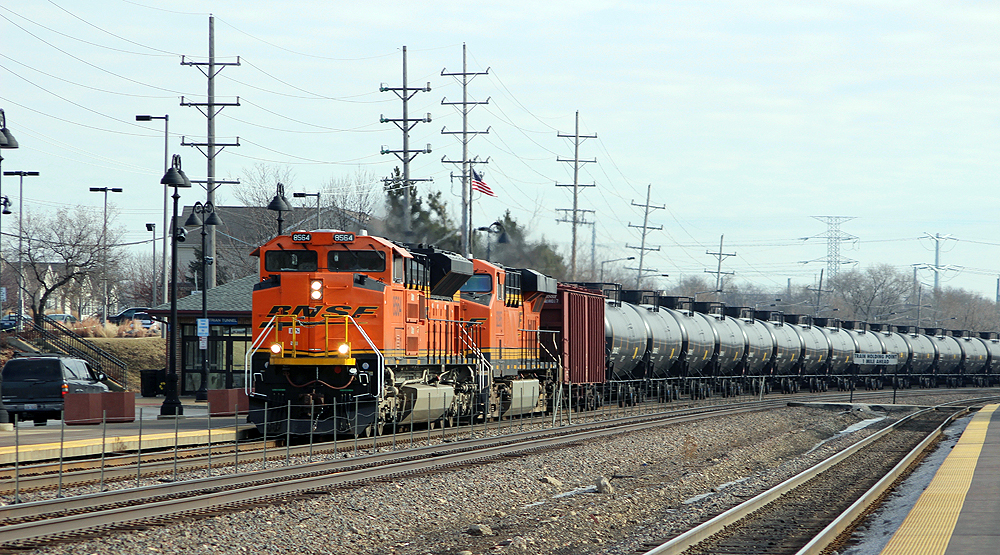 Train time
It's a rare day when this line isn't incredibly busy. BNSF traffic includes a steady stream of hotshot intermodal trains. Metra is, at this writing, operating 94 BNSF trains on weekdays; about 70 of these operate through Lisle. (The others are short-turn trains that turn back to Chicago before coming this far west.) There are also eight Amtrak trains daily, with the California Zephyr, Southwest Chief, Carl Sandburg, and Illinois Zephyr operating in each direction.