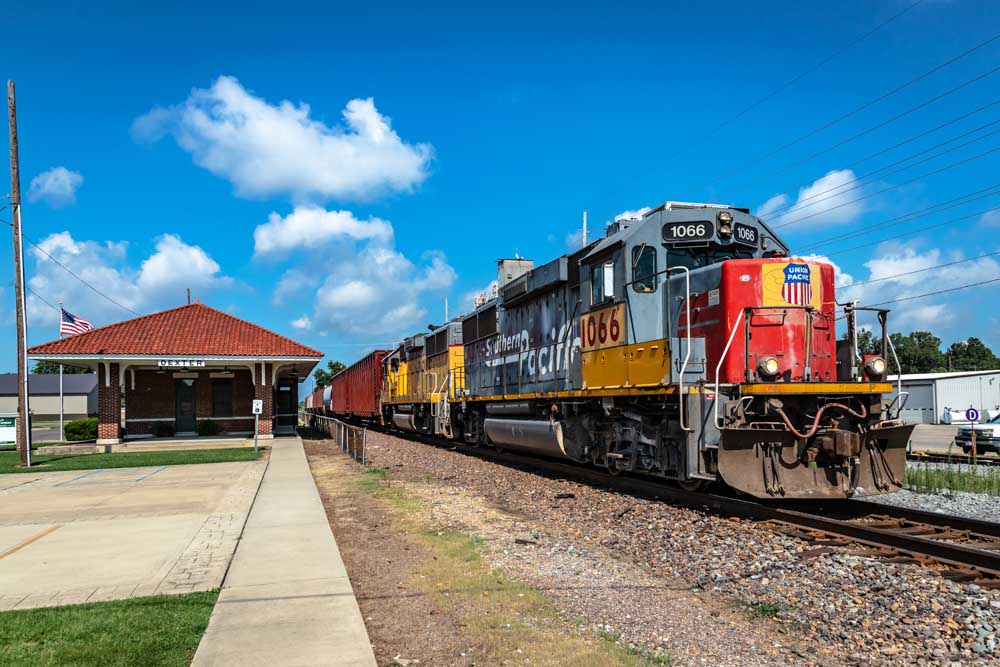 BIG BOY HOT SPOT Location
If you're for Union Pacific Big Boy Hot Spot this summer, don't miss the Dexter, Missouri, community. Dexter is situated in the rural southeast corner of Missouri in Stoddard County, about halfway between St. Louis and Memphis. It is surrounded by fertile soil, vast row-crop farmland, and straight, high speed Union Pacific lines. The town's railroad roots run deep. The original map of the city was filed by Thomas Allen, president of the Cairo, Arkansas & Texas Railroad. Another railroad, the St. Louis, Arkansas & Texas, arrived in 1889. Today, both lines are part of the Union Pacific after a series of mergers.
Train-Watching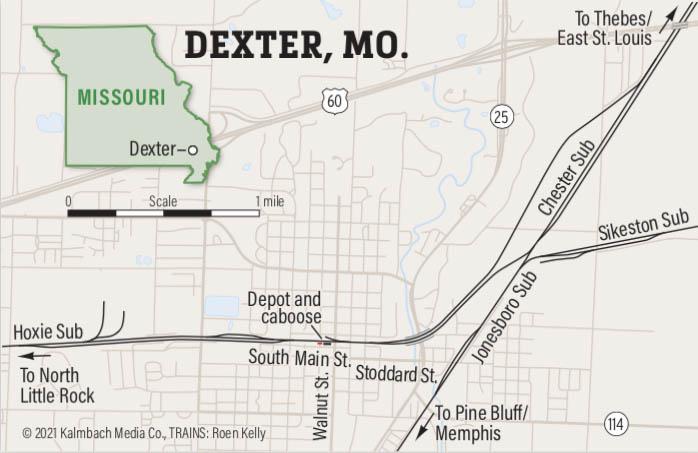 UP uses a directional traffic pattern on this corridor between Illinois and Arkansas. The former Missouri Pacific lines from Chicago and St. Louis funnel to the double-track Thebes Bridge on the Chester Subdivision, where the former Cotton Belt territory begins to Dexter. The Chester handles traffic in both directions into the north side of town. South of Dexter, the Jonesboro Sub handles southbound trains to Pine Bluff. Running west is the Hoxie Sub to North Little Rock, Ark., via Poplar Bluff, which handles primarily northbound trains. East of town lies what remains of the original Cairo, Arkansas & Texas to Bird's Point, today called the Sikeston Sub. A trio of control points called Missouri Junction, Dexter Junction, and Charleston Junction channel the traffic between subdivisions. Both Missouri and Dexter Junction can be accessed down the hill off Crowley's Ridge from Charleston Junction, and trains can use either routing to reach the crew change point.
Dexter can see up 50 trains per day. Manifests typically dominate the lineup, with lots of intermodal and diverse merchandise traffic and several trains from connecting eastern roads with foreign power are common. Unit trains of various commodities can be seen depending upon the present industry trends, whether they be grain, oil, or frac sand. Ballast and aggregate trains off the nearby De Soto Sub frequently pass through, and a local based in Poplar Bluff, the LSI55, services several industries in the area. It is the only regular train to traverse portions of the Sikeston Sub. BNSF Railway occasionally exercises trackage rights through Dexter.
Each train stops at the crew change point at North Dexter on the northeast side of town for a new crew. Radio traffic as the inbound and outbound crews communicate with each other, or the dispatcher, indicates an imminent movement. The former MP depot in downtown, with its caboose and observation deck, offers great places to watch and photograph northbound traffic on the Hoxie Sub. A crossing near U.S. Route 60 offers a place to observe traffic on both lines. The Stoddard Street crossing provides a good place to watch southbounds leave town on the Jonesboro Sub.
Radio Frequency
UP road, 161.550.
For Your Family
Nearby lies the Mingo National Wildlife Refuge, providing resting, nesting, habitat and feeding ground for migratory birds. For serious anglers and casual fishermen alike, Wappapello Lake to the northwest offers 8,400 acres with plenty of campgrounds. Visitors can sample local eats at Dexter BBQ, and maybe even find a few railroaders on rest. Enjoy your time at this Big Boy Hot Spot.