Women in railroading
In the 1800s, the most important breakthrough for women in railroading came when women telegraphers earned responsible positions taking orders and keeping trains on track. During the Civil War, many female telegraph operators were asked to help the war effort and took over or assisted when men left for the war. At the same time, slave women and children were forced to lay rails for southern railroads.
By the 1890s, women were working on small railroads in various capacities, often dressed as men so as not to be noticed. But by the early part of the 20th century, women were railroad designers, depot architects, and bacteriologists studying refrigerator car efficiency.
A Southern Pacific railroad operator and mother of 12 named Rosie was a pioneer for women seeking equal rights on the railroad, as well as in the workplace in general. In 1987 my husband and railroad photographer Richard Steinheimer and I drove to Mariposa, Calif., where Rosie lived in retirement with a daughter so I could meet and interview this remarkable woman, whose real name was Leah Rosenfeld (hence the "Rosie" nickname). Dick already knew her since she had befriended him on many of his photo trips to Cajon Pass in the 1970s.
When I started my research on women in railroading in 1981, little had been done to record railroad women's history and older women's stories needed to be taped before it was too late. Dick had told me numerous stories about Rosie and her gang of 12, so I was eager to meet her.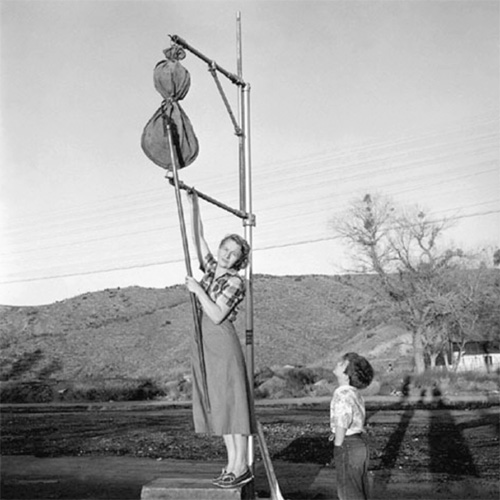 Rosie was waiting for us at the local animal shelter she had co-founded. Over the din of barking dogs and loudly meowing cats, I asked her general questions about her career and how hard it was to raise so many children by herself.
In October 1944 during World War II when "Rosie the Riveter" was already a catch phrase, 36-year-old Rosie and her husband needed additional income to support themselves and their then nine children. Since it was wartime, railroads were hiring women to replace the draft-diminished male workforce. Rosie completed telegraphy and clerical courses, and the Southern Pacific hired her. The war ended a year later, and as men began to return to civilian life and work, many women were given pink slips. While women railroad operators didn't suffer the pink-slip fate as frequently as those in other jobs, they did discover that state laws mandated limitations on jobs women could do, affecting promotions or lateral moves.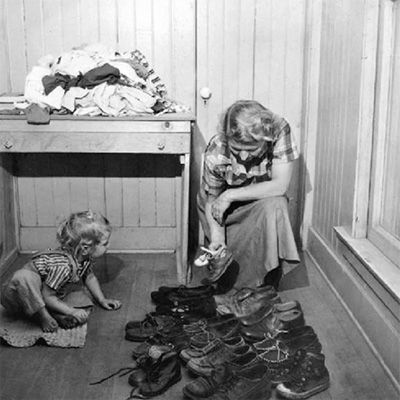 After Rosie's divorce in 1953, she worked many Southern Pacific jobs – telegraph operator, clerk, station agent – mostly in isolated, one-person desert stations around the Salton Sea area from Mecca, Calif., to Yuma, Ariz., where she could keep her eye on her eight youngest children. "Most male operators didn't like desert duty, and that suited me just fine," Rosie said.
The animal shelter noises were interfering with recording our conversation, so I decided to wrap it up. I had one last question for Rosie, "Did you ever have any problems while working for the railroad?" With a twinkle in her eye, this petite woman said, "Yes, but I took care of it!"
That did it. We needed peace and quiet for that story to unfold, so we moved from the animal shelter to a bench outside the local museum. There Rosie told her story of how she created a precedent for women everywhere.
In 1955, a position opened for an agent/telegrapher at Saugus, Calif. Rosie applied, knowing she had 10-year seniority. To her surprise, Southern Pacific denied her the upgrade from operator to station agent. The railroad cited California's "women's protective laws" that barred them from lifting over 25 pounds or working more than eight hours a day. The railroad ignored the fact that railroads operated under the federal Railroad Labor Act, not California law, and that the federal act made no distinction between male and female employees.
Rosie fired back a dispatch through her union, the Order of Railroad Telegraphers, saying that she already performed the same duties under a different job title but at less pay. SP replied that the railroad didn't tell her to lift heavy bags and boxes or work more than eight hours. She sent another note: "Yes, and if I hadn't you would have fired me!"
For 11 more years, Southern Pacific rejected her applications for promotions. Rosie appealed for help from the all-male leadership of ORT, now the Transportation Communications International Union. The men mostly ignored her.
Because of her background as a clerk and paralegal in a law firm going back to 1924 (she was 16 then), Rosie knew she had to keep detailed copies of everything: correspondence, rejection slips, etc., from both the union and SP officials. In 1964, the passage of the federal Civil Rights Act with its Title VII gave women an equal hiring footing with men and established the Equal Employment Opportunity Commission, which gave Rosie her opening. In 1966, when she applied again for a promotion and was again turned down because of California's protective laws, the EEOC advised her to take legal action against California. On Aug. 30, 1968, her attorneys filed a sex discrimination suit against the Southern Pacific, the TCU, and the state of California, raising concerns among other women coworkers that she might get them all fired.
Rosie Rosenfeld prevailed. On Nov. 25, 1968, Southern Pacific settled and California's protective laws were declared unconstitutional. This result affected not only women in California but throughout the United States.
By 1971, all the railroad industries began recruiting women for all railroad jobs. For Rosie, the outcome was a little late. "I finally got my promotion and the salary that went with it," she said, "just in time before I retired." SP appealed, only to be required to pay Rosie's attorney fees, and it threw in the towel in 1975. Her attorney wrote her soon after: "You must realize that you were a pioneer in the battle for sex equality and that you made legal history. You should be proud of what you have done." And, Rosie was.
SHIRLEY BURMAN is a railroad historian, photographer, and lecturer from Sacramento, Calif. She is also a member of the Center for Railroad Photography and Art.
Copyright © 2009 Shirley Burman