The Professionals filming location. The Professionals is a perfect Saturday afternoon popcorn picture. Four mercenaries in the waning days of the wild American West dive deep into Mexico to rescue the abducted wife of a multi-millionaire railroad tycoon. Along the way are bandits, memories of yesterday's glory days, and plot twists that make what looks like a good guy — their employer — into the skunk he really is. Then, as is now, power motivates and corrupts.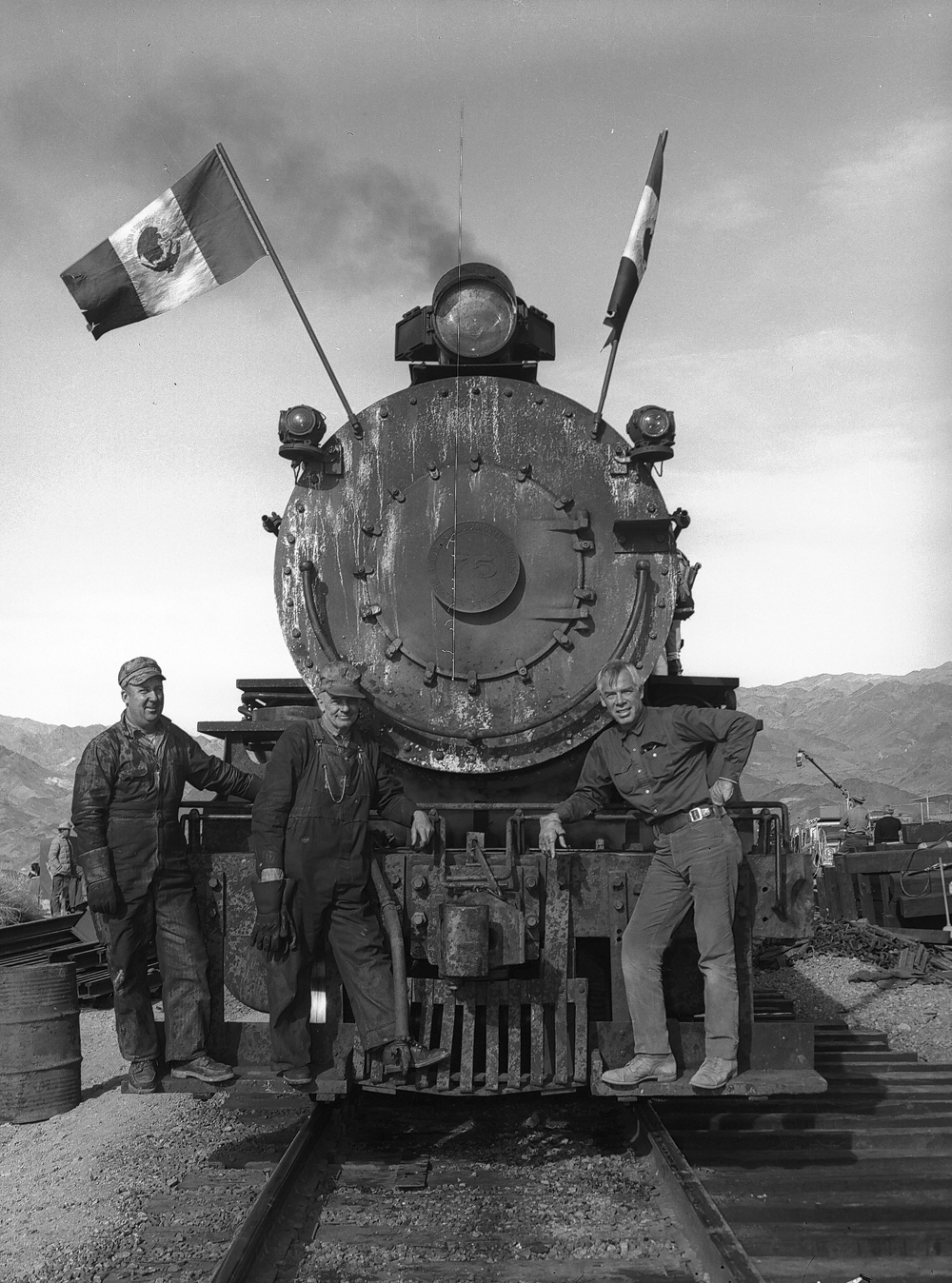 The cast of this 1966 oater is stellar; Burt Lancaster, Robert Ryan, Lee Marvin, Woody Strode, Jack Palance, and Claudia Cardinale. And one more; Great Western 2-8-0 No. 75 masquerading as something on a fictional offshoot of a National Railway of Mexico locomotive roster.
You can find plenty of details about the movie at the Internet Movie Database.
From the beginning, railroading plays a major role in the movie. The mercenaries' employer owns a big one and the bandits like holding up a Mexican railroad. There are wonderful Western desert railroading scenes of what it must have been like 'back then.' But after all, it's in Mexico, not the United States.
Correction. The railroad scenes were shot on the Eagle Mountain Railroad in Southern California's desert deep in the heart of Riverside County. The barren hills, heavy duty mainline (ore is heavy) and beautiful bridges are the perfect backdrop.
The Professionals is a good movie with a happy old-time ending. If the scenery looks familiar, just look at another movie, "Tough Guys," with Kirk Douglas, Burt Lancaster, and Doyle McCormack with 4-8-4 No. 4449. The Eagle Mountain right-of-way is still sleeping in the desert, by the way, and with a little work could again become the backdrop for another movie.
If you have a hankering to visit, please be aware, much of the line is accessible by off-road vehicle only. While it might be tempting to look around, I would suggest watching it in the movies that were made on it instead.
If you like Western movies with lots of railroad action, The Professionals gets a five out of five choo-choos. Distributed by Columbia Pictures, it shows up on both premium and regular television channels frequently. Settle in and bring the popcorn.