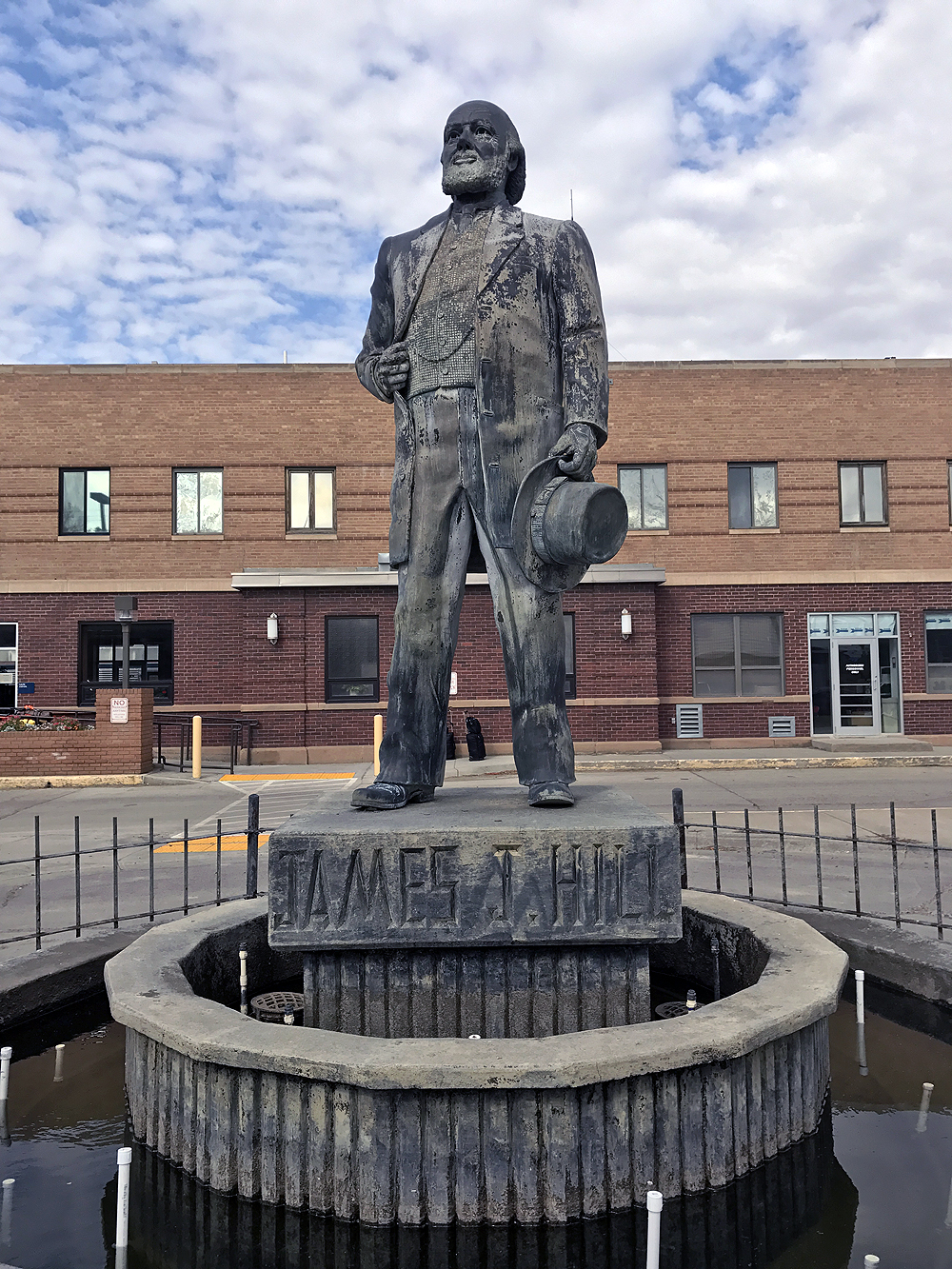 The Amtrak passengers who come and go from train No. 7 at Havre, Mont., are likely on their way out the parking lot long before they notice the statue at the foot of Third Avenue.
That's a shame.
Virtually everything they see, in all directions, can be traced to that stout Canadian immigrant standing sentinel. That's how big Great Northern Railway founder James J. Hill was. That's why their train is called the Empire Builder.
I recently renewed my acquaintance with train No. 7, enjoying a weeklong, multi-stop trip across most of its 2,205 miles from Chicago Union Station to King Street Station, Seattle.
Empire builder history
Of all the train names Amtrak inherited on May 1, 1971, none eclipsed that of the Empire Builder.
The train descends from the luxurious Oriental Limited, and the GN eventually named a similarly splendid train after James J. Hill in 1929, using his nickname, Empire Builder.
Great Northern would reach even higher in 1947 with the introduction of the first streamlined Builder — five complete trains ordered from Pullman-Standard during
World War II. An entirely new version of the train came in 1951, and yet another in 1955.
The Builder had faded, as GN and the other Hill lines lumbered toward the Burlington Northern merger of 1970. When it came time for Amtrak to build its national network, there had to be a Chicago-Seattle train. And it had to be called the Empire Builder.
Departing Milwaukee on the Empire Builder
I boarded Amtrak's Builder in Milwaukee following its on-time arrival at 3:52 p.m. All my old eager anticipation of train travel came back as I watched P42DC Nos. 166 and 170 rumble into the trainshed pulling 12 cars in the usual Builder configuration: baggage car, transition sleeper, three coaches, two sleepers, and the diner for Seattle; and lounge, two coaches, and a sleeper for Portland.
Before we knew it, our car attendant was greeting us by name at the doorway of Superliner II sleeping car 
No. 32093, the Missouri. We stashed our luggage, got familiar with economy bedroom 5, then made our way to the Sightseer lounge, already quite full.
Amtrak's Sightseer lounge is a worthy substitute for GN equipment, and Wisconsin's postcard-esque farms gleamed through our big windows in twilight. It wasn't long after the 5:02 p.m. stop at Columbus, Wis., that we got our call for dinner at 5:30 p.m. The crew hustled with aplomb. My steak tasted fine despite its assembly-line appearance and my wife pronounced her pasta carbonara as "quite good."
Darkness afforded me a chance to make my usual train inspection, walking the entire consist to note car numbers. The original Superliner I cars have been showing their age for years. Our 35-year-old car was clean enough, but the excessive carpeting that lined the walls was faded and frayed. Little bits of metal finish were banged up, dented, pulling away from door frames.
The rest of the ride up the Mississippi River into Minnesota was hypnotic as the old river towns loomed in the window and lights from the Wisconsin side glimmered on the water.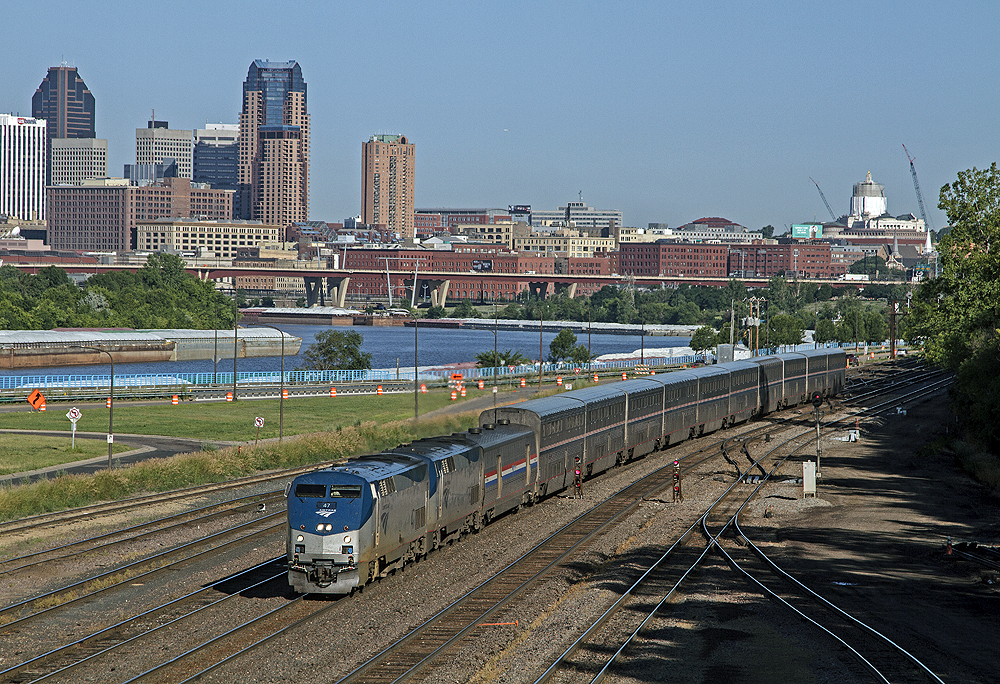 St. Paul Union Depot and the Empire Builder
Amtrak's long-distance trains often stop in nondescript places.
Not so at St. Paul.
Ever since it was reopened in 2014 after a $243-million renovation, Union Depot has afforded the customers of train Nos. 7 and 8 a chance to embark and disembark in a civilized manner, immersed in the glories of a Charles Frost designed neoclassical temple of 1926. With its Doric columns fronting 4th Street, marble floors, and welcoming concourse, St. Paul reminds Amtrak passengers of travel in the grand manner.
With the St. Paul stop finished, the train continued into the night.
Big train on the prairie
Plains, with their wide open spaces, have an intimacy with the changing weather.
That's what I felt cruising at about 79 mph at 6 a.m. as I turned to look out the window to witness a dazzling dawn east of Minot, N.D., coming upon Grand Forks. We were finally on the Great Northern on the fabled Hi-Line arriving on time at Minot at 8:29 a.m.
The Minot depot is worth a visit during a generous Amtrak rest and service stop. Here you encounter what appears to be a brand-new station, but designed in a classical railroad style.
My ride was considerably better, and more predictable, than it would have been during the height of the Bakken oil boom thanks to major infrastructure improvements by BNSF Railway. Double track was added for the first 120 miles west of Minot, easing a bottleneck at the east end of the division. Couple that with a falloff in Bakken production and you have what I saw from the Sightseer window — a fast-running, reliable railroad.
We arrived on time at our first destination of Havre, Mont., and paid respects to Hill's statue before taking a two-day break to refresh ourselves. We returned and boarded a Builder Seattle sleeper and rode west through Montana — a joy. Although a window in the last car of the train was too dirty for pictures, I had a great view of a great railroad, seemingly the essence of the old GN, with long stretches of double track, stately curves, and distant, purple profiles of the Sweet Grass Hills — low mountains rising 6,000 feet above the surrounding prairie.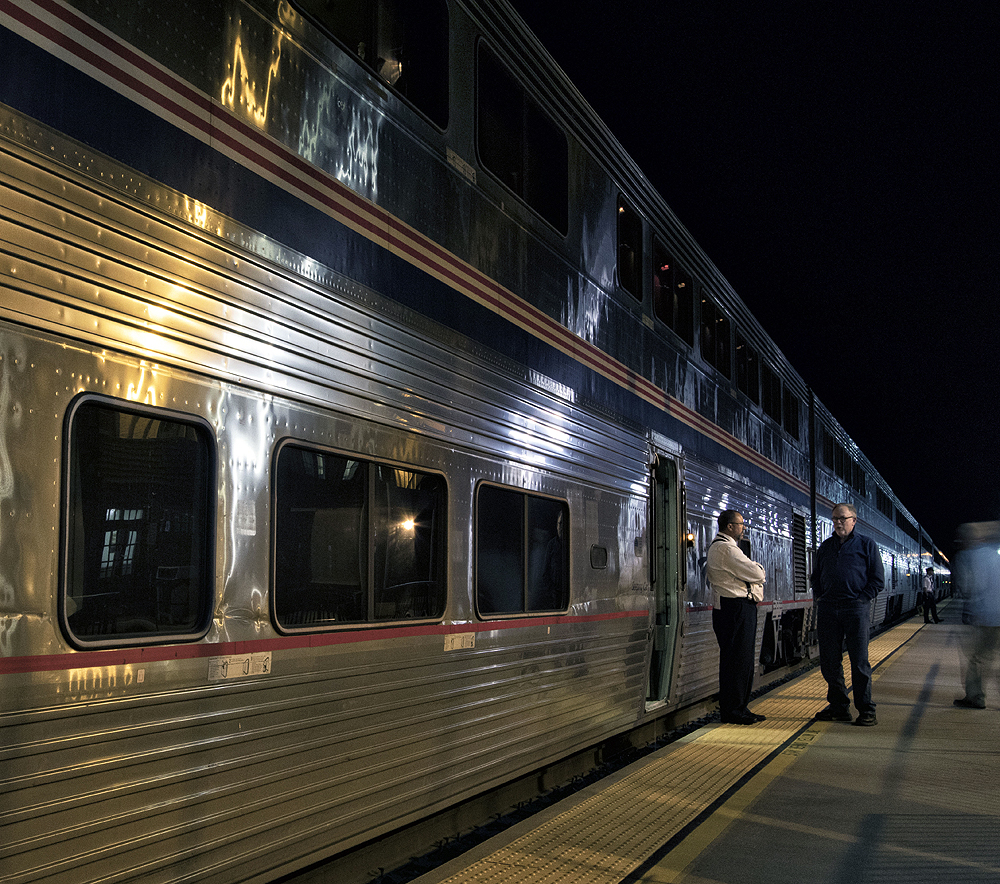 Empire Builder choreography in Spokane, Washington
Hours and miles further west, I stayed awake for what I considered a must-see event, the nightly congregation at Spokane, Wash., of all four sections of trains 7/27 and 8/28. Here is where Amtrak and a small regiment of train crews work to combine or split the Seattle and Portland sections.
It was 1:20 a.m. when we arrived 20 minutes early and saw the combined 8/28 slip away on time at 1:25 a.m. Train 28 is due in at 12:13 a.m. after negotiating the 376 miles from Portland. There it waits until 12:40 a.m., when its companion pulls in after the 326 miles from Seattle. Engine crews and a team of car knockers then do their thing, combining the two sections as smoothly as possible.
The task for our train, 7/27, was easier, requiring a simple uncoupling, just ahead of the Sightseer Lounge, and a repositioning of power, one P42 diesel per section. Running on time, we could obey the timetable: Train No. 7 getting the highball for Seattle precisely at 2:15 a.m., followed by No. 27 at 2:45.
I was struck by the efficiency of Amtrak's platform crews, who conducted themselves in relative silence. I enjoyed my bleary-eyed reverie on the Spokane platform, but the 2:08 a.m. boarding call came quickly, so I went to bed.
Down to sea level
Sunlight climbing above the east edge of the Cascade Range, we headed for a 6 a.m. breakfast in time to pass two more important GN landmarks, the great Cascade Tunnel, the 7.8-mile bore opened by GN in 1929, and the location of the driving of the railway's last spike at Scenic, not far from the tunnel's west portal, on Jan. 6, 1893.
Without fanfare, we plunged into the longest rail tunnel in the United States and soon the last of the Builder's famous mountain scenery was behind us. But that left one final thrill: the ride from Everett, Wash., into Seattle, at sea level, along Puget Sound.
We spent our last hour of sightseeing taking in a mix of container ships, Navy vessels, ferries, islands, and the distant Olympic range as the train hugged the rocky coastline.
After the short ride through the tunnel under downtown Seattle, we pulled up to a stop on Track 7 in King Street Station at 10:25 a.m., on time. Considering the 2,000-plus miles the Empire Builder had put behind it over the preceding two days, I found that to be rather impressive.