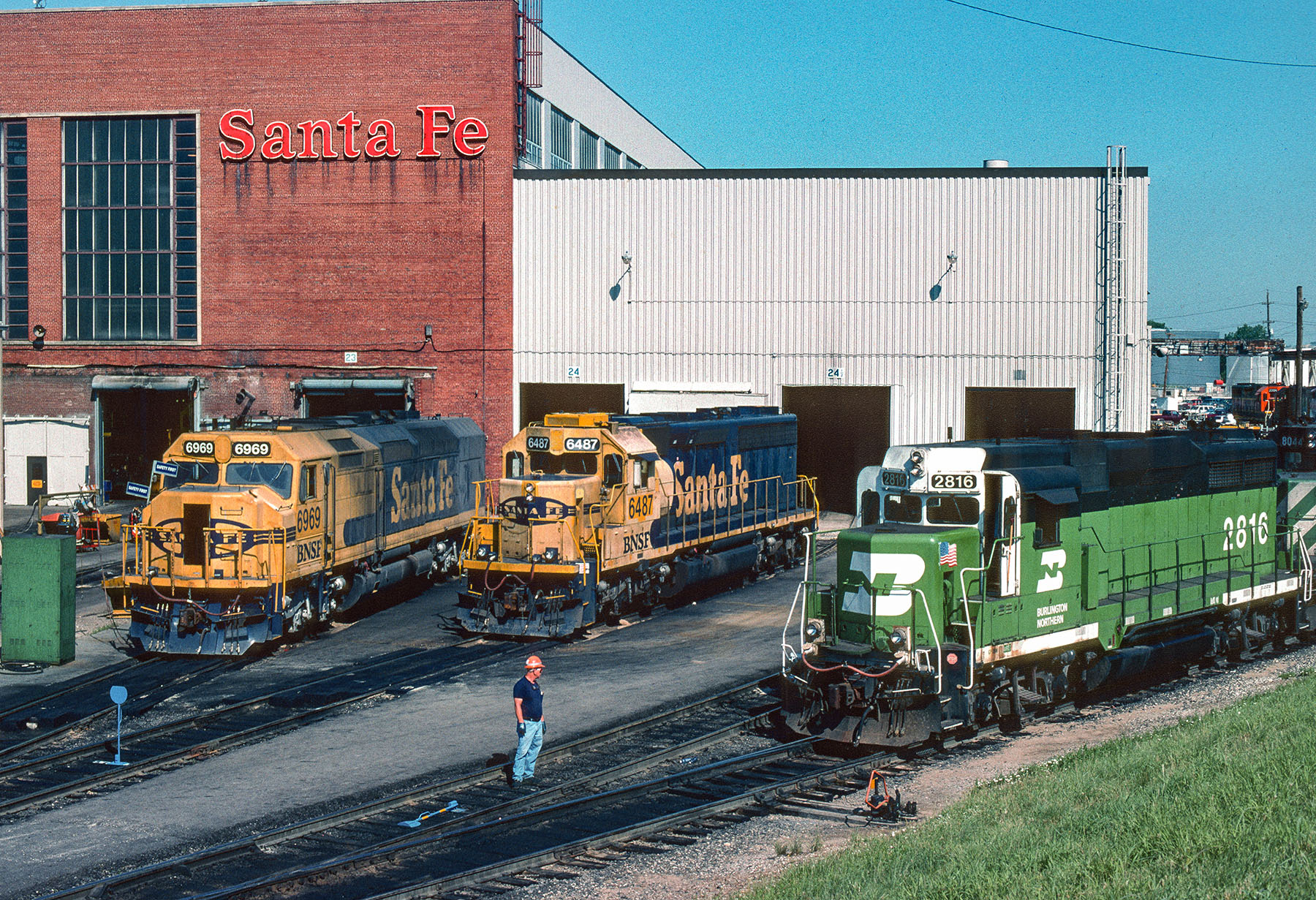 The motive power fleet of BNSF Railway, which celebrated its 25th anniversary in 2020, has come a long way since Atchison, Topeka & Santa Fe and Burlington Northern merged in 1995. The railroad has transformed its roster from one of the most eclectic in modern times to a more refined fleet of locomotives with a reduced number of models.
Each merger partner had a wide variety of models from EMD's SW1 to state-of-the-art SD70MACs. Some notable locomotives operating early in BNSFs existence were the GP7, GP9, GP10, GP20, GP30, GP35, SD9, SDP40, SD45, SD45-2, F45, FP45, C30-7 and SF30C. Both roads still used cabless locomotives, rostering EMD's GP9B, GP38-2B, SD40-2B, and SD45-2Bs, along with General Electric's B30-7A. Business was good after the merger and the combined company began buying new locomotives by the hundreds. Prior to the merger, Santa Fe had begun buying C44-9Ws while Burlington Northern was deep into its SD70MAC buying binge. Both models would dominate future orders for years, with BNSF being far and away the largest purchaser of both models.
For years, BNSF segregated its motive power fleet, keeping A.C. traction mainly on coal trains while the D.C. traction locomotives handled the rest of the traffic. This all changed in the late 2000s when General Electric introduced the ES44C4 locomotive, which uses only four traction motors on a six-axle locomotive, leaving the middle axle on each truck unpowered. BNSF was sold on the concept and would use this model, and its successor ET44C4, to phase out new D.C. traction locomotive purchases. With current traffic levels, BNSF has been retiring, scrapping, or turning back off lease many of its oldest C44-9Ws and SD70MACs, models that were the backbone of the fleet early in BNSF's existence. BNSF has bought new power every year since it was formed, and with new power on order for 2021 delivery, it continues this effort to keep its fleet young.