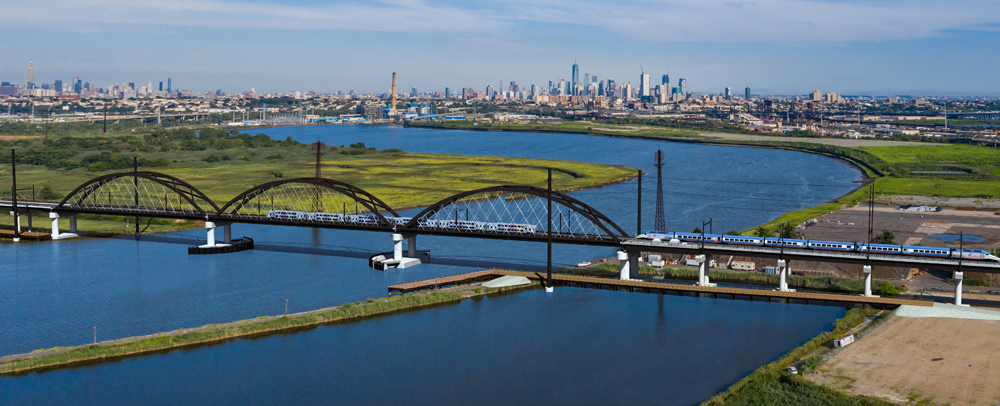 ---
TRENTON, N.J. — NJ Transit's board of directors has approved a $1.56 billion contract — the largest in the agency's history — for construction of the Portal North Bridge on the Northeast Corridor.
"Few infrastructure projects are as critical to the nation as replacing the aging Portal Bridge," New Jersey Gov. Phil Murphy said in a press release. "With today's step, NJ Transit is rapidly moving towards beginning the first phase of the largest infrastructure project in the United States. This award will not only bring a bridge that will resolve the long-standing bottlenecks plaguing New Jersey commuters, but will also create well-paying skilled labor jobs in the process."
The Skanska/Traylor Bros. Joint Venture will receive the contract for the project, which is expected to take 5½ years to complete.
The project is being funded by the transit agency, U.S. Department of Transportation, and Amtrak, through an agreement completed last year [see "Digest: NJ Transit, Amtrak reach agreement to replace Portal Bridge," Trains News Wire, July 28, 2020]. The new structure be a high-level, fixed-span bridge, replacing a more than century-old bridge swing.
The existing bridge over the Hackensack River  has frequently delayed rail service on the Corridor because of problems in locking back into place after opening to allow boat traffic to pass — a problem that led the U.S. Coast Guard to halt rush-hour openings of the bridge [see "Coast Guard to make permanent ban on rush-hour openings …," News Wire, Oct. 2, 2019].