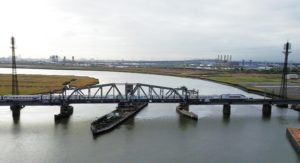 Tuesday morning rail news:
NJ Transit approves agreement to replace Portal Bridge, Northeast Corridor trouble spot
An agreement to replace New Jersey's infamous Portal Bridge on the Northeast Corridor is finally in place. NJ.com reports that the NJ Transit board of directors has unanimously approved an agreement with Amtrak, owner of the bridge, to replace the 110-year-old swing bridge over the Hackensack River between Kearny and Secaucus, N.J. Monday's agreement could mean a groundbreaking next spring for the replacement project, described in detail here. The unreliability of the bridge, which sometimes fails to lock back into place after it is opened, has often led to delays for NJ Transit and Amtrak passengers. The problems led to a tongue-in-cheek GoFundMe campaign for a replacement [see "GoFundMe campaign wants to replace Portal Bridge," Trains News Wire, Nov. 30, 2018], limits on when the bridge could be opened [see "Coast Guard to make permanent ban on rush-hour openings of Portal Bridge," Trains News Wire, Oct. 2, 2019], and finally, an agreement for Federal Transit Administration funds that helped make Monday's agreement possible [see "Portal Bridge project advances to engineering phase, gets federal funding," News Wire Digest, June 22, 2020].
Report: Alstom-Bombardier deal to get EU approval
French rail equipment manufacturer Alstom will receive the OK from European Union regulators to buy Bombardier's rail unit, according to a Reuters report. Citing "people familiar with the matter," Reuters said European Commission approval will come after Alstom added to earlier concessions to address anti-competitive concerns [see "Appropriations bill would require Amtrak …," News Wire Digest, July 9] by agreeing to allow other companies to have access to Bombardier train-control and signaling units. The purchase will make Alstom the world's second largest manufacturer of rail equipment after China's CRRC.
PATCO worker killed in yard accident
A Port Authority Transit Corp. worker was killed Sunday at the PATCO Speedline rail yard in Lindenwold, N.J., the Cherry Hill Courier Post reports. Employee John (Jack) Schroeder was killed about 9 p.m. Sunday, the agency said in a Monday statement. PATCO did not release further details, citing an ongoing investigation into the accident. PATCO operates between Philadelphia and Lindenwold.