KANSAS CITY, Mo. — Last year, a pair of infrastructure funds sought to take Kansas City Southern private. Last month, Canadian Pacific struck a $29 billion deal to acquire KCS. And today Canadian National topped that with an offer worth $33.7 billion.
What's next in the battle to acquire the smallest but fastest growing Class I system?
First, the KCS board will consider CN's unsolicited bid. "The KCS board of directors will evaluate CN's proposal in accordance with the terms of KCS' merger agreement with CP, and will respond in due course," the railway said in a statement today. "The KCS board of directors has not made any determination with respect to CN's proposal at this time."
Analysts expect CP to boost its bid, particularly since letting KCS fall into the hands of its already larger rival would be a significant competitive blow. "We can't rule out a full-scale bidding war," Wolfe Research analyst Scott Group wrote in a note to clients.
"What will CP do? They have room, it seems, to up the ante," says independent analyst Anthony B. Hatch.
But there's some question about how much higher CP can go against its larger and better-financed rival. The last Class I railroad bidding war — the 1996 fight for Conrail between CSX Transportation and Norfolk Southern — resulted in the railroads paying 27% more to split Conrail than CSX's initial offer for sole control of the Northeastern railroad.
Some analysts say that while either CP+KCS or CN+KCS would likely win approval from the U.S. Surface Transportation Board, the CN-KCS combination poses more regulatory challenges since there is a little overlap between their networks in the U.S.
"While financially superior and strategically compelling, CN's proposal may entail a more complicated regulatory review given the larger pro forma rail network," Baird Equity Research analyst Garrett Holland wrote in a note to clients. "CP likely revises its bid higher and leans into the strategic value of the combination and potentially more feasible regulatory review process."
Credit Suisse analyst Allison Landry said that likelihood remained high that a CN-KCS merger could win regulatory approval because the overlap in their networks is so small and is largely confined to a handful of customers in Louisiana.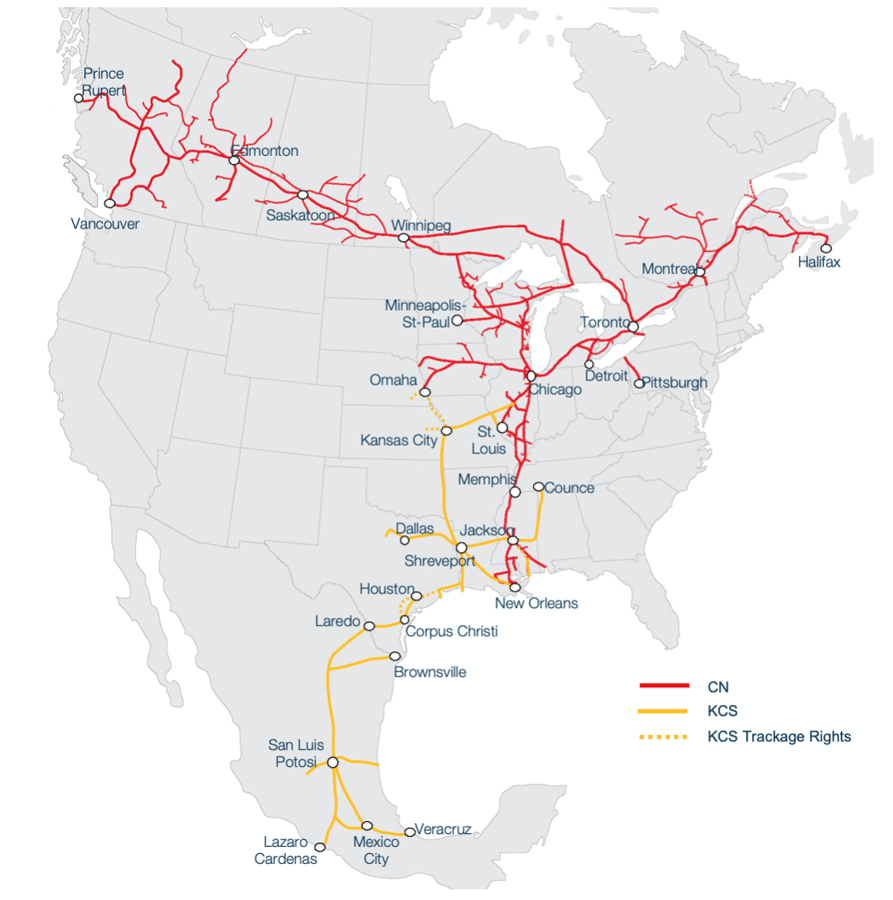 But she wondered if a CN-KCS deal, which would create a railroad larger than either CSX or NS, would make merger targets of the Eastern Class I systems.
There was some concern that a CN-KCS deal would create an imbalanced Class I system by leaving CP as the odd man out. A CN-KCS combination would redraw the North American rail map, with two systems in the East, two in the West, a CN that spans Canada and reaches the Gulf Coast and deep into Mexico, and a much smaller CP system.
Hatch says combining CN and KCS, "a deal that leaves CP and star CEO [Keith] Creel unattached, is a big destabilizer in the railroad industry."
Hatch says a CN-KCS deal would slightly increase the odds of further consolidation in the industry.
On a webcast announcing the KCS offer today, CN executives declined to answer questions about potential railroad responses to a CN-KCS combination, as well as whether CN would consider some sort of joint arrangement with CP to acquire KCS.
CN CEO JJ Ruest said his company was focused on KCS, its board of directors, shareholders, and employees.