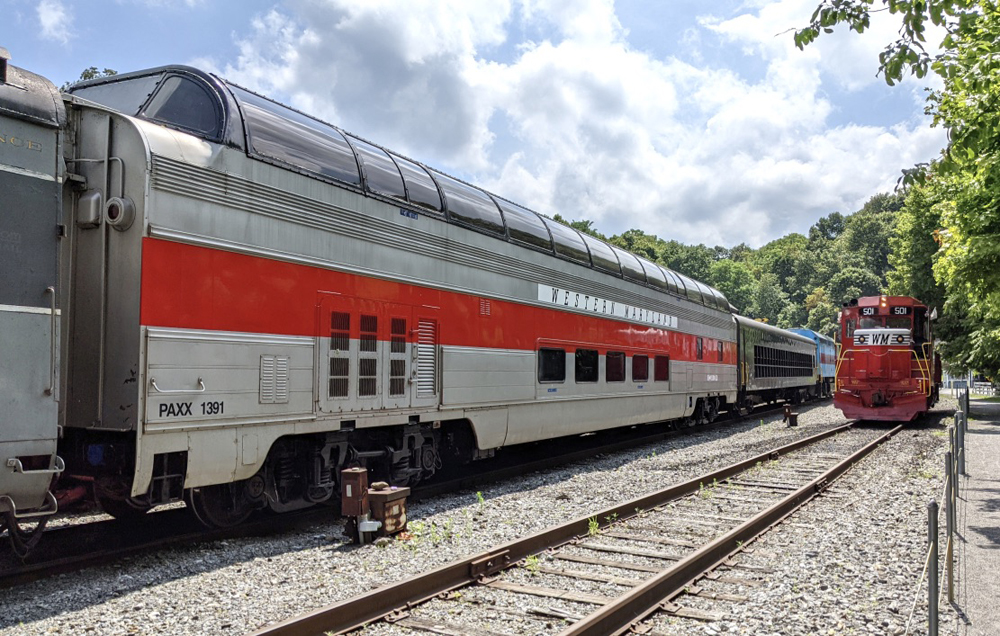 CUMBERLAND, Md.  — As tourist railroads and museums emerge from the COVID-19 pandemic, they are offering new experiences to attract the public. At the Western Maryland Scenic Railroad, this effort has translated into the addition of Amtrak's last dome car.
The Ocean View, built in 1955 and retired by Amtrak in 2019, debuted earlier this month on the Western Maryland Scenic between Cumberland and Frostburg, Md. The Super Dome, now in Western Maryland's red and white "circus" colors, is part of a trainset that also includes a newly renovated open-air car and privately owned cars Pacific Trail and Overland Trail. The is proving to be an exciting addition, says Wesley Heinz, interim executive director at Western Maryland.
The Ocean View was part of a six-car order built by Budd to serve as lounges for sleeping-car passengers aboard the Empire Builder, with five cars assigned to the Great Northern and one to the Chicago, Burlington & Quincy. Three of the cars eventually went to Amtrak, with one kept by Burlington Northern for its executive train, one sold to Holland America, and one burned and destroyed.
The Amtrak cars were converted to head-end power and had their vestibules replaced with an electrical locker. Two of the cars, Mountain View and River View were sold to Xanterra and are now at Grand Canyon Railway. Ocean View was retained for Amtrak to use on executive trains and on specials and seasonal service until the company retired the car, citing maintenance costs.
The car was purchased and renovated by a partnership between Rail Excursion Management and PAXRAIL. It's believed to be the first dome car to operate over the Western Maryland Railroad other than one or two documented detours of Baltimore & Ohio passenger trains pre-Amtrak.
Meanwhile, Western Maryland Maryland is preparing to begin testing on its Chesapeake & Ohio 2-6-6-2 No. 1309. The locomotive, the last Baldwin steam engine built for domestic use, is awaiting new firebrick for its firebox. Firebrick has been stalled due to supply and labor shortages.