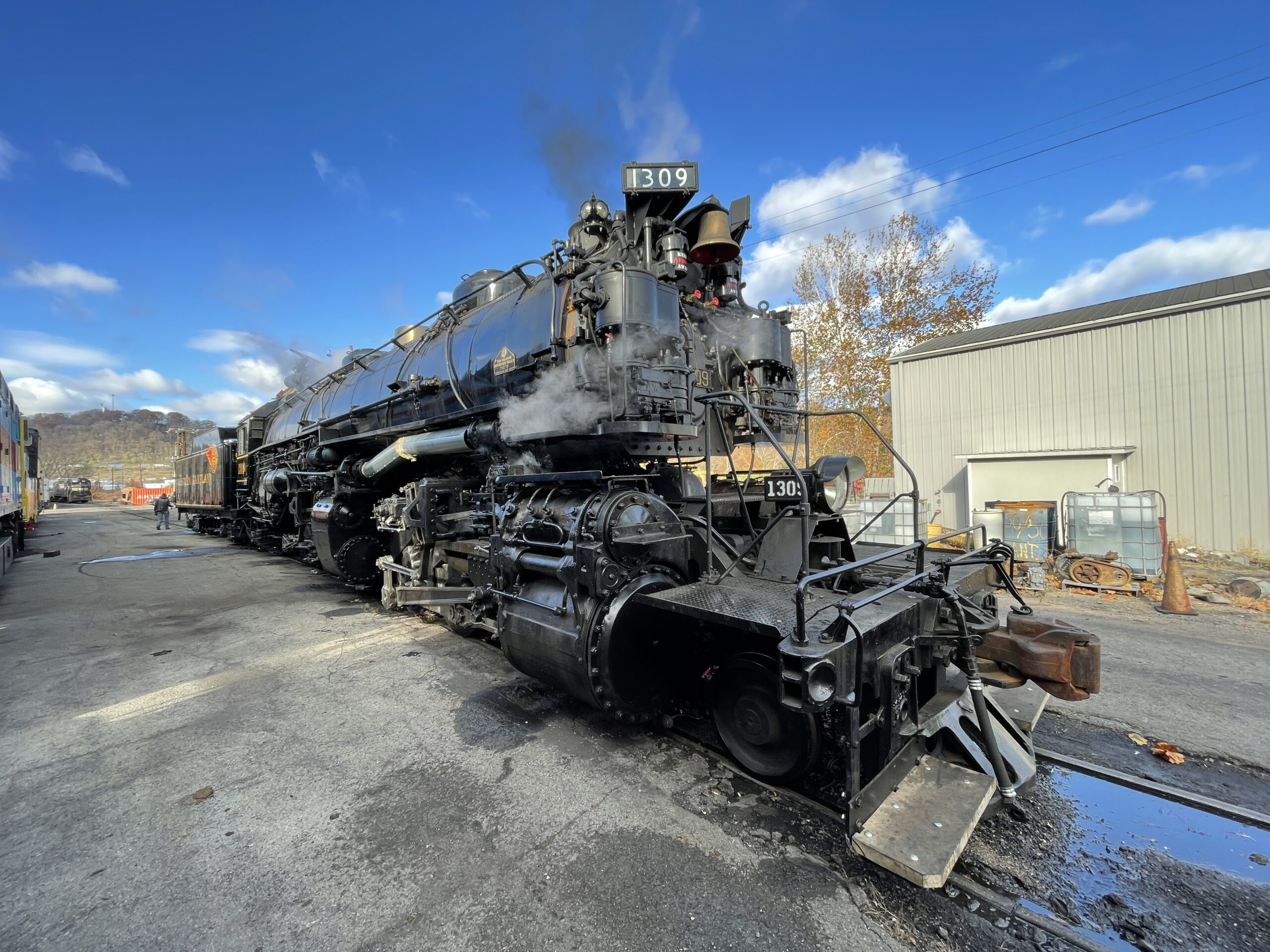 RIDGELEY, W.Va. — The Federal Railroad Administration Thursday approved Western Maryland Scenic Railroad 2-6-6-2 No. 1309 for service, officials of the Cumberland, Md.-based tourist railroad tell Trains News Wire. The last Baldwin built for domestic service in 1949 immediately becomes the world's largest operating Mallet on a 17-mile mountain railroad that was once the Western Maryland main line, including iconic Helmstetter's Curve.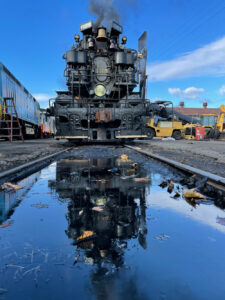 The locomotive will immediately begin its testing and break in period, leading up to its operation on Polar Express trains next month and regular service and special events next winter and spring. The former Chesapeake & Ohio engine only operated in regular service for six years before retirement and was displayed at the B&O Railroad Museum in Baltimore for years before Western Maryland Scenic bought and moved it in 2014. The engine and three cars were running this morning.
The $3.5 million restoration of the large articulated was a monumental task for a tourist railroad of modest means and working in a former Western Maryland car shop. Workers last December pushed to get the engine to the point where it could move on its own for the first time in 64 years and debuted it on Dec. 31. Since then, the shop crew has been chasing down thousands of final details, rebuilding the stoker, and acquiring parts that were difficult to come by during the Covid-19 pandemic. The railroad, which had not run since the 2019 season, also worked to reopen during 2021, which made No. 1309's restoration a close but still second priority.
The Mallet, which uses its steam twice, was the fabled Baldwin Locomotive Works' last domestic product in 1949 and is thus a major landmark in U.S. steam locomotive manufacturing.
Crews from railway preservation came from across the U.S. to assist in the final weeks of reassembly, a painstaking and difficult process for a locomotive that received little maintenance in its working life, spent years on display in a humid environment, and was disassembled by a different restoration crew. Its restoration was slowed earlier by an employee's theft of parts, significant funding challenges, and the immensity and complexity of such a large locomotive.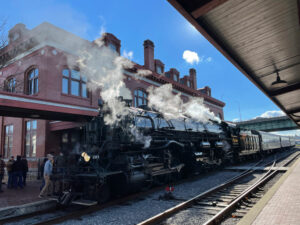 When it begins regular operations, No. 1309 will be the only articulated rod engine in action in the eastern U.S., and the largest steam power in the East. Union Pacific's Big Boy operates on UP tracks and is a simple articulated, meaning it feeds high-pressure steam to all four cylinders.
No. 1309 will be operated on 17 miles of the former Western Maryland Railway main line from Cumberland, Md., via famous Helmstetter's Curve, to Frostburg, Md.
Stalled for funding at the end of 2019, the project was at a standstill. In February 2020, Trains Magazine launched the "Steam the Last Baldwin" campaign to raise money to restart the project. Readers responded with more than $275,000 in donations, and the John Emery Rail Heritage Trust made a special mid-year grant of $50,000 to keep work moving forward. The engine was set on its drivers in June 2020, and final reassembly began.
You can read about the final restoration efforts in our special edition, "Steaming the Last Baldwin," and a companion DVD. Both are available online at the Kalmbach Hobby Store.