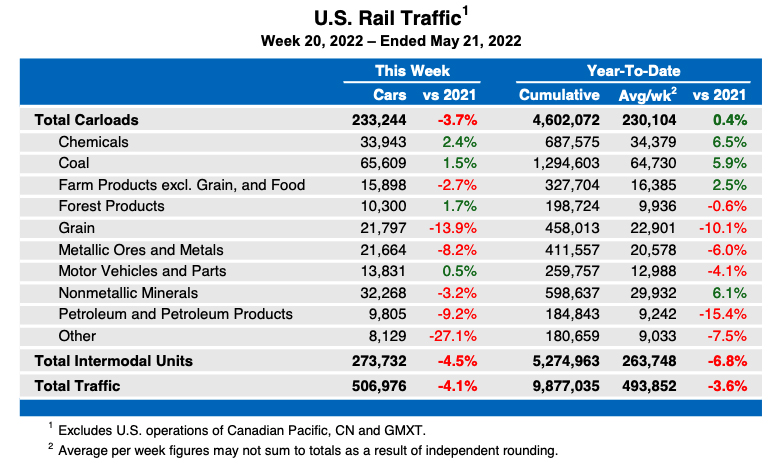 ---
WASHINGTON — U.S. rail traffic remains below 2021 levels on a weekly and year-to-date basis according to the latest statistics from the Association of American Railroads.
Figures for the week ending May 21 show overall traffic of 506,976 carloads and intermodal units, down 4.1% from the corresponding week a year earlier. That figure includes 233,244 carloads, a decline of 3.7% from a year ago, and 273,732 trailers and containers, a 4.5% decrease.
Just four of the 10 carload commodity types showed increases from 2021 levels, and those were slight: chemicals, up 2.4%; forest products, up 1.7%; coal, up 1.5%, and motor vehicles and parts, up 0.5%.
Year-to-date numbers for carloads remain 0.4% above the figure through 20 weeks of 2021, while intermodal units are down 6.8% and overall traffic is down 3.6%, averaging 493,852 carloads and intermodal units per week.
North American totals, for 12 U.S., Canadian, and Mexican railroads, include 329,823 carloads, down 2.8% from the same week in 2021; 365,682 intermodal units, down 3 percent; and 695,505 total carloads and intermodal units, down 2.9%. Year-to-date totals are down 3.8 percent from 2021.