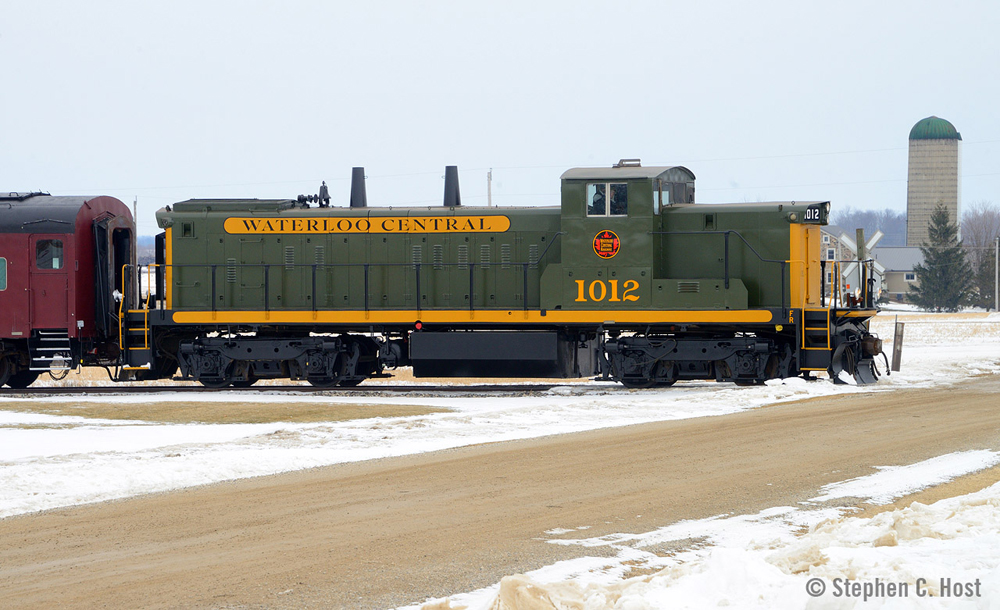 ---
ELMIRA, Ontario — A rare GMD1 locomotive donated by Canadian National to the Waterloo Central Railway in April 2021 has emerged in new paint. The former CN No. 1437 made its first appearance on the heritage railway on March 5, 2022, as WCR No. 1012.
"It's all because of the volunteers; they did an amazing job," said Waterloo Central General Manager Peter McGough, who had nothing but superlatives of praise for the volunteer crew that hand-painted the green-and-gold scheme inspired by CN's 1950s design.
Built in 1958 at General Motors Diesel in London, Ont., the locomotive would have had a similar scheme upon birth, but would have featured A1A trucks and a smaller fuel tank. These features were changed in a 1980s rebuild by CN.
The locomotive operated in conjunction with a Waterloo region tourism promotion, giving media members and influencers a brief ride to Elmira, Ont., to promote the region's tourism potential. With the Elmira Syrup Festival again cancelled because of the COVID-19 pandemic, the railway pulled out all stops as part of the promotion.
The debut of the repainted locomotive saw photos taken by volunteers and fans alike to celebrate the effort of the Waterloo Central crew.
— Updated at 8 a.m. CST to correct detail of 1980s rebuild.