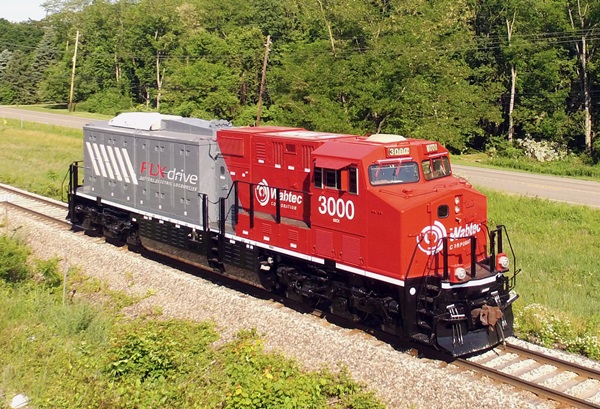 WASHINGTON — Wabtec CEO Rafael Santana asked Congress today to help fund a Freight Rail Innovation Institute that will develop zero-emissions locomotive technology to replace the diesel by 2030.
"Wabtec's goal is to develop the next generation of zero-emission locomotives. Wabtec has a clear path to power new locomotives – and repower existing locomotives – with batteries, hydrogen internal combustion engines, and hydrogen fuel cells," Santana told the House Committee on Transportation and Infrastructure.
The institute will be a partnership involving Wabtec, short line holding company Genesee & Wyoming, and Carnegie Mellon University.
"To accelerate the future of rail within the next decade and at scale, we ask Congress to collaborate with Wabtec, CMU, and G&W to create, coordinate, and co-fund the Freight Rail Innovation Institute," Santana said.
The innovation institute will fund research, demonstration, and commercialization of technology that can eliminate railroads' use of fossil fuels that contribute to climate change. The effort, which also would involve research on technology that would improve network logistics and capacity, aims to shift highway traffic to rail, which is currently four times more fuel efficient than trucks.
The new technology, including moving block signal systems and more sophisticated network management software, would permit railroads to handle 50% more freight by better using existing capacity. "By pursuing increased rail utilization and zero-emissions locomotives, we can create up to 250,000 jobs, all while increasing safety," Santana says.
"By increasing the amount of freight trains on the railroad, we increase the need for yard, maintenance, and manufacturing workers," Santana says. "Therefore, we believe 80% of the jobs created through our program will be blue collar jobs. This is alongside the jobs created to construct a research institute, as well as build and maintain hydrogen fueling pipelines and stations around the country."
Wabtec hopes to quickly develop and test battery-electric and hydrogen combustion engines that can replace the diesel engines in existing locomotives. "Each diesel-powered locomotive converted to alternative energy sources can save up to 3,000 tons of [carbon dioxide] per year," Santana says.
Wabtec's FLXdrive battery-electric locomotive has been undergoing testing on BNSF Railway between Stockton and Barstow, Calif., since January. "To date FLXdrive has run over 10,000 miles and delivered an average of 10% reduction in fuel consumption across the train," Santana says.
By boosting the battery power to 6 megawatt hours from the prototype's 2.4 megawatt hours, fuel consumption and emissions could be reduced by 30%, Santana says.
The combination of green locomotives and shifting more freight to rail would reduce greenhouse gas emissions by up to 120 million tons per year, which is the equivalent of removing 26 million cars from the road, Santana says.
Genesee & Wyoming said the partnership would accelerate the development of green locomotives.
"We believe that G&W working with Wabtec and Carnegie Mellon University on the Freight 2030 Initiative, with support by the federal government, will accelerate the development of zero-emissions locomotives and transform the next generation of rail transportation," G&W CEO Jack Hellmann said in a letter of support. "With success, G&W railroads will be able to offer our customers both carbon-free and cost-effective transportation, enabling us to expand rail freight utilization and thereby create a virtuous circle that reduces our nation's carbon footprint."
The Wabtec-G&W-Carnegie Mellon partnership is the latest example of the rail industry aiming to reduce its carbon footprint. The Class I systems have published science-based targets to reduce emissions over the next decade, and Canadian Pacific is developing a hydrogen fuel cell locomotive that it will begin testing next year.