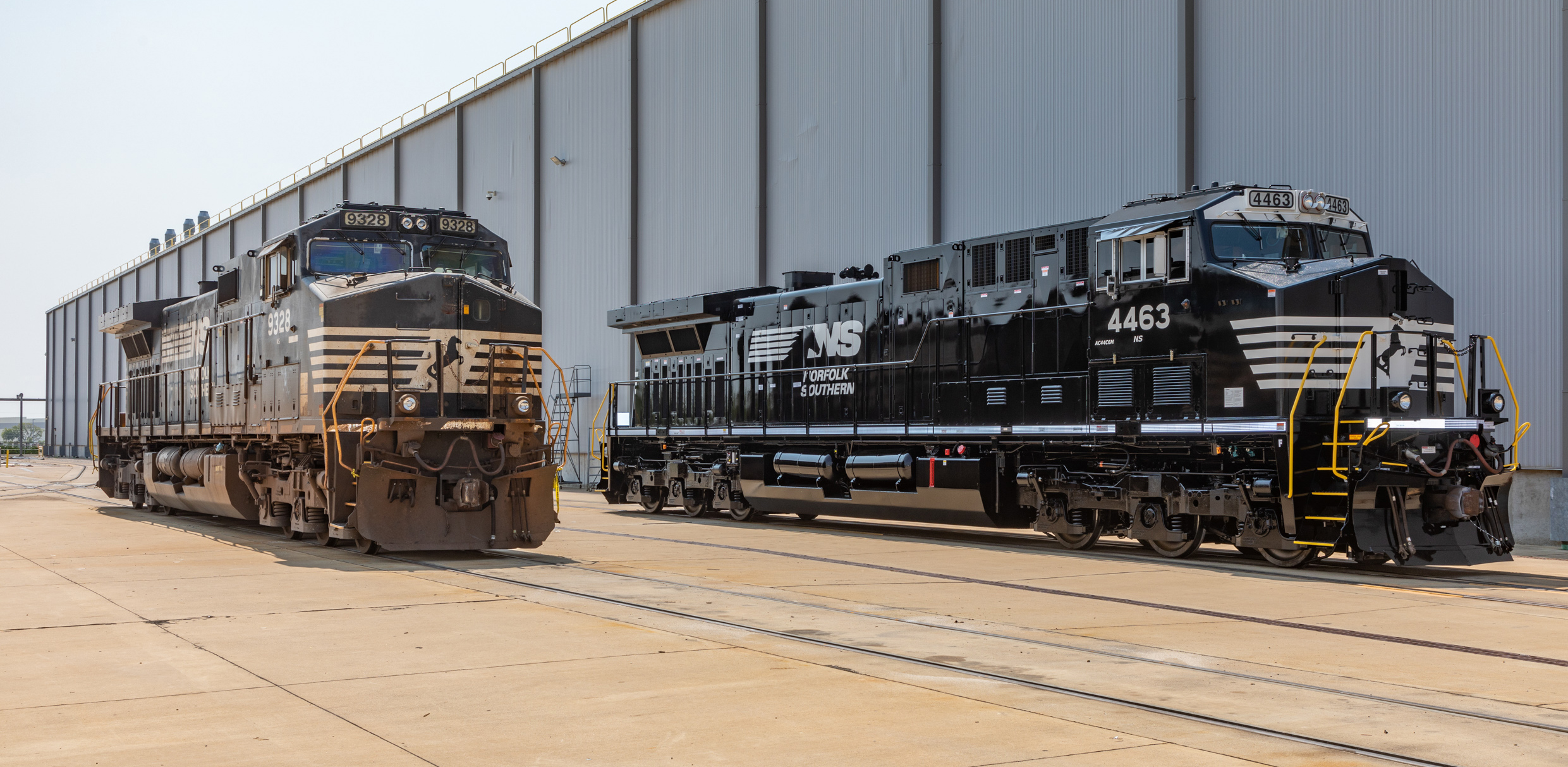 FORT WORTH, Texas — Wabtec has reached a milestone, completing its 1,000th remanufactured locomotive at plants in Fort Worth; Erie, Pa.; and Contagem, Brazil, since the program's start in 2015.
Norfolk Southern has received 500 of the locomotives since contracting with Wabtec to take 1990s-vintage, 4,000-hp, D.C. traction GE Dash 9 locomotives and rebuild them into 4,400-hp, A.C. traction units with a new designation of AC44C6M. That includes the 1,000th unit, No. 4463, unveiled Friday at the Fort Worth plant and posed next to an unrebuilt unit about to enter the program.
"This achievement is a testament to the value that our locomotive modernization service provides to customers," says Pascal Schweitzer, president of Wabtec Freight Services. "Our modernization program breathes new life and technological advancements into customers' aging locomotives, while also reducing a railroad's operating costs and carbon footprint."  Finished units increase tractive effort by 50% with the switch from D.C. to A.C. traction, improvements in truck design, an 11-ton weight increase, and new standardized control systems sacross all units. This allows Norfolk Southern to assign two rebuilt units to trains that would have required three older units to achieve the same performance.
The units' 25% increase in fuel efficiency means these 1,000 locomotives have reduced carbon emissions by 1.4 million tons since 2015.  All this is important to Norfolk Southern's long-term goals, says Tom Schnautz, vice presiden, advanced train control.  "As a leading transportation provider, it is our responsibility to reduce our environmental impact," Schnautz says. "Our partnership with Wabtec is one way we plan to achieve our target of a 42% reduction in emissions intensity by 2034.  Wabtec's program is maximizing the value of our locomotives, lowering operating costs, and reducing emissions."
Another environmental benefit is that 50% of the steel in each locomotive is reused in one form or another during the remanufacturing process.  Over the life of the program, the three Wabtec plants  have reused more than 100,000 tons of steel in the remanufacturing process.
"The modernization program has been a tremendous success and has created a new segment in the market," Schweitzer says. "It is now a key pillar of fleet management strategies for many railroads.  That is a tribute to our employees, suppliers and customers."