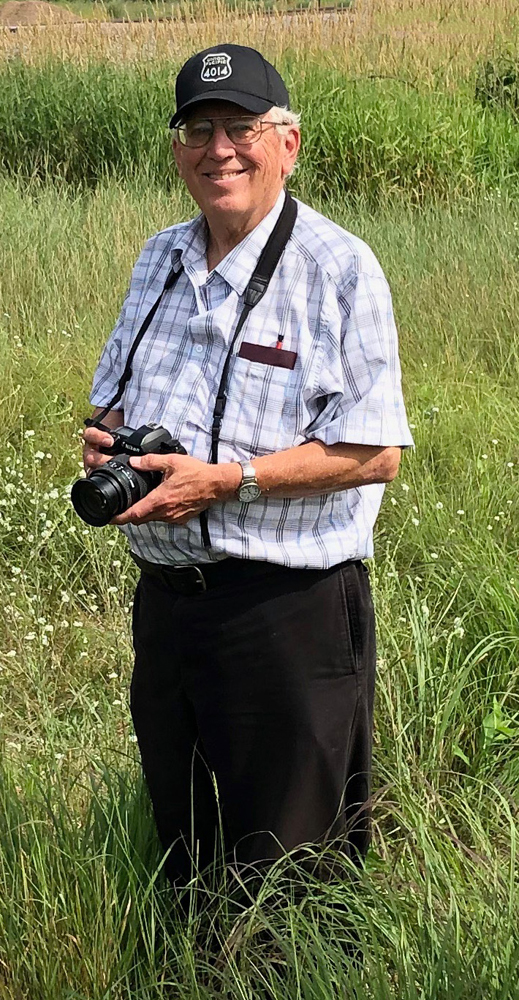 BROOKLYN PARK, Minn. – Veteran railroader and well-known railfan Burdell L. "Bud" Bulgrin died Aug. 18 of complications of Covid-19. He was 82.
Bulgrin's long railroad career included stints in the communications departments at Santa Fe, Illinois Central, Soo Line, and Canadian Pacific. But he was probably best known as a life-long railfan and photographer who contributed to Trains Magazine, Classic Trains, and numerous books. Over his lifetime he built an extensive railroad library with thousands of books, and collected models and rail memorabilia, and even a Duluth, Missabe & Iron Range Railway caboose which graced his back yard.
Born in Owen, Wis., Bulgrin was a railfan almost from birth. His father was an engineer on the Duluth, Missabe & Iron Range, and took him on numerous cab rides on steam locomotives he was running. His mother said she used to find him as a child near the Soo Line tracks by his home in Owen, which was the junction of Soo's Chicago-Duluth mainline with its route to the Twin Cities. He began shooting railroad black-and-white photos in the early 1950s when mainline steam could still be found, but never slowed down when diesels took over. He saved every camera he ever used, which he kept on shelves in his Brooklyn Park home. A look at Trains Magazine news photos in the early 1960s would find his credit line in dozens of issues.
Always interested in radio communications, following high school he enrolled at DeVry Technical Institute in Chicago. After graduation he landed t his first railroad job, with Santa Fe at its 18th Street radio shop in Chicago. It was there he met his future wife Anita. They were married in 1963, and on their honeymoon traveled to Mexico to ride and photograph steam locomotives. He traveled extensively to Mexico over several decades, and thanks to the friends he made there was able to ride in locomotive cabs over virtually the entire Mexican rail network, including in the former Delaware & Hudson PA diesels. His Mexican travels were recalled in "Exploring Mexico in the 1960s," in the Winter 2002 issue of Classic Trains.
While in Chicago, he met several railroad fans who became lifelong friends including Jim Farrell (later a Union Pacific executive), future Trains Associate Editor and Kalmbach Books editor Harold A. Edmonson (who was best man at Bulgrin's wedding), and famed rail author Robert P. Olmsted. Edmonson picked dozens of Bulgrin's photos for his seminal book "Journey to Amtrak" in 1972, after he and Bulgrin raced around Chicago shooting passenger trains in the weeks ahead of the Amtrak takeover. Olmsted also used his photos in several of his books.
Santa Fe transferred him to New Mexico, where he worked in Albuquerque and Winslow. Anxious to return to the Midwest, he lined up a job with Illinois Central and returned to Chicago. In the early 1970s he landed a position with Soo Line in Minneapolis where he spent the bulk of his career, retiring a few years after Canadian Pacific's purchase of the Soo. He oversaw the overhaul of Soo's communications, including the installation of a microwave antenna system. Following retirement he and Anita traveled the world, visiting Cuba, South America and making new friends in places like the United Kingdom. He was a member and supporter of several railroad historical societies and museums including the Lake Superior Railroad Museum.
An avid collector of anything related to railroading, he could be dogged in pursuit of collectibles. He was able to obtain headlights from steam locomotives from the C&NW and electrics from the Milwaukee Road, collected numerous builder plates, and his ultimate prize, the Missabe Road caboose. Along the way he made friendships of both industry veterans and fans, including Classic Trains author and railroad executive Chris Burger, Santa Fe's Joe McMillan, and 4449 engineer Doyle McCormack. A running joke among his railfan friends was that Bud could bring sun to any event; in fact it was uncanny that during his railfan travels seemingly the sun always shone.
Bulgrin is survived by his wife, son Doug, and daughter Amy, their spouses and six grandchildren.
Veteran railroader and railfan Mark R. Lynn gave an apt summary of his life: "Bud was far and away the nicest guy I ever met. He was always just happy to be there — every day of railfanning was great, every trip was great, always so positive. We could all probably use a little more of that these days."