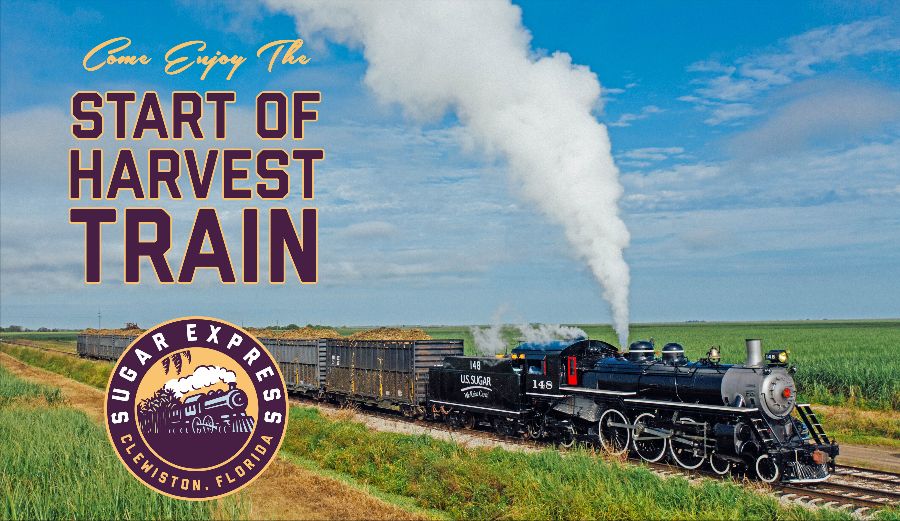 CLEWISTON, Fla. – On October 1, Sugar Express 4-6-2 steam locomotive No. 148 will power the first cane train of the season, signaling the official start of the sugarcane harvest.
The train will depart 1st Avenue and Florida Avenue NW in Moore Haven at about 9:30 a.m., and pull south through Clewiston over U.S. 27 to the Clewiston Sugar Factory.
Between noon and 5 p.m., No. 148 will be under steam and on display for the general public at the Sugar Express facility at the corner Basilian Cres and South Deane Duff Avenue.
No. 148 will star in its first outing for railroad photographers in an exclusive event sponsored by Trains Magazine on Jan. 29-30, 2022.  The 1920 Alco-built Pacific-type locomotive will pull passenger and replica freight consists in locations chosen by Trains Editor Jim Wrinn and Videographer Kevin Gilliam for their photogenic appeal. The event will include transportation between photo locations, lunch, and evening social time with opportunities to learn more about the locomotive's restoration and U.S. Sugar's railroad.