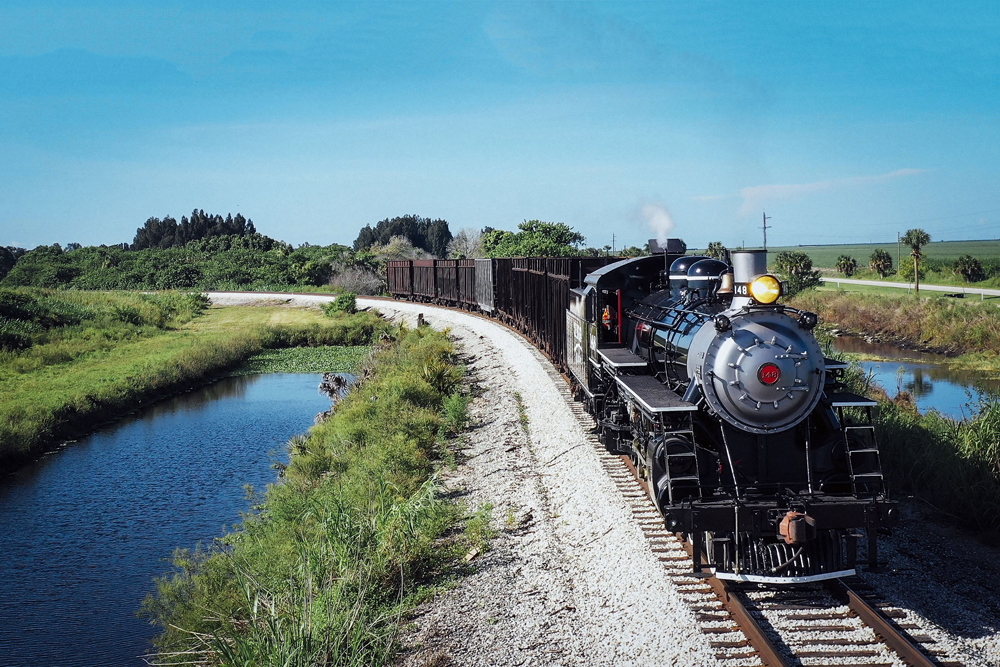 CLEWISTON, Fla. — U.S. Sugar's restored 4-6-2 No. 148 will star in its first outing for railroad photographers in an exclusive event sponsored by Trains Magazine on Jan. 29-30, 2022.
The 1920 Alco-built Pacific-type locomotive will pull passenger and replica freight consists in locations chosen by Trains Editor Jim Wrinn and Videographer Kevin Gilliam for their photogenic appeal. A small group  of photographers will be admitted to the event to ensure that participants get great images and memories. The event will include transportation between photo locations, lunch, and evening social time with opportunities to learn more about the locomotive's restoration and U.S. Sugar's railroad.
"We're thrilled to sponsor the first photo charter with the Sugar Express since steam locomotive No. 148 was restored in 2020," Wrinn says. "The event will provide a great opportunity to  showcase this fine restoration, U.S. Sugar's long association with railroading, and the pride that the company has in its transportation operations."
Locomotive No. 148 was built for the Florida East Coast Railway. In 1952, the locomotive was sold to U.S. Sugar to haul sugarcane trains from field-to-mill for processing raw sugar. As diesel locomotives became popular, No. 148 was sold by U.S. Sugar into private ownership in the 1960s. The steam engine spent years hauling passenger excursions in the Northeast before it was moved across the country, finally landing in Monte Vista, Colo. Thanks to the vision of U.S. Sugar CEO Robert H. Buker Jr., the locomotive was repurchased by U.S. Sugar in 2016, kick-starting this restoration. Railroad mechanical contractor FMW Solutions LLC, working alongside more than two dozen U.S. Sugar employees, completed the restoration of No. 148.
Pricing and ticketing information is available at this link.