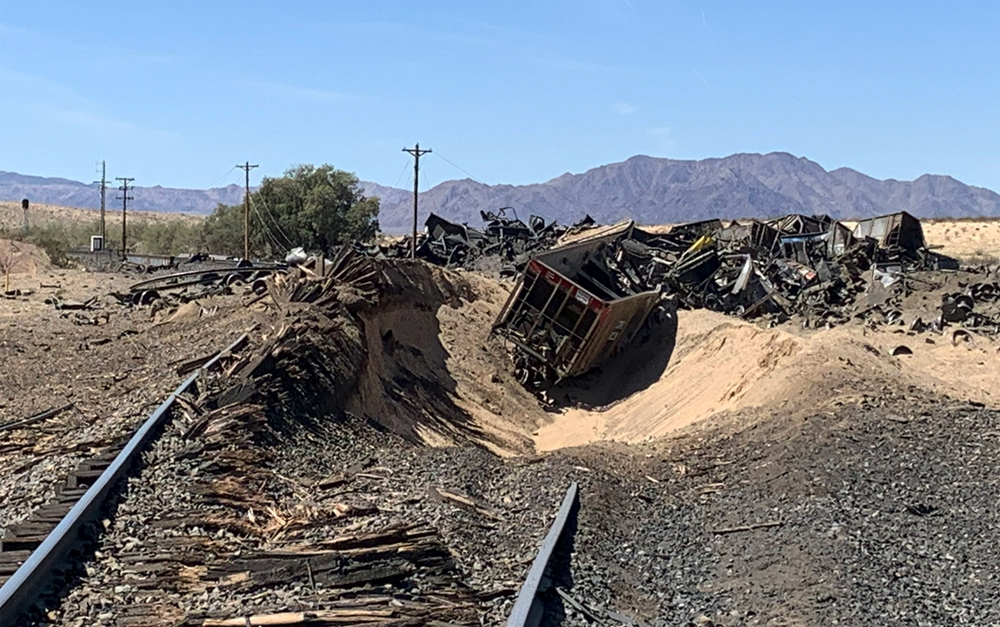 ---
KELSO, Calif. — Two locomotives and 55 cars of a runaway Union Pacific train carrying iron ore derailed near the Mojave Desert community of Kelso today (Monday, March 27), officials from the San Bernardino County Fire Protection District reported.
Union Pacific spokesman Mike Jaixen has confirmed that there was "uncontrolled train movement" of the southbound train and that "the crew was not in the cab at the time of the derailment." Social media reports had indicated a runaway incident, although other details of those initial reports remain unconfirmed.
KVVU-TV reports the derailment occurred about 8:30 a.m. No injuries were reported; the fire department said hazardous materials teams are dealing with a minor fuel leak from one of the locomotives.
Jaixen said the ore, used in the steelmaking process, is not a hazardous material and that there were no hazardous materials on the train.
Kelso is about 75 miles east of Barstow and 30 miles southeast of Baker, Calif.
Union Pacific is advising customers that a service interruption through the area will result in a minimum delay of 48 hours for shipments between Barstow and Las Vegas, Nev.
— Updated at 4:05 p.m. CDT with confirmation of runaway incident; updated March 28 at 8 a.m. CDT with customer advisory.