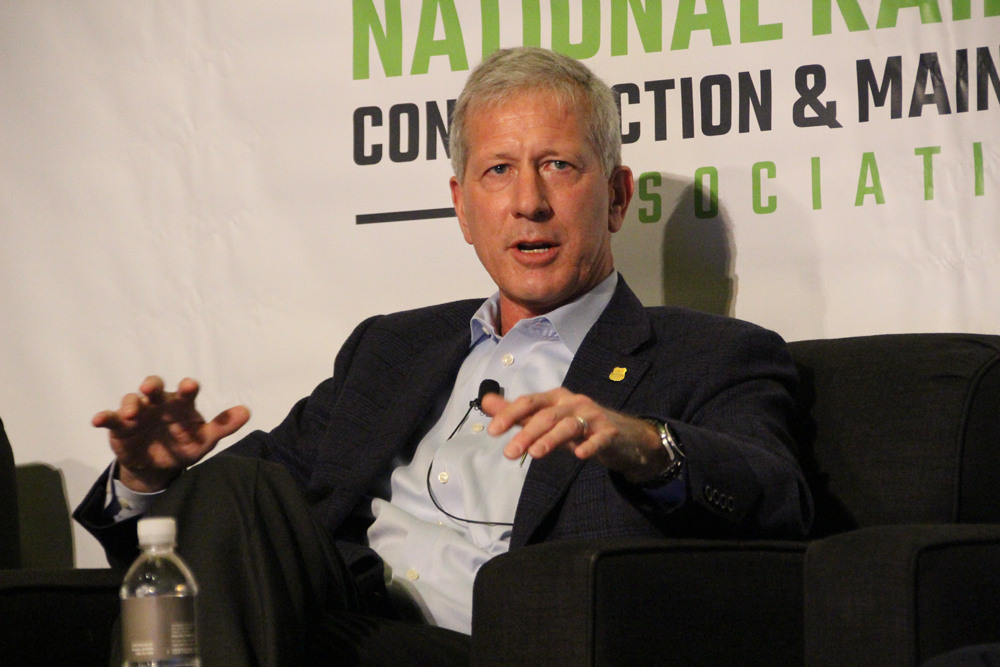 PHOENIX — Union Pacific is nearing agreements to purchase battery-electric locomotives for tests in yard use, CEO Lance Fritz says, with plans to try the locomotives in one cold-weather location and one warm-weather site.
"We think you can get an eight-hour shift out of a properly designed [battery-electric]," Fritz said during a short conversation with Trains News Wire prior to his "Fireside chat" appearance Thursday at the National Railroad Construction & Maintenance Association Conference. He said manufacturers Wabtec and Progress Rail also believe that is a feasible goal. "We're right in the middle of a conversation on a contract to able to buy them." An announcement will be coming "soon," he says.
Yard usage, he says, is the "best-case use for current battery-electric locomotive technology … high utilization, generally low horsepower suck, a lot of stop-start." At the current level of technology, he says, for a road locomotive "that could really pull freight across a typical territory, it needs six or seven or eight boxcars of Tesla batteries. So that technology just needs to continue to develop. And it will. Same as hydrogen. Hydrogen will, at some point, be an alternative. It just is not fully developed."
A number of different projects are currently under way to develop both battery-electric and hydrogen units, and Fritz thinks the industry is "smart for having so many irons in the fire.
"There's a couple of Class Is that are working on developing hydrogen locomotives," he says. "If that were to occur, we're all going to benefit. There's some of us that are working on hybrid battery-electric for yards. There's some of us that are thinking about electrifying yards. All of that work is going to be the benefit of the entire industry. That's not a competitive advantage that's going to win for only one Class I railroad." The information from those varying approaches will be shared, he says, "if for no other reason than if you're the [manufacturer], the market is what's attractive. Not one Class I's demand."
Catenary-style electrification is unlikely, he says, but even that can't be fully dismissed.
"It's a huge installed expense," he says. "It's not fungible, like units are themselves, right? Once you put it in the ground, it's in the ground, and it's only going to be used there. And you've still got to worry about power source. You've got to find a green power source for that kind of utilization, so you probably have to have energy storage along the route, as well, if you're going to try to use wind or solar, or something else. … It's not impossible. It's just probably not the best use of the world's assets when it comes to a very big freight railroad footprint like ours.
"Again, there's so much in technology that's changing, I don't think you can put a stake in the ground right now and say, 10 years out, that will never happen."
Fritz also says that while the railroad has made progress in addressing the supply-chain issues that grew out of the COVID-19 pandemic, things are still far from back to normal.
"There's still extended dray time, and that means chassis street time is up, still, and box street time is up," he says. "It's much better than it was at the worst of the disrupted domestic and international intermodal chains. … Ramp dwell is close to normal."
There are clearly long-term lessons to be learned from the supply-chain breakdowns he said.
"We have lessons to learn ourselves," he says. "We've had crew availability issues the back half of the year, mostly because we had been planning like, after COVID rolls through, things will come back to normal. And they were on that glidepath until the fall-winter time frame, when Delta spiked back up, and then Omicron now is showing up. …. We're a little tighter going into the back half of the year than we would have been if we were addressing that risk appropriately." During his conference appearance, he added that in 2022, "we're going to plan for COVID not going away, and having about the same kind of impact it's had in the second half of the year on us. And if it does happen to turn endemic from pandemic, fabulous."
"For the entire supply chain, more visibility, more coordination, more transparency across our platforms is still needed," he says. "… When you get a shock like we've had — there's no supply chain that's going to take this shock, and deal with it completely fluidly. In that environment, what customers really want is more transparency and visibility. We provide that in our segment to our customer base. The entire chain needs to string it together and supply it."