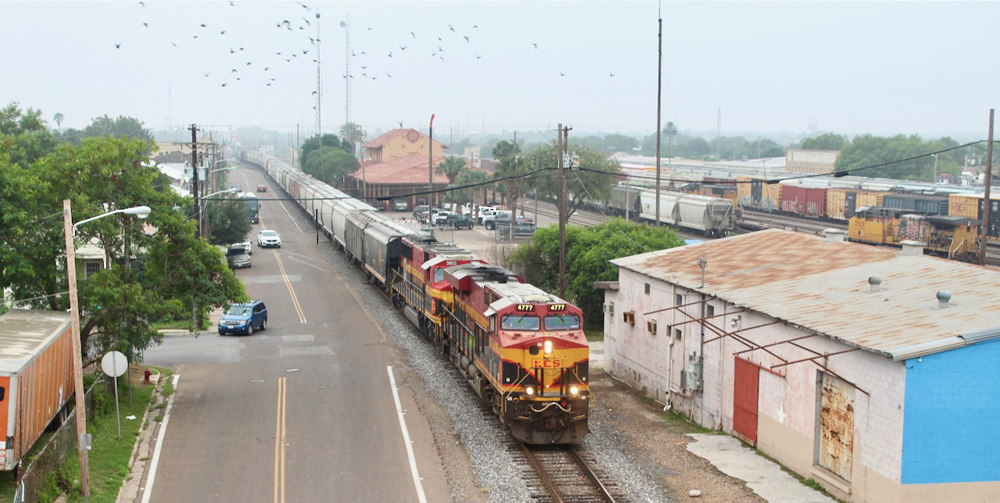 OMAHA, Neb. — Union Pacific is closely watching the battle for Kansas City Southern and how an acquisition by either Canadian Pacific or Canadian National could affect its cross-border traffic.
UP CEO Lance Fritz notes that U.S. regulations require that mergers between Class I railroads must enhance competition and improve service for all shippers.
"For that to be true in any transaction, our current service product has to remain intact," Fritz told investors and analysts on the railroad's earnings call on Thursday. "Our concern is making sure that we have good operational and commercial access to all of the customers that we serve currently in Mexico, and in other parts, whether that's near or on the CP railroad or the CN railroad."
CP reached a $29 billion deal last month to acquire KCS. CN submitted an unsolicited $33.7 billion offer this week, which the KCS board is reviewing. Both Canadian railways say their acquisition of KCS would boost rail competition, divert traffic off the highway, and benefit shippers by linking Canada, the U.S., and Mexico.
UP, which serves all of the major Texas border gateways, currently dominates Mexico cross-border traffic, with roughly a two-thirds share of the market.
Fritz says it's possible that either a CP or CN acquisition of KCS could divert some traffic away from UP at the Laredo gateway, where KCS controls the International Railway Bridge at the busiest rail border crossing in North America. UP and KCS tracks funnel onto the bridge in Laredo, while KCS de Mexico rails begin on the other side of the Rio Grande in Nuevo Laredo.
"How do we … ensure that the competitive option that the UP represents doesn't get disadvantaged by either the CP or the CN if they were to own KCS? The Laredo gateway is the primary gateway for the KCS-KCSM," Fritz says. "And we'd have to do two things. We'd have to make sure that operationally we're treated fairly and equitably at the gateway. And then we'd have to make sure commercially that we're treated fairly and equitably to all the points that we currently have an opportunity to serve with our franchise in the United States in conjunction with the KCSM."
Left unsaid: KCS does not control its own destiny. To reach Laredo, KCS must rely on UP trackage rights in Texas from Beaumont through Houston to Rosenberg, and then again from Victoria to Robstown, near Corpus Christi.
Both CP and CN contend that there's a huge potential to divert truck traffic to intermodal by providing single-line service linking Mexico, the U.S., and Canada.
"There is a lot of truck traffic that can be converted to rail, and we're constantly working with both the FXE and the KCSM to try to get that done," Fritz says, referring to Mexican interchange partners Ferromex and KCS de Mexico. "We have been successful in actually growing our overall intermodal product … to and from Mexico, and we expect to continue to do that."
Until a merger application is filed, Fritz says UP won't know how CP or CN intend to convert more truck traffic to intermodal — or whether it will be done at UP's expense and therefore require a regulatory remedy. But he suggested that either CP-KCS or CN-KCS might reroute some current UP cross-border volume to their own lines, which are not as direct as UP's Laredo-Chicago route.
"That's what gets problematic inside a potential acquisition," Fritz says. "The combined carriers might have the opportunity to go to an inferior routing through a commercial construct, and it's not best for the customer. It's not best for the market."
Fritz says UP has the industry's best rail network due to its extensive reach in the West and its lines to the Mexican gateways. "It would be a crying shame … if that excellence is replaced by something that's inferior and it's because we're disadvantaged," he says.