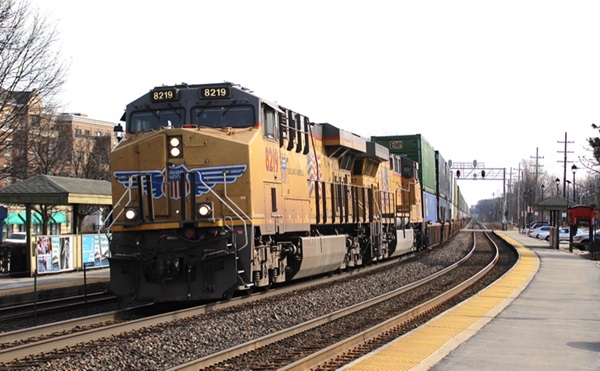 ---
OMAHA, Neb. — Union Pacific will shift intermodal traffic from its Global 1 terminal in Chicago to the expanded Global 2 terminal in Northlake, Ill., effective June 19, the railroad said in a customer advisory on Monday.
UP has invested more than $150 million in the expansion and upgrade of Global 2. Lift capacity has been increased 95%; paved parking by 160%; ramp staffing by 20%; and production tracks by 80%.
The terminal features six new cranes, including three hybrid battery-electric models. Global 2's automated outgate has been expanded. In addition, outgates capable of using the UPGo app have been increased 50%, while ingate capability is up 33%.
UP also will go live with its Precision Gate Technology system prior to consolidation. The system works with the UPGo app to "fast gate" by allowing drivers to bypass the kiosk upon entering intermodal terminals. Using advanced machine vision, PGT scans equipment and automatically begins the in-gate process and matches it to a UPGo event.
"We are confident that the advantages of this consolidation will result in a positive customer experience through efficiency in drayage management, balance of assets, and simplicity in logistics planning," the advisory says.
The shift to Global 2 affects traffic moving between Chicago and Denver and Chicago and City of Industry, Calif. The Global 1 facility is less than 4 miles from downtown Chicago on the city's Near West Side and about a 16-mile drive east of Global 2, much of that on heavily congested Interstate 290. Global 2 is adjacent to the railroad's Proviso Yard.