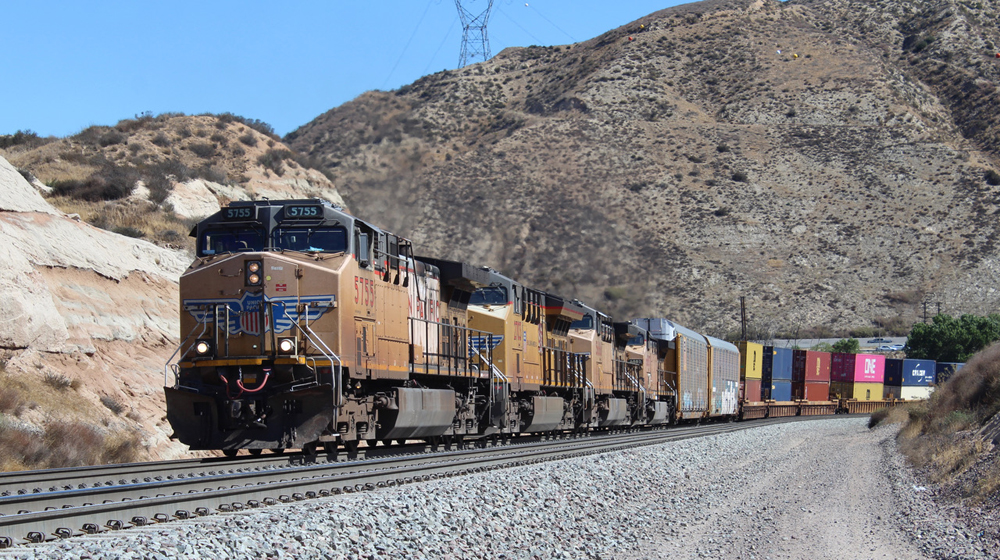 ---
OMAHA, Neb. — Union Pacific's international intermodal traffic between the congested ports of Los Angeles and Long Beach and inland terminals is approaching normal levels despite the ongoing backlog of ships waiting to dock at North America's busiest port complex.
"We are essentially normal in our international supply chain on Union Pacific from ports to intermodal ramps inland," CEO Lance Fritz told an investor webcast today, adding that on-dock dwell is within normal ranges and inland terminal dwell is approaching normal.
UP has taken various steps to improve the flow of international containers from the ports to inland points, including shifting to 24/7 operations at its Intermodal Container Transfer Facility adjacent to LA/Long Beach [see "Union Pacific begins incentive program as ports announce new fees," Trains News Wire, Oct. 26, 2021], providing shippers storage options at Salt Lake City and Chicago, and offering a $60 per container incentive for bringing boxes to UP terminals on weekends.
"We're coming to the table with solutions," says Kenny Rocker, UP's executive vice president of marketing and sales.
It's too early to tell if the container incentive program is working, Fritz says, but UP has seen very few boxes arrive at its terminals outside of normal hours.
Fritz says it's also unclear what effect the ports' new $100 fee levied on long-dwelling containers will have. The fee hits rail-destined containers sitting on the docks for longer than six days, and truck-bound boxes dwelling for longer than nine days. "We think it's ridiculous that those two dates aren't the same," Fritz says. "There should be no reason to give truck more time than rail."
Increased transloading from marine containers into domestic containers in Southern California is hurting UP's international volumes, Fritz says.
"I don't think we're past peak supply chain disruption," Fritz says, aside from chip shortages that have been forcing automakers to sharply curtail production. The chip shortage is slowly easing, he says, while the international intermodal supply chain will take longer to return to normal.
What would help clear broader supply chain disruptions that caused massive intermodal congestion earlier this year, Fritz says, would be more drivers to handle drayage moves of containers as well as more warehouse labor.
Congestion at railroads' inland intermodal terminals earlier this year was due to shippers taking much longer than normal to pick up and return containers, which contributed to a chassis shortage and tightened dray capacity.
COVID-19 Continues to Have Impact
UP's key operational metrics, including trip plan compliance, continue to be affected by the pandemic. Last month 72% of intermodal shipments were on time, down 9 points from a year ago, while manifest and automotive traffic was 64% on time, down 7 points.
"Right now COVID is still having an impact on our crew availability," Fritz says. "It's probably the single biggest thing that's keeping us from performing at a high level operationally."
Infections, quarantines, and time off for vaccinations are limiting crew availability, Fritz says. UP also is experiencing higher than usual recrew rates because the railroad isn't completely fluid. "That's got me frustrated right now," Fritz says.
UP has pushed back its employee vaccine mandate to Jan. 4 in line with the Biden administration's order that covers large corporations. UP previously was set to comply with an executive order affecting federal contractors that set a Dec. 8 deadline for employees to be vaccinated.
About half of UP's workforce is currently fully vaccinated, according to the company database that Fritz says likely significantly undercounts the vaccination rate. Another 10% to 15% of UP employees are either partially vaccinated, have vaccine paperwork issues, or are seeking exemptions from the requirement.
"My sincere hope is that we get everyone compliant before we're compelled to start reacting with consequences," Fritz says. Those include dismissing non-union employees and placing craft employees on a medically unable to work list.
Fritz says UP did not welcome the vaccine mandates. "It's not fun and it's not something that we're embracing happily," he says.
"It's an ethics issue from our perspective," Fritz says, but UP's outside legal experts say the executive order is lawful.
BNSF Railway and Norfolk Southern also say they will comply with the mandate.
Fritz and Rocker spoke during the Baird 2021 Global Industrial Conference.