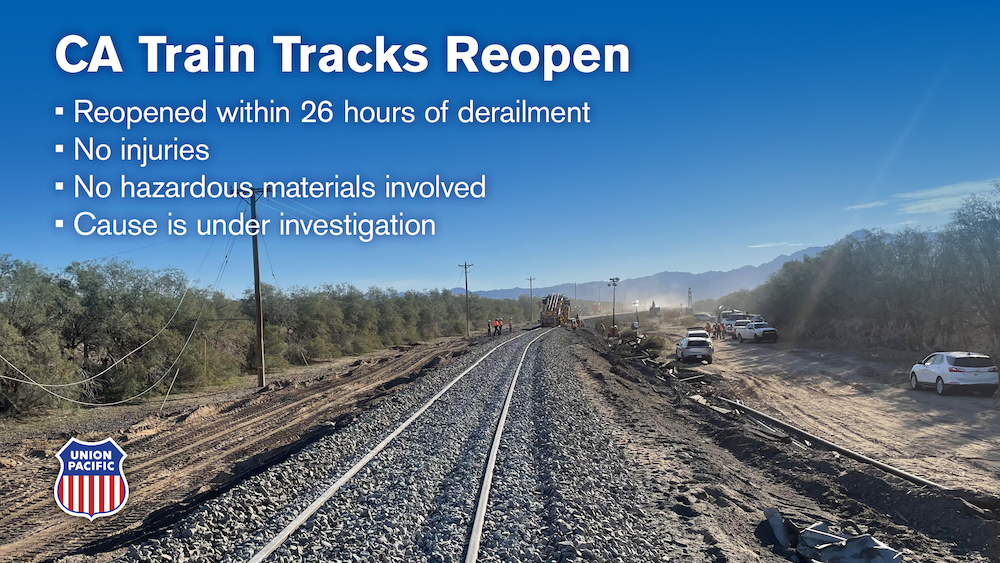 ---
KELSO, Calif. — Union Pacific reopened its Cima Subdivision today less than 26 hours after part of an iron ore train ran away and derailed on the 2.2% Cima Hill grade near Kelso.
"Union Pacific crews worked around-the-clock to rebuild the tracks in the Mojave National Preserve, east of Barstow, where 55 railcars and two locomotives derailed Monday," UP spokesman Mike Jaixen says. "We anticipate reopening to train traffic this afternoon; however, it will take time to remove all of the cars from the site and complete remediation. We continue to work closely with local, state and federal officials to investigate the cause. As confirmed yesterday, there were no injuries, and the train was carrying iron ore, which is not a hazardous material."
Train OUTSI-25, which originated in Iron Springs, Utah, with 154 cars of ore destined for export at the Port of Long Beach, Calif., was operating with distributed power in a 2x1x2 configuration, according to a UP train report shared with Trains News Wire.
The train separated between the 55th and 56th cars while on Cima Hill. At some point while the crew was attempting to put the train back together the lead units and 55 cars ran away down the grade. The last GPS report from the lead locomotive showed the train moving at 118 mph, according to a UP document.
UP would not confirm these details about the runaway and subsequent derailment. "Those details are still under investigation," Jaixen says.
The National Transportation Safety Board is not involved in the investigation.
Heavy bulk trains such as the 21,599-ton OUTSI-25 are limited to 15 mph down the grade, which has claimed other trains over the years. In 1997, a grain train ran away on the grade and reached 72 mph before derailing 68 of its 75 covered hoppers near Kelso. In 1980, three railroaders were killed when a runaway train rear-ended another on the grade, also near Kelso.