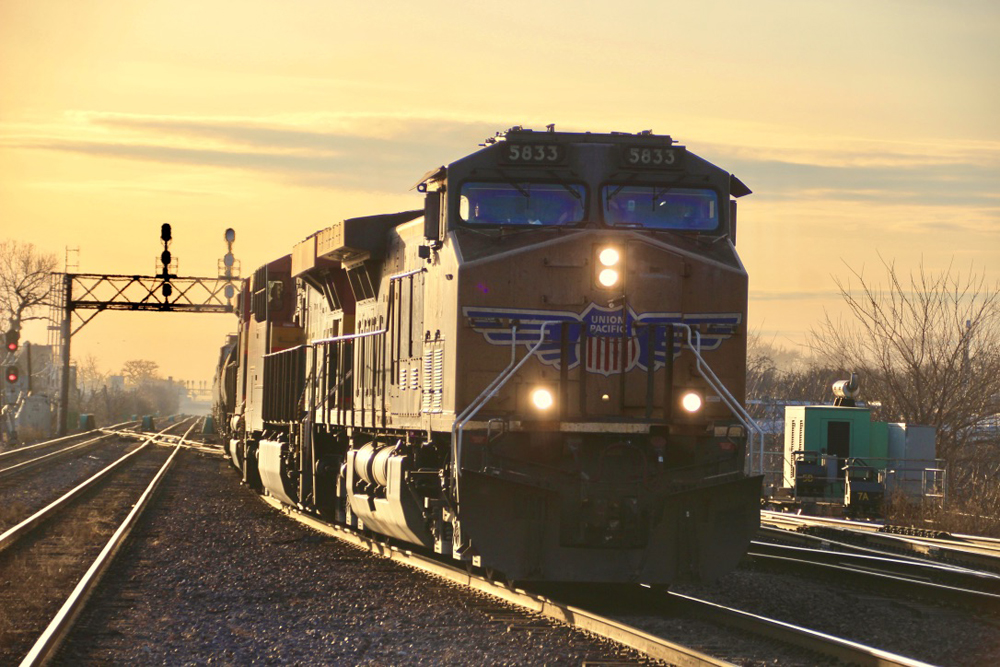 ---
OMAHA, Neb. — Union Pacific reported higher first quarter volume, revenue, and profits despite congestion related to crew shortages and rising freight car inventory.
"Improving our service product has our full and undivided attention," CEO Lance Fritz told investors and analysts on the railroad's Thursday morning earnings call.
UP's on-time performance deteriorated during the quarter. Intermodal trip plan compliance fell six points to 71%, while carload trip plan compliance sank to 62%, down from 68% a year ago. Car velocity sank 5% measured by miles per day.
Nearly 400 conductors have graduated from training classes this year, and the railroad is on pace to hire 1,400 train crew members this year. But UP is struggling to hire conductors, particularly at key locations on its Northern Region from Chicago to the Pacific Northwest, Fritz says.
The railroad began to slow down when winter storms hit in February, and UP didn't have enough crews on hand to recover as quickly as it typically would. Carload customers then put 20% more private freight cars into the system, which further bogged down the railroad.
"As customers see us slow down, they put in more freight car inventory so they get their needs satisfied. And that turns into a self-reinforcing, negative cycle," Fritz says. "And that's where we are right now…we're in a place where we have more train and car inventory on us than we should have given the volumes and we've got to work that off."
This month UP asked customers to voluntarily reduce their freight car inventory or the railroad would begin metering traffic beginning this week. Several customers have complained about the restrictions.
"Trust me, there have been some difficult conversations. But I'll tell you I've been very encouraged with the initial response from our customers and their willingness to reduce their railcar inventory," says Kenny Rocker, executive vice president of marketing and sales.
Eric Gehringer, executive vice president of operations, says UP is working to get the most out of current crews, get new conductors into service, and ensure the railroad has enough resources to clear the car backlog and improve service.
"We are at an inflection point, and more critical action is needed. Our terminals remain fluid, and our focus on improving over the road operations and reducing the number of active trains on the network will ease mainline congestion," Gehringer says.
Executives did not provide a timeline for a restoration of normal service, but said customers should see improvements week after week.
Fritz was asked whether UP needed to adjust its Precision Scheduled Railroading operating model in light of the railroad's service problems. "Unequivocally, PSR has been a benefit to the railroad, even in our current environment," Fritz says.
UP is more efficient and has capacity on its main lines and in terminals because of PSR-related operational changes, such as running longer trains and switching cars fewer times en route, he says.
The problem, Fritz says, is that UP didn't have a buffer of extra crews that would have helped the railroad recover from unanticipated events. "Shame on us," he says.
For the quarter, UP's operating income rose 19%, to $2.37 billion, as revenue grew 17%, to $5.4 billion. Earnings per share increased 29%, to $2.57.
The railroad's operating ratio improved to 59.4%, down from 60.1% a year ago. UP downgraded its operating ratio target for the year, saying rising fuel prices and operational inefficiencies would make its previous 55.5% target unattainable. The new guidance is for an operating ratio below 56%.
Quarterly volume was up 4%, with bulk shipments up 12% and industrial products freight up 11%. UP's premium business, which includes intermodal and automotive traffic, was down 3%.