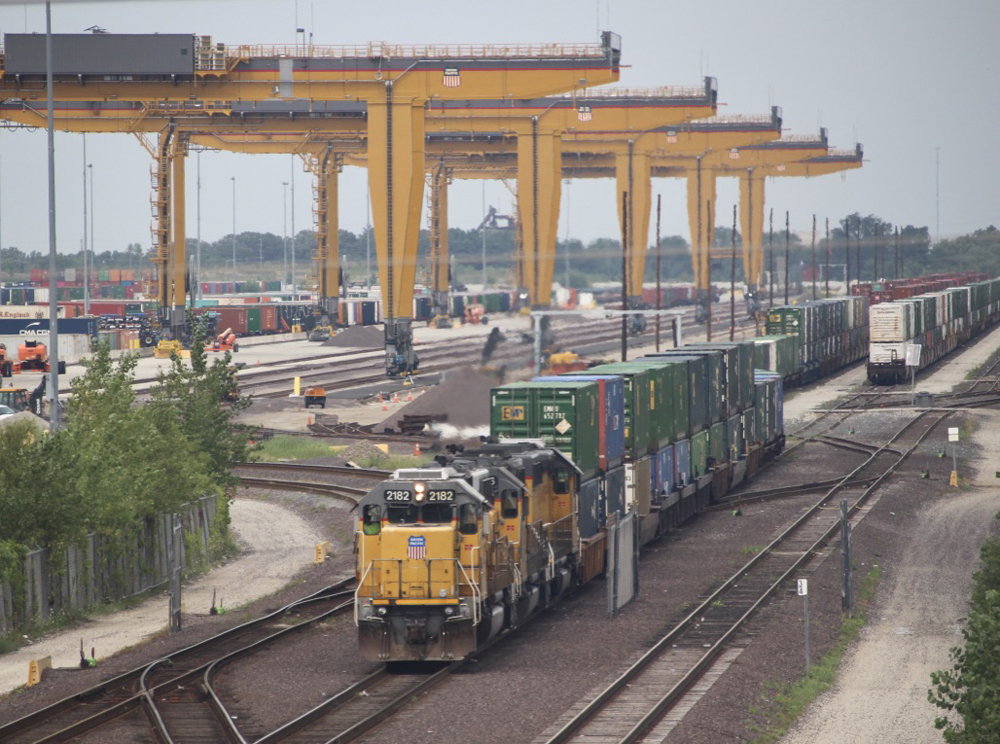 ---
Union Pacific is booting Canadian Pacific out of the EMP domestic container pool.
EMP, which rosters a 44,000-unit fleet of green 53-foot containers, is an interline intermodal partnership between UP and Norfolk Southern. CP, Canadian National, Kansas City Southern, and Florida East Coast also participate in EMP, which allows intermodal marketing companies to book loads across North America.
UP pulled the plug on CP because the proposed CP-KCS merger would create a new single-line competitor to UP in intermodal lanes linking Mexico and Texas with Chicago, according to people familiar with the matter.
CP notified customers about the move on Thursday.
"Canadian Pacific has been advised by the Union Pacific that it has elected to terminate its agreement with CP in relation to the EMP program effective Oct. 8, 2022. As a result of UP's action, intermodal customers will have one fewer transportation option to move freight between Canada and certain key markets in the U.S. and Mexico," CP said in a customer advisory. "CP regrets the impact that Union Pacific's action has on our customers. We will continue to accept billing for loaded interline shipments until Oct. 7, 2022."
UP informed its customers in a Sept. 9 announcement.
"Effective Oct. 8, 2022, the Canadian Pacific Railroad will no longer be party to the EMP program. As such, customers will not be able to waybill EMPs to or from the CP after this date. UP will however be expanding our relationship with the Canadian National and making them our exclusive Canadian EMP partner," UP said. "UP and CN will provide service to and from all points in Canada on the CN network. We are collaborating with the CN on service, pricing and equipment allocation to provide a seamless transition to meet your intermodal needs to and from Canada."
KCS says it's unaware of any changes to its access to the EMP program in the U.S. and Mexico.
Union Pacific has raised concerns that the CP-KCS merger would reduce competition for cross-border traffic that moves through the Laredo, Texas, gateway. KCS controls the International Railway Bridge across the Rio Grande at Laredo, the busiest rail freight border crossing in North America.
Union Pacific in March asked federal regulators to ensure that the CP-KCS merger does not undermine competition at Laredo, where UP interchanges with KCS de Mexico.
"An unconditioned combination of CP and KCS would likely cause a significant loss of competition, especially for traffic moving via the Laredo Gateway. CP would gain control of KCSM, and thus the ability to increase the costs or reduce the quality of rail service in Mexico for railroads providing shippers competitive options to CPKC north of Laredo," UP wrote in its 334-page filing.