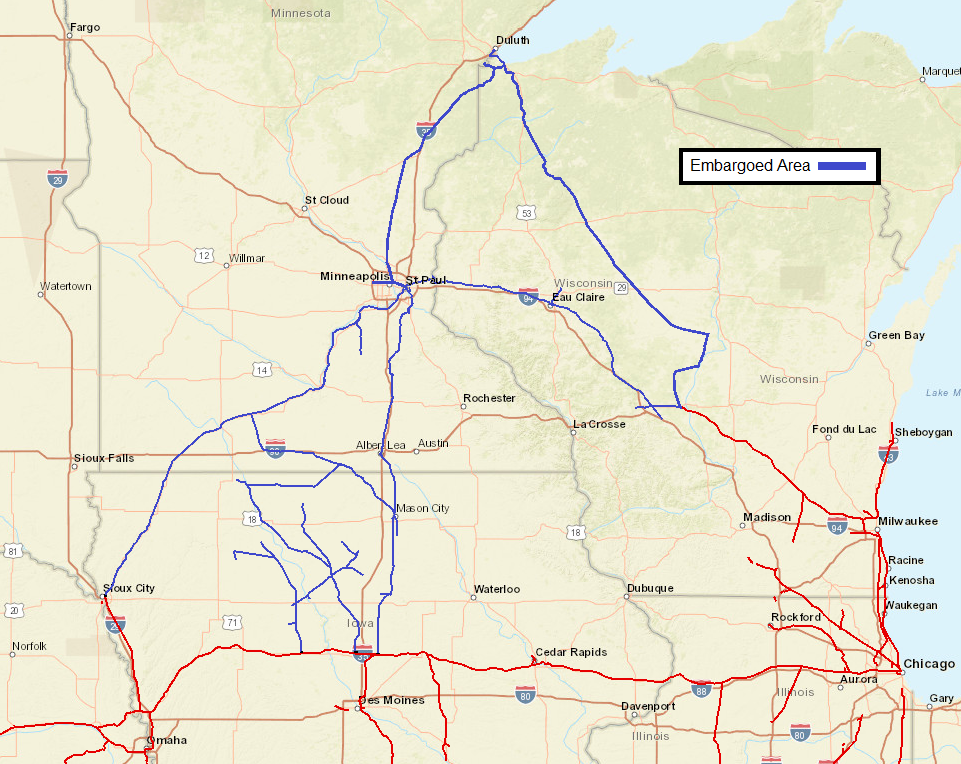 ---
OMAHA, Neb. – Union Pacific, citing ongoing harsh winter weather, is continuing an embargo it placed last week on all traffic to and from Iowa, Minnesota, and Wisconsin.
"A powerful storm system will swing through the Central U.S. early this week, bringing heavy snow, freezing rain and ice to Wyoming, Nebraska, Iowa, Minnesota, and Wisconsin. Weather embargo UP130022 is still in effect," the railroad said in a customer advisory on Monday.
UP said in a Dec. 29 customer advisory that it expected the embargo to remain in effect for at least 14 days.
"In response to the recent severe weather events and arctic temperatures that have impacted our operations across Iowa, Minnesota, and Wisconsin, as well as the additional snow and ice accumulation forecast to hit the region over the next week, Union Pacific is implementing catastrophic embargo #UP130022 for all traffic in and out of the region," UP said in its Dec. 29 customer advisory. "The embargo will allow us to maintain fluidity as this segment of the network works to move volumes impacted by the weather event."
UP had to contend with snow drifts as high as 15 feet that blocked tracks in Iowa and Minnesota last month, as well as frozen switches, according to a customer advisory.
None of the other Class I railroads operating in Iowa, Minnesota, and Wisconsin – which include BNSF Railway, Canadian National, and Canadian Pacific – have issued similar blanket embargoes in the area, according to the Association of American Railroads embargo system.
The only non-UP embargo in the three states was issued by BNSF on Nov. 17 to alleviate congestion at its auto ramp in St. Paul, Minn. The embargo was updated on Dec. 21 to include extreme weather conditions.
UP told customers to continue to expect delays in regions affected by winter storms, which also includes California, eastern Texas, Louisiana, Arkansas, and southern Missouri.
At a hearing in Washington last month, Union Pacific's increasing reliance on embargoes to clear congestion came under fire from shippers, labor unions, and members of the Surface Transportation Board.
Regulators in November ordered UP to explain why it has significantly increased its use of embargoes. With UP running short of train crews, the railroad has issued more than 1,000 embargoes so far this year in response to congestion, compared with just 27 in 2017 – the year before it adopted a lean Precision Scheduled Railroading operating model.
After the hearing, UP said it would stop issuing congestion-related embargoes under its pipeline management system. UP continues to issue embargoes related to congested customer facilities, however, according to the AAR embargo system.