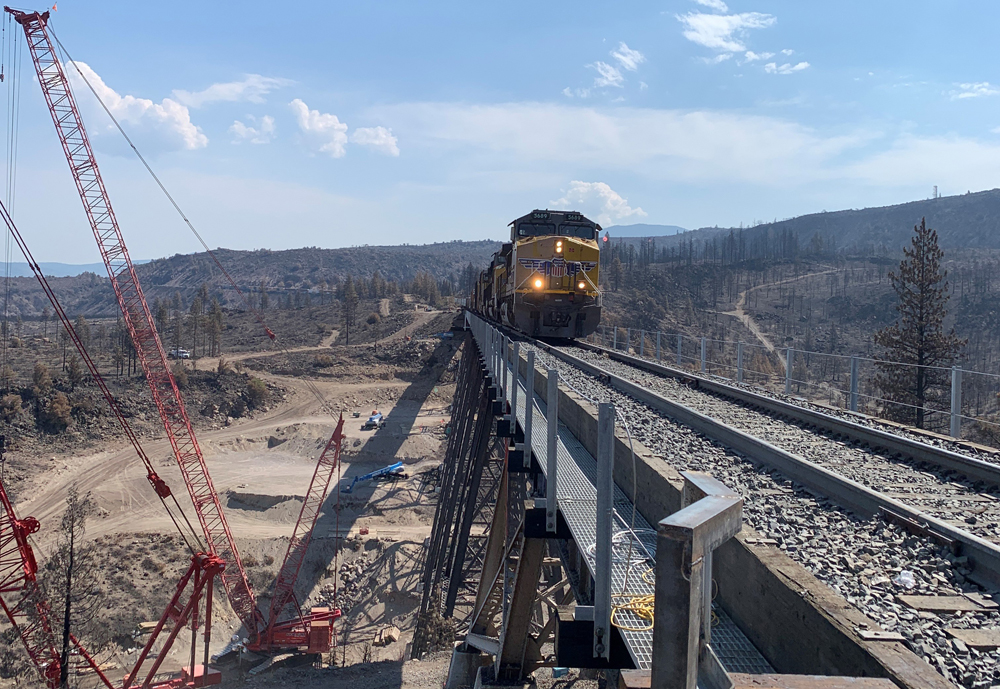 WEED, Calif. — Union Pacific has reopened the Dry Canyon Bridge a month ahead of its original estimate, allowing the railroad to resume operations on its I-5 Corridor line between California and the Pacific Northwest.
The railroad initially estimated the bridge would not be completed until Sept. 1, but last week said it could be completed by mid-August [see "Wildfire disruptions continue …," Trains News Wire, July 28, 2021], then said it could be completed in "early August." Spokeswoman Robynn Tysver says the bridge reopened Sunday, "thanks to employees' tireless efforts." The 1,200-foot long, 150-foot high bridge was damaged by fire June 28; its remote location required UP to build a road to bring in heavy equipment for the repair work.
While the bridge is open, the railroad has said in an advisory to customers that traffic delays will continue over "the next few weeks" as the railroad moves resources to address a backlog of trains.
Meanwhile, the Feather River Canyon route north of Oroville, Calif., which had been closed since last week because of the Dixie Fire, has also reopened after repairs were completed to decks on two bridges. UP says it continues to work with the California Deparment of Forestry and Fire Protection to minimize fire damage, and it continues to deploy water trains along the route. As of this morning, KCRA-TV reports that fire has burned almost 249,000 acres and is 35% contained, but some evacuation orders have been lifted and roads have reopened.
— Revised and updated at 12:40 p.m. CDT to reflect reopening of bridge, Feather River Canyon line.